I'm sharing my favorite 7 Foolproof Tips for Hosting a Dinner Party to get you through your first gathering or to help you host your 500th party!
7 Foolproof Tips for Hosting a Dinner Party
Having people over for dinner is one of my favorite favorite things to do. I absolutely love to have people filling my home. The first piece of advice I'd like to give is that it doesn't matter what kind of home you live in, you can always invite people to gather around your table (even if that means your coffee table).
My tips are fuss-free and foolproof and they'll work for anyone that has loads of entertaining experience or NONE at all. I'd consider myself somewhere in the middle. I've hosted a lot of events in my 26 years, but I have SO much to learn. So, I'm sharing what I know so far, but let's get the conversation going! Let me know what your tips are & hopefully I can learn from you, too!
I truly just love to have people around my table so I try to do this with a ton of intention. Sometimes, I get lost in the preparation or myself, but my ultimate goal is to give others the warm fuzzies, and I'll spend my life trying to do so.
GO FOR SIMPLE FOOD
I often break the "don't make a new recipe for company rule" because I literally test food for a living and use my guests as guinea pigs BUT, I really try to make things simple. Don't make a recipe that takes more than an hour to prep if you're hosting on a Friday and you're working all day. Be honest with yourself about your cooking ability and confidence. For your first few parties make what you know! If you make a killer tortilla soup in the crockpot – GO FOR IT! Don't be ashamed of simplicity. Guests just want to feel relaxed and the more relaxed you are about your food, the better! Speaking of simple and crockpots – USE THEM when you have guests. Just sayin'.
Here are some fuss-free ideas: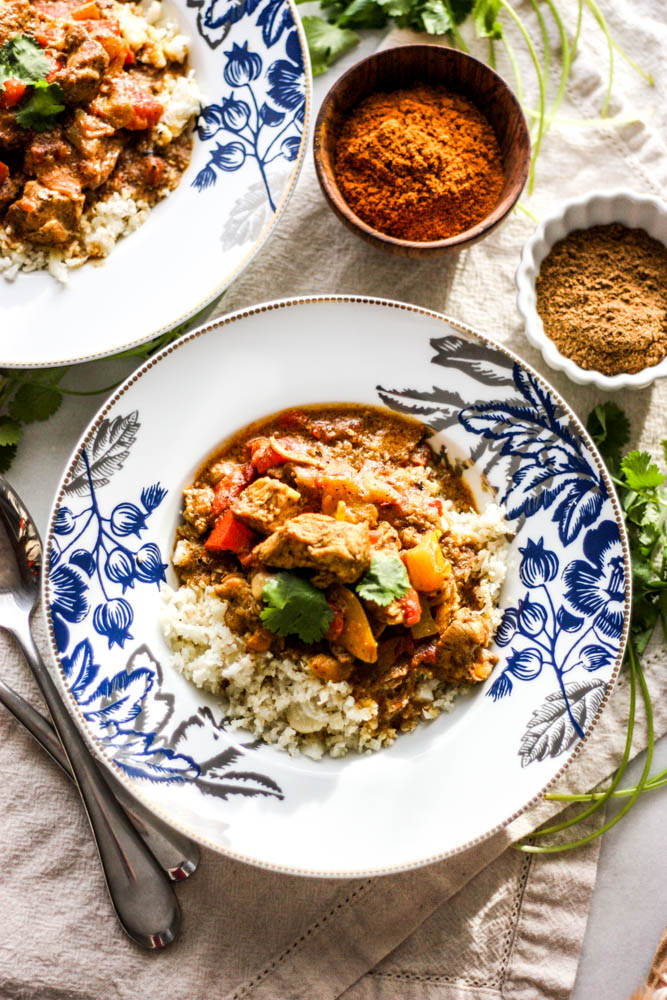 Tiki Masala with Cauli Rice (freezer friendly so hello easy peasy)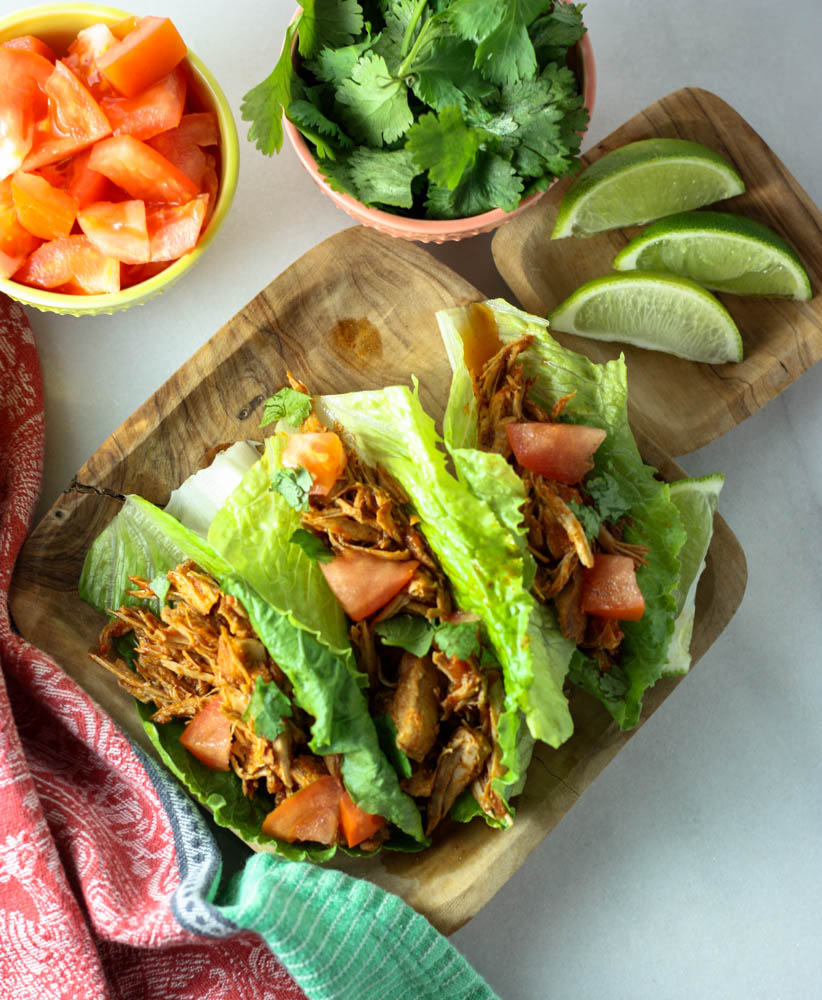 MAKE THE LAYOUT OBVIOUS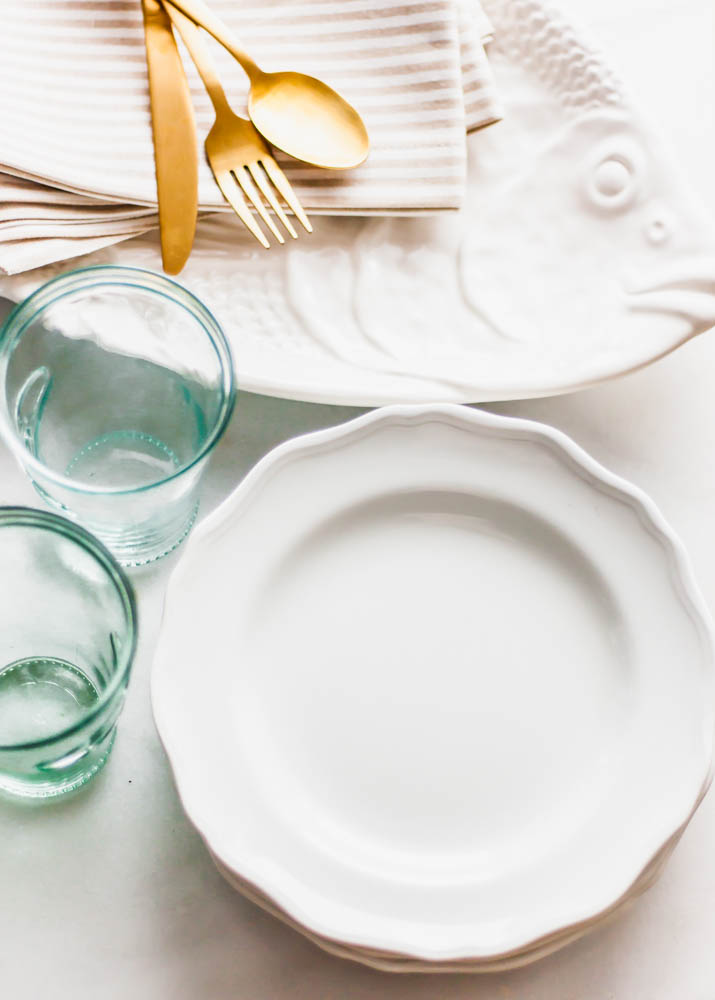 I like to make the layout of the evening very obvious. I try to set the table ahead of time so people can expect where to eat when they walk in so they can formulate a plan of the evening in their head. Or, if you're doing a buffet, set the plates out beforehand and put napkins and plates right by any appetizers.
If you have a large group or a group that hasn't all met before, I think place cards are wonderful on the table. Giving people direction in a subtle way relaxes them. If I want to play a specific game later or if I want guests to occupy themselves, I have set games and cards out in the living room to give them something obvious to do with their time. When you can manage expectations of the evening by laying place settings and items out, it really takes the pressure off your guests!
PREP WHAT YOU CAN BEFOREHAND
Do as much as you can the night or morning before. If there's chopping, do it beforehand. Measure out the dry ingredients of baked goods and set them aside. Set the table and set out all serveware. Read through all recipes a second time before making them to be sure you aren't skipping a step or missing an ingredient. The less active time you have to spend before guests arrive, the better. Aim to be "hanging out" in the kitchen before guests arrive to relax and create a welcoming environment. There are times when you'll need to be cooking when they arrive (Thanksgiving for sure!), but if you have a crowd you don't know as well coming over this really helps mitigate nerves for everybody! I always overestimate the time it will take for a recipe by about 30 minutes to give myself wiggle room.
OPT FOR SIMPLE PLATES & PLACE SETTINGS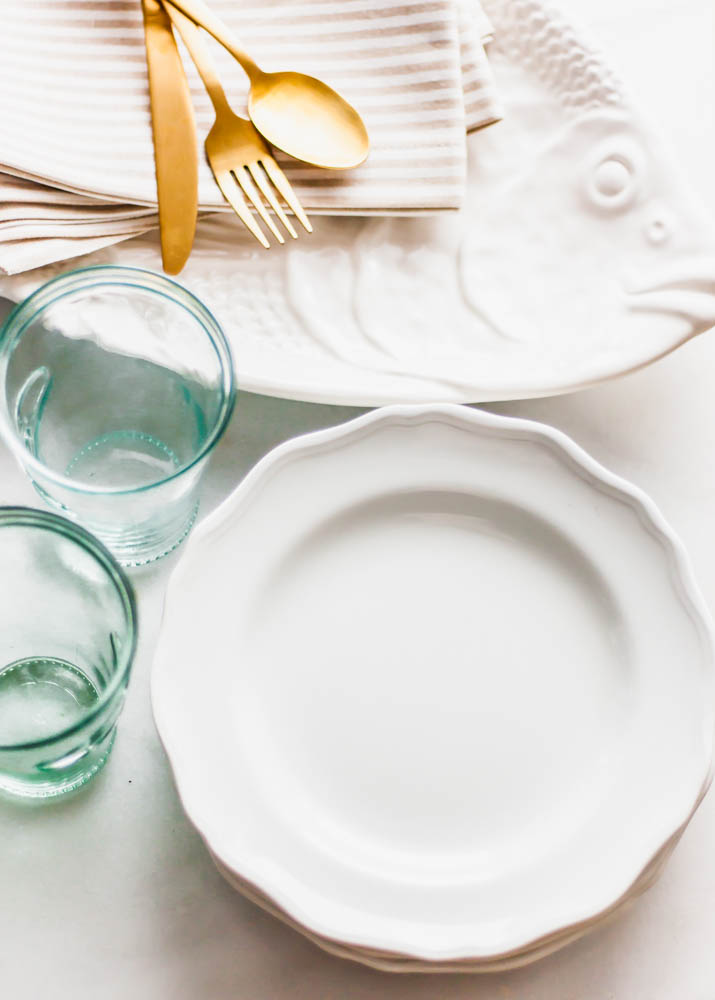 Never underestimate the power of a white plate. Sure, it is fun to go funky with your place settings, but I like to reserve the pops for napkins, chargers, platters, etc. White plates always make your food stand out and until you have a large budget for entertaining dishes, white is best! Beginning food bloggers – same goes for you guys!
SET DRINKS OUT IN EYESIGHT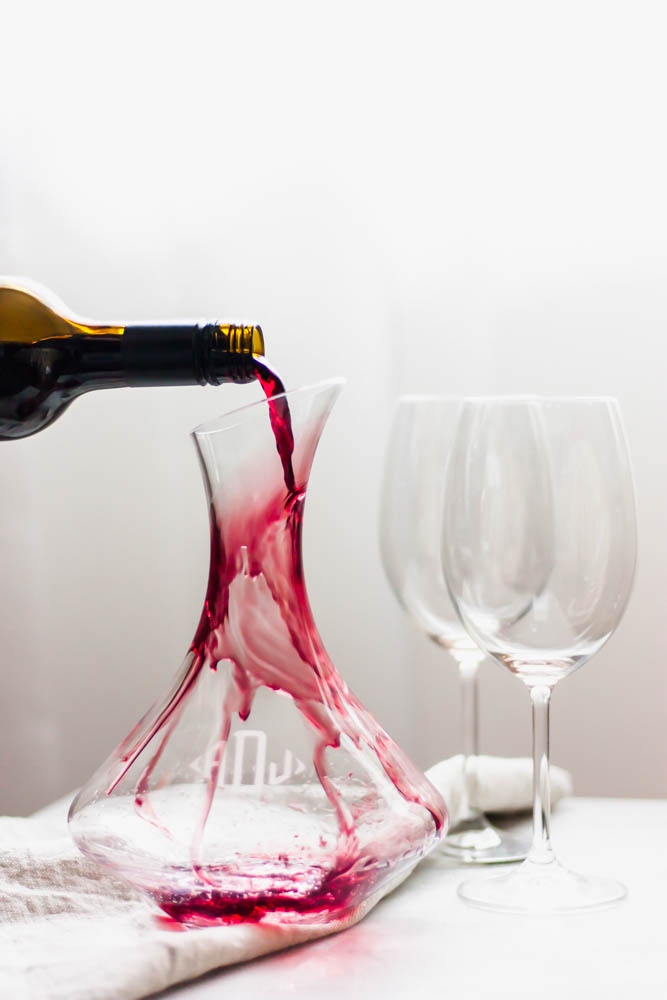 There's nothing worse than being thirsty in someone's home. This goes for water or alcoholic beverages. I like to set up a mini "bar" station and have wine selections out that I'm serving or space and tools to make cocktails. You can always decant a bottle and set it on the table if you know you have a lot of guests that like to start with a cocktail and end with wine.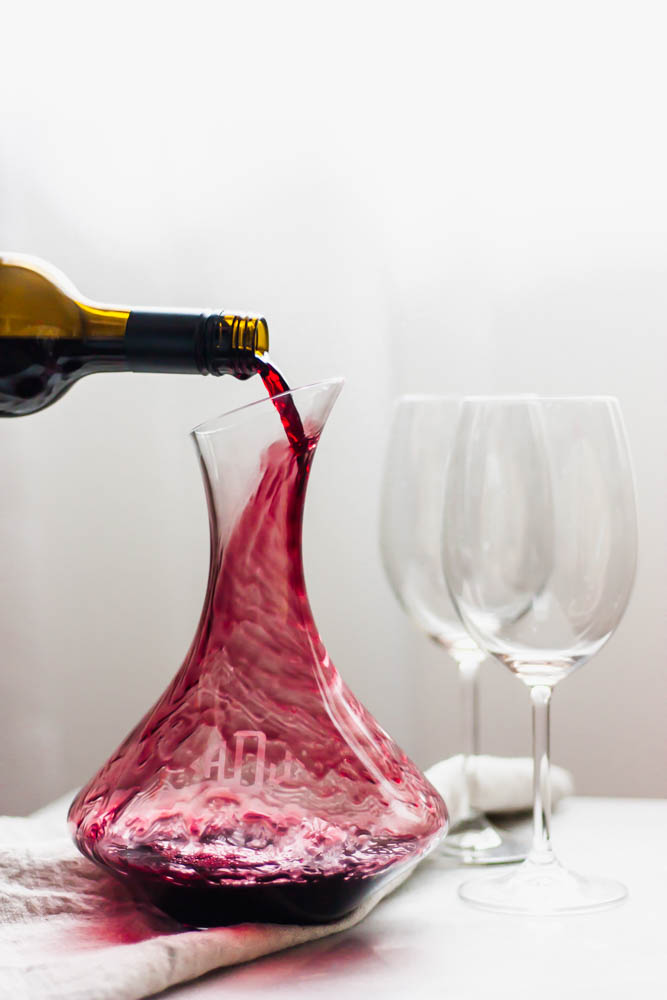 Setting wine glasses out on the table helps signify that you have selected a bottle to dine with. On the other hand, I tend to get wrapped up in the booze, I often forget to set out water. A pitcher is great or waterbottles so guests don't have to ask you when they need H2O. Set out glasses or cups near the drinks so they can serve themselves. The less they have to ask you, the better.  
Need a signature cocktail? Here are some of my favorites (besides ALLL the wine, hehe):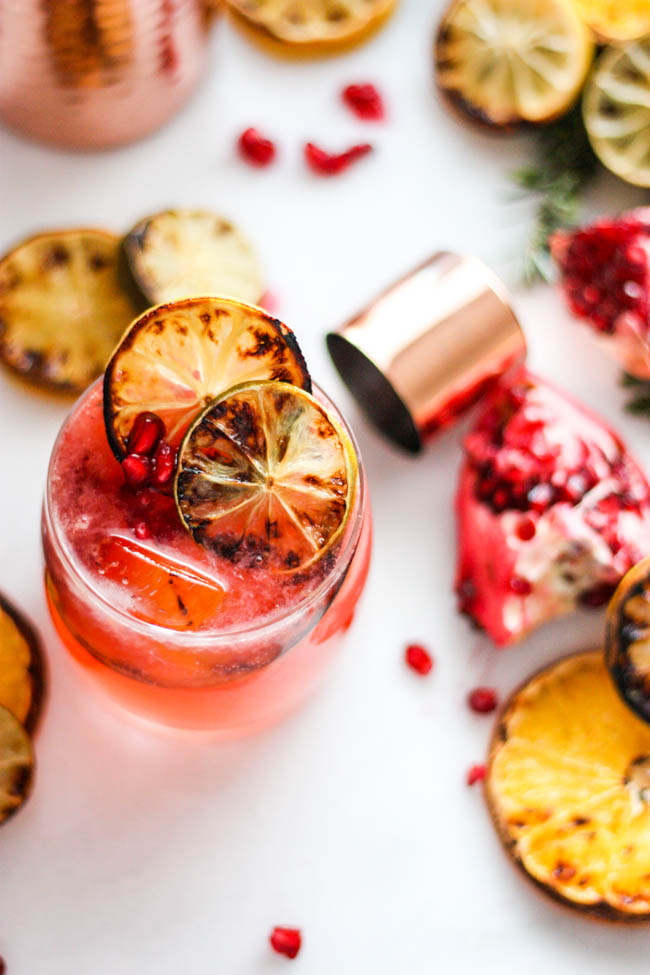 Charred Citrus & Pomegranate Gin and Tonic (vodka also works)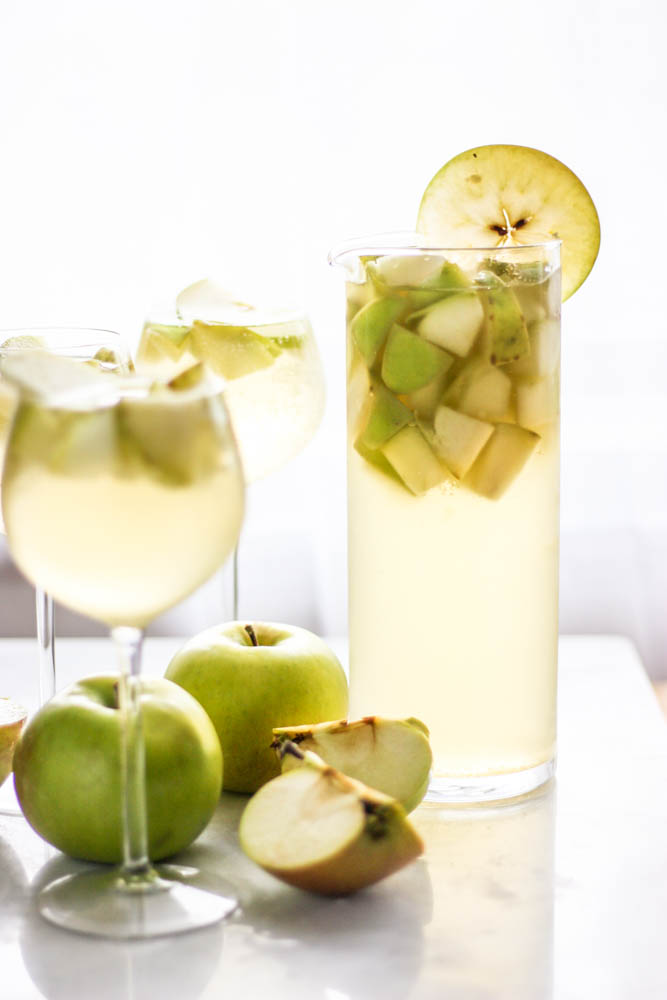 Sparkling White Apple & Ginger Sangria
MAKE SURE YOU HAVE ENOUGH TOILET PAPER
I know this isn't the most fun topic to chat about but feeling comfortable in someone's bathroom is so important when you're a guest. Sorry for potty talk, but here it is! Make sure you have 1-3 extra rolls of toilet paper in plain view (depending on the size of your crowd) so that if your roll runs low, no one has to run out of the loo to embarrassingly ask you for more TP. This is awkward for both parties! Also, make sure there is a clean, dry towel within reach for guests to dry wet hands! A candle in the bathroom doesn't hurt either. Ok, on to other things!!
THINK ABOUT HOW YOU WANT TO CREATE A WELCOME ENVIRONMENT 
One thing I'm trying to improve on is focusing more on my guests and the reason behind the party and less on the "OMG I HAVE TO DO SO MUCH BEFORE PEOPLE COME INTO MY HOME". lol. lol. I'm not great at this. But one helpful tip – I like to think about a few things that those I'm entertaining are doing in their current life. I find it helpful to remember facts or feeling surrounding them so I can easily pull those thoughts from my mind and chat with them about life.
Alrighty friends – now I challenge you! Invite someone over for dinner! Make the world a better place, one meal at a time. You can do it, and if you need me, I'm just an email, Facebook or Instagram message away!
xoxx,
Miss AK
Instagram – https://www.instagram.com/miss.allieskitchen/
Facebook – https://www.facebook.com/missallieskitchen/
Pinterest – https://www.pinterest.com/miss_ak/
Twitter – https://twitter.com/missallieskitch