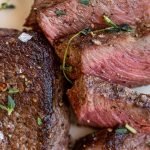 Scale
Ingredients
4

–

6

venison chops

1

–

2

tsp. salt (good quality if you can. I like to use Celtic sea salt before cooking and Maldon sea salt to finish)

1 Tbsp

. high heat tolerant oil (duck fat, avocado oil, tallow, clarified butter, etc)

3

–

4

garlic cloves, peeled and smashed 

4

–

5

fresh thyme sprigs

1/2 tsp

. fresh cracked pepper

1 tsp

. fresh lemon juice 
First, you're going to remove the chops out of the fridge about 30 minutes prior to cooking so they can start to come to room temp and cook more evenly. Then, PAT THEM DRY. You always want to pat proteins dry before searing because it creates a better, harder seat and crust on the meat.
Next, heat a cast iron pan or grill over medium-high heat. I prefer the cast iron method so I'll talk about that here. But know you can also use your grill and you can preheat that to medium-high, too.
While your pan heats, salt the meat generously (about 1/4 tsp. per chop) and pat dry AGAIN with a towel.
When the pan is hot, add some sort of high heat tolerant cooking fat (duck fat, avocado oil, etc) and add the meat to the pan.
Cooking time will vary depending on the size of your chops. But, when you have a nice sear on one side (anywhere from 2-5 minutes) flip the meat. Then, add about 1-2 tablespoons of butter, smashed garlic cloves, and fresh thyme to the pan. Tilt the pan to the side and baste the meat by spooning the butter and aromatics over the chops.
Once the internal temperature reaches about 115-125F, remove the meat from the pan. If you're grilling just flip and grill on each side for 2-5 mins. You do NOT want to cook venison over medium-rare. I like rare plus. Trust me and get used to cooking it this way.
Let it rest for at least 10 minutes before slicing against the grain.
Season with some fresh cracked pepper, flakey salt (or regular salt – just a pinch), and a little squeeze of lemon. You're done! That's all there is to it.