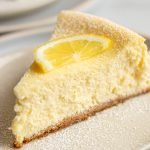 Scale
Ingredients
For the crust: 
6

graham cracker sheets

4 Tbsp

. melted butter

1/4 cup

brown sugar

1

pinch sea salt
For the cheesecake:
3

pkg. (8 oz. each) PHILADELPHIA Cream Cheese, at room temperature

1

and 1/4 cups full-fat ricotta cheese, at room temperature

1 cup

sugar

1/4 cup

heavy cream, at room temperature

1/4 cup

lemon juice 
zest of

1

lemon (about

2

heaping tsp. lemon zest)

1 tsp

. vanilla extract

3

eggs, at room temperature 
For serving (optional):
about

3 Tbsp

. powdered sugar, sifted 

1/2 tsp

. lemon zest
Before beginning, set all of the ingredients out on the counter so they can come to room temperature. This ensures a creamy cheesecake. 
Preheat the oven to 325F and set a large pot or kettle of water on the stove to boil. This is for the makeshift water bath. When the water boils, pour it into a casserole dish set on the bottom rack of the oven, filling it 3/4 of the way full with boiling water. This turns the oven into a steam room and prevents cracks. 
To make the crust, combine the graham crackers, butter, sugar and salt in a food processor and pulse until fine crumbs are formed. If you don't have a food processor, place the graham crackers in a zip top bag and crush into crumbs then mix the crust ingredients together. 
Press the crust into the bottom of a springform pan and set it aside. 
To make the cheesecake filling, add the cream cheese and ricotta to the bowl of a stand mixer or a large bowl. Beat the cream cheese and ricotta with the paddle attachment of the stand mixer or a hand mixer for 2-3 minutes until smooth. The ricotta will leave a somewhat grainy texture to the mixture, but you don't want any big lumps. 
Then, add the sugar and beat for another minute before adding the heavy cream, lemon juice, lemon zest and vanilla. Mix until the liquid is well incorporated, about 30 seconds. 
Finally, beat in each egg, one at a time, until just combined. When the cheesecake mixture is completely mixed together, pour it into the springform pan on top of the crust. 
Slide the pan onto the middle rack of the preheated oven (with the makeshift bath in place on the bottom rack) and bake for 45-55 minutes, or until the sides of the cheesecake are set but it still jiggles slightly when nudged in the middle. 
Turn the oven off and prop the oven door open. Allow the cheesecake to cool for about an hour in the oven and then let it cool for about an hour on the counter before chilling until cold in the fridge, about 2-3 hours. 
When the cheesecake is cool, remove it from the springform pan, dust it all over with powdered sugar and extra lemon zest, if desired. Slice with a hot, clean knife, and serve!
Nutrition
Serving Size:

1 slice

Calories:

301

Sugar:

20 g

Sodium:

252 mg

Fat:

20 g

Saturated Fat:

12 g

Unsaturated Fat:

1 g

Trans Fat:

0 g

Carbohydrates:

23 g

Fiber:

0 g

Protein:

6 g

Cholesterol:

104 mg