Print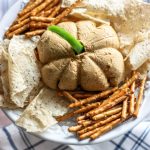 Scale
Ingredients
roughly

2 cups

cashews, soaked – I used a 7 oz. bag of Sunshine Nut Company's Roasted with a Spark of Spices Cashews

2

garlic cloves

1 Tablespoon

nutritional yeast

1

lime, juice and zest

1 Tablespoon

fresh cilantro

1 teaspoon

chili powder

1/2 teaspoon

paprika

1/4 teaspoon

cayenne

1

pinch cumin

3/4 teaspoon

salt, to taste

1/4 teaspoon

pepper

1

slice of green bell pepper – for pepper stem garnish
Plastic Wrap
Kitchen Twine
hours or the night before, pour the cashews into a glass jar or bowl with 4 cups of water. When you're ready to make the "cheese" ball, drain the water and rinse the cashews.
Add them to a food processor or high powered blender. Add the garlic, lime juice, lime zest, cilantro, chili powder, paprika, cayenne, cumin, salt, and pepper. Pulse until smooth.
Scoop the cashew mixture out onto a sheet of plastic wrap, and form into a ball. If the mixture is sticking to your fingers, wet your fingertips with a bit of water. Wrap the ball in plastic wrap. Wrap the twine around the center of the ball, crossing over the center pulling so the twine indents the cheese ball. Do this 3 more times to make pumpkin shaped indents.
Place the cheese ball in the fridge for 2 hours, but up to overnight. When you're ready to serve, add the pepper slice into the top of the cashew ball. Serve with crackers, veggies, pretzels, whatever you please!