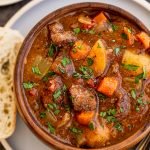 Scale
Ingredients
2

lbs. venison stew meat (or elk, antelope, moose, beef, bear – really any red meat)

¼ cup

  all purpose flour

2 tsp

. salt, divided

1 tsp

. pepper

1

–

2

Tbsp. high heat tolerant oil or fat (duck/deer/beef fat, avocado oil, clarified butter)

1

lb. baby, gold potatoes, quartered

3

–

4

large carrots, diced

3

celery stalks, diced

1

onion, diced

4

–

5

garlic cloves, minced

2 tsp

. Herbs de Provence

1

(15oz.) can diced tomatoes, drained

4 cups

beef or venison stock

½ cup

red wine (dry red like a Cabernet or Bordeaux is lovely)

5

–

10

dashes Worcestershire sauce
Optional: 3 Tbsp. corn starch, arrowroot powder or tapioca starch
Mix together the flour, 1 teaspoon of the salt, and 1/2 teaspoon of the pepper in a medium bowl. Pat the venison very dry with a towel to remove any liquid. Toss the venison chunks in the flour mixture until everything is coated and the flour is absorbed.
Heat a large skillet over medium-high heat and add the oil or fat. Once hot, sear the venison on all sides. You may need to work in batches to avoid overcrowding the meat.
Once seared, transfer the meat to the bottom of a slow cooker with the potatoes.
Then layer in the carrots, celery, onion, garlic, Herbs de Provence, the remaining 1 teaspoon of salt, the remaining 1/2 teaspoon of pepper, tomatoes, stock, wine, and Worcestershire sauce.
Set your slow cooker on low for 8-9 hours.
Optional (for thick stew) – After about 6 hours, remove a few spoonfuls of the broth and pour into a bowl or cup. Stir in the starch until the starch dissolves making a slurry. Pour the slurry into the stew, stir well and skew the lid for the remaining cook time.
Serve with crusty bread & get cozy!
Notes
You *can* cook this for 4-5 hours on high, but 8-9 on low is much better. The flavors will meld better and the meat will be more tender.
This recipe has not been tested with gluten-free flour, however, I imagine it will work just fine. You can also choose to omit steps 1-2 and add the starch suggested in step 6.
I suggest finding Herbs de Provence and not substituting because it's so lovely. I call for it in a lot of my recipes so you'll use it up. I get mine at Wal Mart or Thrive Market. If you must sub or want to make it yourself, check out this post.
When using a wine you really just want something palatable. This doesn't call for much so just use something you already have open from the night before or that you'd like to serve with the meal. Don't feel the need to spend big, I usually stay in the $12-$17 range with something I cook with. Of course, it can be omitted completely if you wish, but be sure to add 1 tablespoon of red wine vinegar instead.