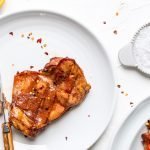 Scale
Ingredients
2

and 1/2 lbs. skinless chicken thighs*

1/4 cup

olive oil

1/4 cup

balsamic vinegar

3 Tbsp

. coconut aminos 

3 Tbsp

. water

1

and 1/2 Tbsp. cayenne pepper hot sauce (like Frank's) 

1 Tbsp

. coconut sugar

1

orange, juiced 

1

lime, juiced 

3

garlic cloves, smashed and minced 

2 tsp

. salt 
Add all of the ingredients to a zip top bag or a bowl with a lid. 
Mix well to make sure the chicken is coated. 
Place in the fridge for 12-24 hours to marinate, the longer the better. 
When you're ready to smoke, remove the chicken from the fridge and let it come to room temperature in the marinade while you preheat the smoker. 
If you're using a Traeger or wood pellet smoker, preheat to 450F. I like to sear my chicken before I smoke it for 5 minutes, it gives more flavor. If you're using a traditional smoker, you can skip this step, you just may need to smoke a bit longer*.
Place the chicken on the smoker/grill directly from the marinade. DO NOT rise or pat dry. Sear the chicken at 450F for 4-5 minutes. Keep the lid closed during the searing. Flip the chicken, close the lid, and adjust the temperature to 225F. 
Let the chicken smoke for 1 and 1/2-2 hours, or until the internal temperature reaches 165F and the juices are running clear. I like to check my chicken at the 1 and 1/2 hour mark because it's often done. 
Remove it from the smoker, cover with foil, and let it rest for at least 10 minutes before serving. 
Notes
For this recipe I used boneless, but you can do bone in. I actually always use skinless for this recipe because I always have them on hand, so if you have skin on thighs, just remove it if you want. You may need to add 15 minutes or so to your cook time for bone-in thighs, but it may be even juicer! 
If you're using a standard wood smoker and not a wood pellet grill like Traeger, you can either sear your chicken on the grill over medium-high heat for 5 minutes and then place in the smoker that's preheated to 225F, or place them directly in the smoker heated to 225F and smoke for 15-30  minutes longer, or until they're fully cooked. 
Nutrition
Serving Size:

1 piece

Calories:

231

Sugar:

10 g

Sodium:

1266mg

Fat:

16 g

Saturated Fat:

2 g

Unsaturated Fat:

11 g

Trans Fat:

0 g

Carbohydrates:

12 g

Fiber:

1 g

Protein:

20 g

Cholesterol:

0 mg