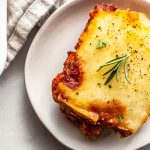 Scale
Ingredients
4

medium potatoes, peeled and chopped (or about

2 cups

of leftover mashed potatoes)

3 tbsp

of butter or ghee, divided

1

lb of venison steaks or chops, cubed*

1

bag of carrots, chopped (about

5

carrots)

5

–

6

celery stalks, chopped

1

large onion, chopped

3

cloves of garlic, minced

1 cup

of beef stock or bone broth

1

6oz. can of tomato paste

1/2 tsp

of ground thyme

2 tsp

. salt, divided

1 tsp

. pepper
Preheat oven to 375
Begin by boiling a pot of water.
Peel and cut your potatoes into eighths so they cook faster.
Once the water is boiling, add the potatoes and boil for 15-20 minutes until they are tender. Again, if you have leftover mashed potatoes, skip this step and set aside about 3-4 cups of the leftovers for the topping!
While the potatoes cook, dice the venison into bite-size chunks.
Heat a large pan or skillet on medium heat. Add 1 tbsp of butter and let it heat.
Add the chunks of venison and let them cook until slightly browned.
While the venison and potatoes cook, chop your veggies.
When the meat is browned, transfer it to a plate, and let it sit while you cook the veggies. Add the veggies to the hot pan and let them cook for 5-7 minutes before adding the garlic and thyme.
Let this cook for 2 more minutes, and add the stock, tomato paste, salt, pepper, and venison back into the pan. Let it go for two more minutes until everything is thick and combined.
Turn the burner off, and pour this into the bottom of your casserole dish.
By now, your potatoes will be done. Drain them, add them to a bowl, add 2 tablespoons of butter or ghee, 1 teaspoon of salt, and whip with a mixer or mash with a few forks.
Dump this out onto the top of your venison filling and smooth everything well.
Bake for 25-30 minutes until the potatoes slightly start to brown on top. Serve up in generous portions with a giant hug.
Nutrition
Serving Size:

1 cup

Calories:

289

Sugar:

12 g

Sodium:

723 mg

Fat:

6 g

Saturated Fat:

0 g

Unsaturated Fat:

0 g

Trans Fat:

0 g

Carbohydrates:

34 g

Fiber:

8 g

Protein:

17 g

Cholesterol:

45 mg