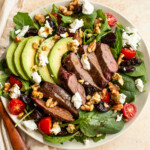 Scale
Ingredients
1

lb. venison steaks/chops or enough to feed 4 people

1 tsp

. salt

1 Tbsp

. avocado oil

1/2 tsp

. pepper

1

lemon
about

8 cups

lettuce, I like spinach and arugula or spring mix

1

avocado, sliced

1 pt

cherry tomatoes, halved

1/2 cup

walnuts, chopped

1/2 cup

dried cherries (fresh would be yummy, too!)
about

2 oz

. goat cheese, crumbled (or to taste)
For the dressing:
1/2 cup

olive oil

1/2 cup

balsamic vinegar

1 Tbsp

. pure maple syrup

1 tsp

. Dijon mustard

1

garlic clove, grated

1 tsp

. salt (or to taste)

1/2 tsp

pepper
First, remove the chops out of the fridge about 30 minutes prior to cooking so they can start to come to room temp and cook more evenly. Then, PAT THEM DRY with a paper towel.
Next, heat a cast iron pan over or a grill/pellet to medium-high heat (450F). 
While your pan/grill heats, salt the meat generously (about 1/4 tsp. per steak/chop) and pat dry AGAIN with a towel. Then drizzle on the avocado oil on both sides. 
When the pan/grill is hot, add the meat. Cooking time will vary depending on the size of your steak/chops. But, when you have a nice sear or grill marks on one side (anywhere from 2-5 minutes) flip the meat. Once the internal temperature reaches about 115-125F, remove the meat from the pan and let it rest for 10 minutes before slicing against the grain.
Season the meat with some fresh cracked pepper and a little squeeze of lemon. Set aside while you assemble the salad.
To make the dressing add the ingredient to a jar with a lid and shake together until everything is well combined. 
To assemble the salads, lay down a bed of greens and layer on the avocado, tomatoes, walnuts, dried cherries, goat cheese and cooked venison. Then drizzle on the dressing. Enjoy!