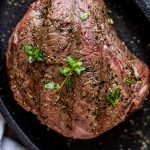 Scale
Ingredients
about

1

and 1/2 lbs of venison steaks, at least 1 inch thick – here I'm using 4, 6oz. venison tenderloin medallions, you could also use medallions from the backstrap/loin (sometimes called chops)

1

batch All-Purpose Venison Marinade or acidic marinade of choice (you'll need about

1/2 cup

marinade – see below*)
sea salt and fresh ground pepper, to taste
optional – extra lemon for serving 
Remove the steaks from their packaging and put them on a plate or in a bowl lined with a paper towel. This absorbs old blood while defrosting and creates a more palatable taste. 
If you're marinating your steaks, add your venison to a zip-top bag or a bowl with a lid. Again, this recipe works best with steaks that are at least 1 inch thick, but you can use this method for a flank steak or a thinner cut, just alter the cooking time. 
Pour your marinade all over the steaks and make sure everything is coated. Marinate for at least 3 hours, but up to overnight for really tender/flavorful steaks. If you aren't fond of the natural taste of venison, opt for a longer marinade time, the acid will develop the flavor so that it's more pleasing to you.
When you're ready to cook, remove the steaks from the marinade and let them come to room temperature for 20-30 minutes before you cook (this is safe to do, it ensures even cooking). 
Pat the steaks dry, wiping off the marinade, but DO NOT rinse them off. If you haven't used a marinade, pat them very dry and season them all over with salt and pepper.
If you used my marinade recipe, there's no need to add more oil for the grill. If you didn't mariante, a drizzle of olive oil is nice for grilling. I like to pierce my steaks with a fork all over to further tenderize them (see the photo in the post), but this is optional. 
If you're using a grill to cook, preheat it to medium-high, about 450-500F. If you're cooking in a pan, preheat a well-seasoned cast-iron pan over medium-high heat until it's very very hot. 
Place the steaks on the grill or in the pan and cook for about 5-7 minutes per side (this will depend on steak thickness), but keep an eye on the internal temperature. You want to pull the steaks at 117-125F for a rare plus/medium-rare steak, it's very important not to overcook venison. 
Once the steaks are cooked, remove them from the heat source at once and let them rest for at least 10 minutes before serving or slicing.
Season with a bit more salt (flakey salt if you have it) and pepper if desired and a light squeeze of lemon. Enjoy!
Notes
My All-Purpose Marinade Recipe:
¼ cup olive oil
2 Tbsp. red wine vinegar
½ lemon, juiced
3 garlic cloves, minced and smashed
1 tsp. Italian seasoning
¾ tsp. salt
½ tsp. pepper
Nutrition
Serving Size:

6oz. serving w/ marinade

Calories:

288

Sugar:

0 g

Sodium:

1247 mg

Fat:

8 g

Saturated Fat:

0 g

Unsaturated Fat:

2 g

Trans Fat:

0 g

Carbohydrates:

1 g

Fiber:

0 g

Protein:

51 g

Cholesterol:

0 mg
Keywords: venison, steak, deer, wild game, grill