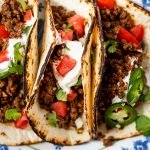 Scale
Ingredients
1 Tbsp

. olive or avocado oil 

1

small onion, finely diced 

1

lb. ground venison* 

4

–

5

garlic cloves, minced 

2 Tbsp

. chili powder

1 Tbsp

. cumin

1 tsp

. salt

1/2 tsp

. pepper

1

orange, juiced 

1

lime, juiced 

1 Tbsp

. apple cider vinegar 

1/3 cup

water
Begin by heating a large pan over medium heat on the stove. Add the oil to the pan and when the oil is hot, add the onion and saute until translucent, about 3-4 minutes. 
Then, add the ground venison and cook until browned, about 6-8 minutes. 
Next, add the garlic, chili powder, cumin, salt and pepper. Cook for an 2 additional minutes before deglazing the pan with the orange juice, lime juice and apple cider vinegar. 
Then, add the water and turn the heat to medium-low. Allow the meat to simmer for 5-10 minutes until the desired texture and moisture level are reached. 
Serve in taco shells, lettuce wraps, burritos, quesadillas, nachos – however you like!
Notes
This recipe will work with elk, beef, antelope, moose, bison, lamb – really any red meat. 
If you're thawing venison from frozen, try thawing it on a paper towel or drying it with a paper down and discarding old blood before cooking. This helps the meat to taste fresh and not "gamey".