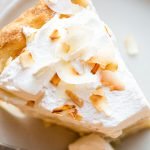 Scale
Ingredients
1

 unbaked pie crust – here's my recipe which makes 2 crusts* OR one pre-baked pie shell

15 oz

. full fat, unsweetened coconut milk (one can)

1/2 cup

 granulated sugar

1/4 cup

 tapioca starch or cornstarch

4

 egg yolks

3 Tbsp

. butter

2/3 cup

 sweetened, shredded coconut

1

 and 1/2 tsp. vanilla, divided

8 oz

. heavy whipping cream*

1/3 cup

 powdered sugar
optional – larger, unsweetened coconut flakes for serving
To pre-bake your pie crust, preheat the oven to 375F.
Roll out your chilled pie dough out and place it into a standard, 9-inch pie plate. Trim and shape the crust edges as you please.
Pierce the pie with a fork all over to let steam escape. To further prevent the crust from shrinking up on you, lay a piece of parchment down in the pie plate on top of the crust and weigh it down with pie weights, or dried beans or dried lentils.
Bake the crust for 20 minutes with the weights, remove the weights and bake for another 10-15 minutes until the whole pie crust is golden brown. If your edges start to brown, use a pie shield or wrap the edges in foil.
Remove the crust from the oven and let it cool while you prepare the filling.
To make the filling, whisk together the coconut milk, sugar, starch, and egg yolks in a saucepan.
Place the saucepan over medium-low heat and bring it to a slow boil, stirring continuously.
After the mixture boils, remove the saucepan from the heat and stir in the butter.
Once the butter has melted, stir in the coconut and one teaspoon of the vanilla.
Pour the filling into the baked pie shell and place it in the fridge to set up for at least 2 hours, or until cold.
Once the pie has set, whip the heavy whipping cream until soft peaks form. Add the powdered sugar and remaining vanilla and whip until stiff peaks form.
Top the pie generously with the whipped cream. If desired, toast some larger coconut flakes and sprinkle on top of the pie before serving!