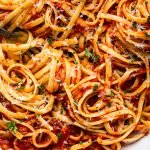 Scale
Ingredients
2 Tbsp

. olive oil

1

yellow onion, finely diced

4

–

6

garlic cloves, minced

1 Tbsp

. Italian seasoning

1 tsp

. sugar

1 tsp

. salt

½ tsp

. pepper

6 oz

. tomato paste
about

1/2 cup

dry red wine – just something good enough to drink, a Merlot, Chianti, Cabernet, or Sangiovese
(2) 28oz cans crushed tomatoes*
Start by heating the olive oil over medium heat in a large pot. Once the oil is hot, add the onions and saute for about 6-8 minutes. They should be translucent and browning on the edges – color is okay!
Then, add the garlic and saute for 1 more minute before stirring in the Italian seasoning, sugar, salt, and pepper. Cook for 2 minutes to let the spices release their flavors in the oil.
Then, add the tomato paste and let that cook for another 1-2 minutes. This also helps it to open up in the olive oil and develop flavor.
Add the wine and deglaze the pot (scrape up any bits of flavor on the bottom of the pot).
Lastly, add the tomatoes and stir. Bring the sauce to a boil, reduce the heat to low, cover the pot and let it simmer on the stove for at least 1 hour, but really as long as you'd like (6, 8 hours – whatever!).
Serve over al dente pasta and enjoy!
Notes
you can also use whole, plum tomatoes and crush them in your hands before adding them to the sauce. If you do this, I recommend letting the sauce cook for at least 2 hours.