This is my go-to recipe for marinara sauce. It's easy to make with simple ingredients but it is wonderfully flavorful and rich.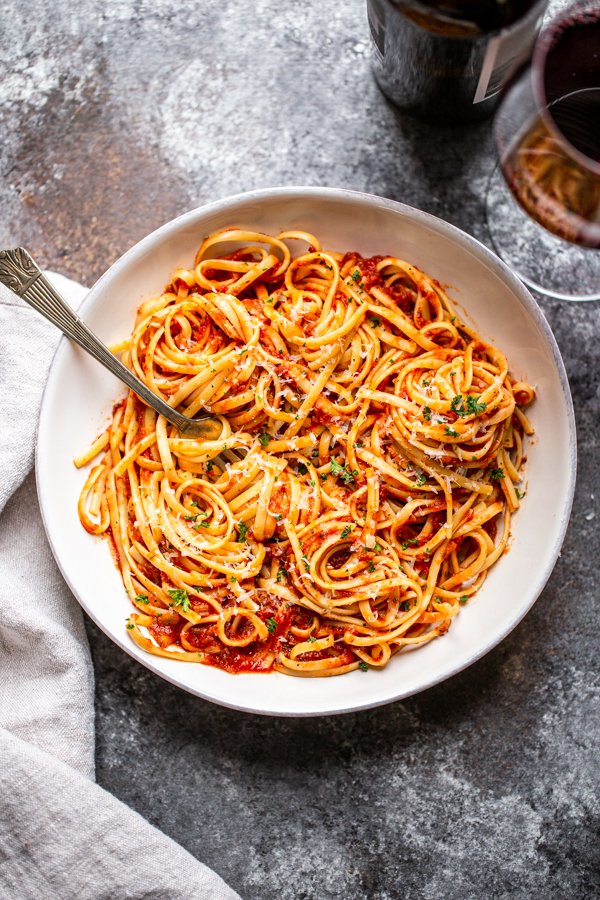 I can't believe it has taken me 6 years to post my marinara sauce recipe on the blog. Partly because I make it so much and partly because it is the recipe that caused me to fall in love with cooking.
The truth is, I haven't posted it because for years I never wrote down how I made it. Sometimes it was a little of this and a little of that, and sometimes it was a lot of this and none of that. I'm traditionally the kind of cook who cooks by taste, instinct and smell. And as a broke college kid/newlywed – with what I already had on hand. But, becoming a food blogger and cookbook author – I've become meticulous with my recipes over the years and I've gotten used to taking notes.
So, I decided to write down the best version of the recipe that started it all for you.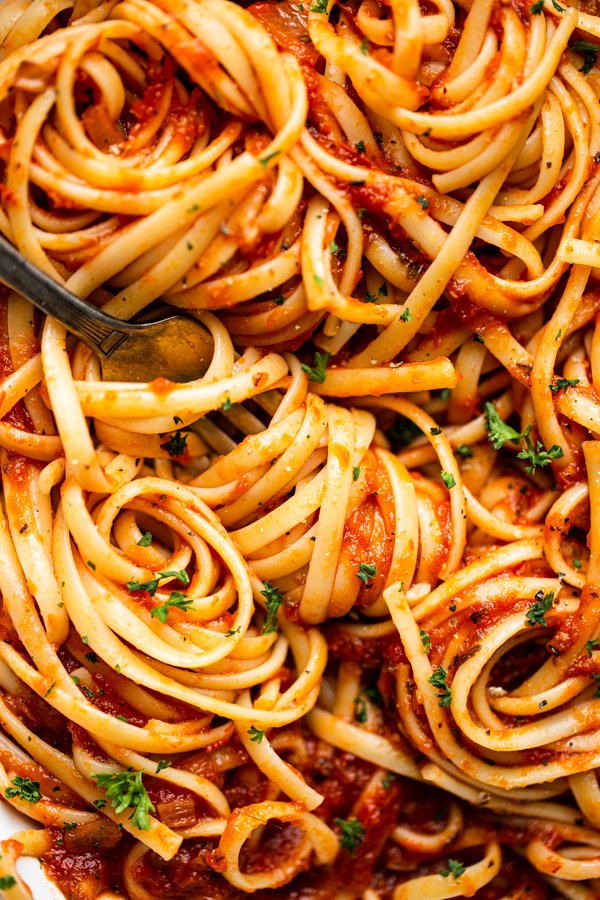 When I was a little girl, I would cook with my dad many Sunday afternoons. After church, we'd make quick tuna melts or go out to brunch and then he and I would turn to the pantry or go to the store to see what kind of fresh meats or seafood the butcher recommended. But most times, we'd turn to the pantry and find a few cans of crushed or whole tomatoes hanging out on the top shelf. The weeks were long, and we wanted more time home together.
We'd dice some onions and mince garlic (LOTS of garlic) and when it came time to add our absolutely, positively top-secret ingredients…I would squeal with delight as my dad let me take a little swig of wine as we fussed over our creation.
Spoiler alert…our secret ingredients are sugar (just a little) and wine.
We'd boil pasta we had on hand and set out pasta bowls for us, my mom and brother. They'd both remark each time how wonderful the sauce was and after the meal was over, my brother and I would stand by the colander eating the leftover pasta that didn't make it to the table.
And this is how my love affair with food began.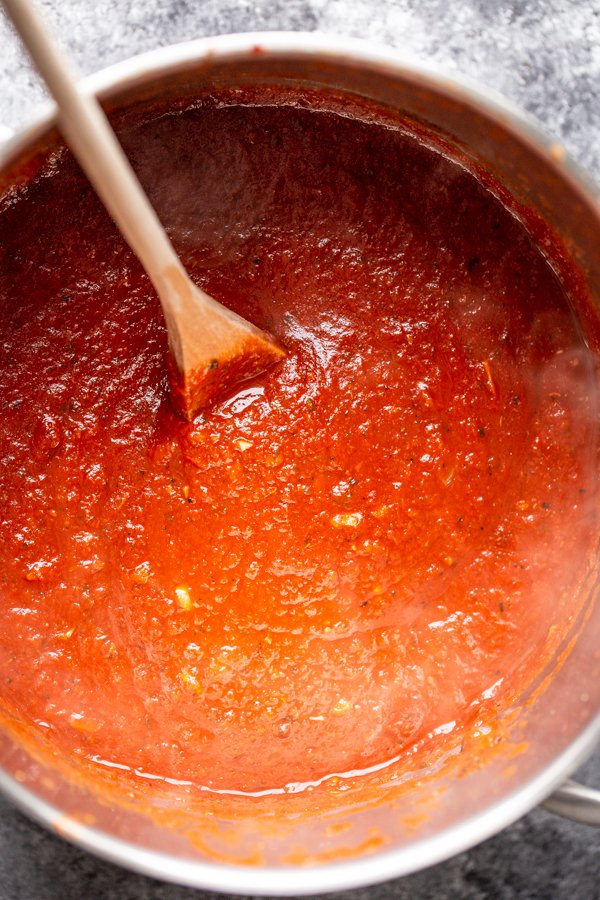 Without further ado, these are our secrets for great marinara sauce
Start early, give it time to cook
I'll never claim to be Italian but I've heard stories from friends about their relatives starting "Sunday gravy" really early in the morning for dinner. The more time you give this sauce to sit over heat and let the flavors come together, the better.
I actually really like the consistency of this sauce after it combines (the tomato paste keeps it nice and thick) so I do cover it so it doesn't rude down too much.
Also, when you use canned tomato products, you want to give them enough time to cook so that tin can flavor dissipates.
Layer flavors – saute your spices, seasoning & tomato paste
Another tip I have for you is to make sure you saute your spices, seasonings and tomato paste. This helps them release their flavors into the oil and distribute them well. You'll get the most bang for your buck out of your ingredients.
Take a glance at the directions before beginning and follow the order of the steps below to learn how to do this!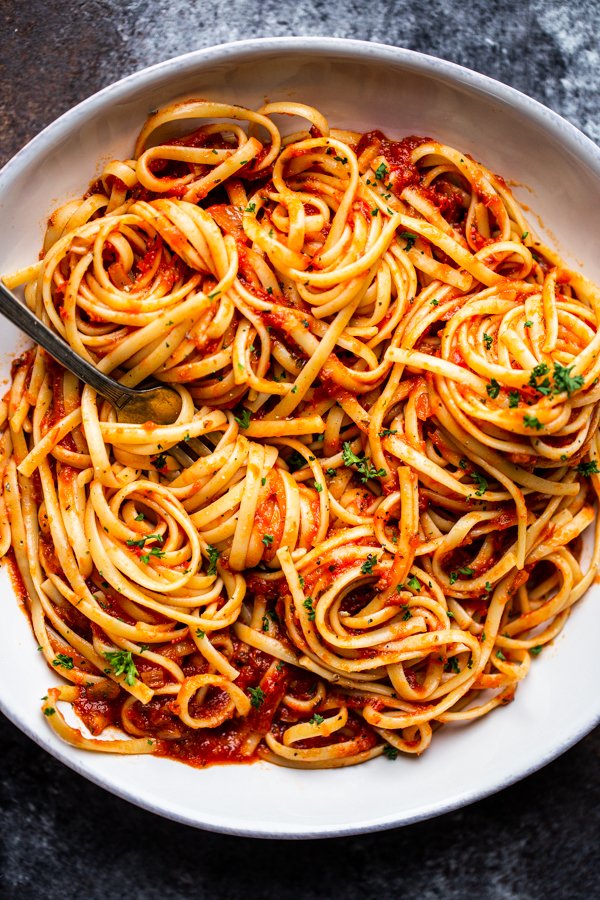 Flavor with wine & sugar
Lastly…our secret ingredients. Wine and sugar! The wine adds richness to the sauce that cannot be beaten. Of course, you can leave this out, but I never do. No need to get anything expensive, just something good enough to drink, a Merlot, Chianti, Cabernet, or Sangiovese will work. Even a Tuscan red blend.
The bit of sugar takes away some of the acidity from the tomatoes. I don't add a lot here, really just a teaspoon per batch. If you absolutely can't have sugar (we avoid it, but there is so little here I'm fine with it) use honey!
How do you serve this marinara sauce?
I love to serve this as is over perfectly cooked, al dente pasta. I usually buy high-quality pasta. It's well worth the extra $2 you'll spend. If you're looking for the perfect meatball recipe to serve with this, here is my venison meatball recipe that can also be made with beef, lamb, bison, and elk!
Print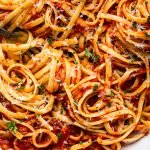 Go-To Simple Marinara Sauce
This is my go-to recipe for marinara sauce. It's easy to make with simple ingredients but it is wonderfully flavorful and rich. 
Author:
Prep Time:

10 minutes

Cook Time:

1 hour

Total Time:

1 hour 10 minutes

Yield: about

7 cups

of sauce

1

x
Category:

Main Dish

Method:

Stovetop

Cuisine:

Italian American
Scale
Ingredients
2 Tbsp

. olive oil

1

yellow onion, finely diced

4

–

6

garlic cloves, minced

1 Tbsp

. Italian seasoning

1 tsp

. sugar

1 tsp

. salt

½ tsp

. pepper

6 oz

. tomato paste
about

1/2 cup

dry red wine – just something good enough to drink, a Merlot, Chianti, Cabernet, or Sangiovese
(2) 28oz cans crushed tomatoes*
Instructions
Start by heating the olive oil over medium heat in a large pot. Once the oil is hot, add the onions and saute for about 6-8 minutes. They should be translucent and browning on the edges – color is okay!
Then, add the garlic and saute for 1 more minute before stirring in the Italian seasoning, sugar, salt, and pepper. Cook for 2 minutes to let the spices release their flavors in the oil.
Then, add the tomato paste and let that cook for another 1-2 minutes. This also helps it to open up in the olive oil and develop flavor.
Add the wine and deglaze the pot (scrape up any bits of flavor on the bottom of the pot).
Lastly, add the tomatoes and stir. Bring the sauce to a boil, reduce the heat to low, cover the pot and let it simmer on the stove for at least 1 hour, but really as long as you'd like (6, 8 hours – whatever!).
Serve over al dente pasta and enjoy!
Notes
you can also use whole, plum tomatoes and crush them in your hands before adding them to the sauce. If you do this, I recommend letting the sauce cook for at least 2 hours.
Keywords: sauce, pasta sauce, marinara, tomato sauce