Print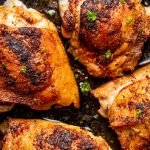 Scale
Ingredients
about

2.5

lbs. bone-in, skin-on chicken thighs (about

4

–

5

big thighs)
about

2 Tbsp

. olive oil (

1 tsp

. per thigh), divided

2 tsp

. paprika

1 tsp

. garlic powder

1 tsp

. onion powder

1/2 tsp

. ground sage

1

and 1/2 tsp. salt

1/2 tsp

. black pepper 
Start by preheating the oven to 400F and set your chicken out on the counter to come to room temperature about 20 minutes before you're ready to cook. This is safe to do and helps with even cooking. Then, Pat the chicken totally dry with a paper towel.
Mix together all of the spices and seasonings.
Drizzle each chicken thigh with 1 teaspoon of olive oil and sprinkle an equal amount of the spice mixture onto each thigh. Rub the oil and spices all over the chicken. 
Heat an oven-safe or cast iron skillet over medium-high heat on the stove. Pick a skillet that's big enough to hold all of the chicken in an even layer with a bit of room between each piece. Once the skillet is hot, add the oil.
Then, lay the chicken thighs, skin side down in the skillet. Sear them for 5-7 minutes until they are nice and golden brown on top, and then flip them. When you go to flip them, they should give right away. If the chicken is sticking to the pan, it isn't done searing yet. 
Once the chicken is seared and the skin side is facing up, turn the stovetop burner off and slide the skillet into the oven. 
Bake for about 30 minutes, or until the chicken reaches an internal temperature of 165F. Rest for 10 minutes before serving!