With these pan-roasted chicken thighs, you get really really crispy skin and juicy and tender meat from bone-in, skin-on chicken thighs.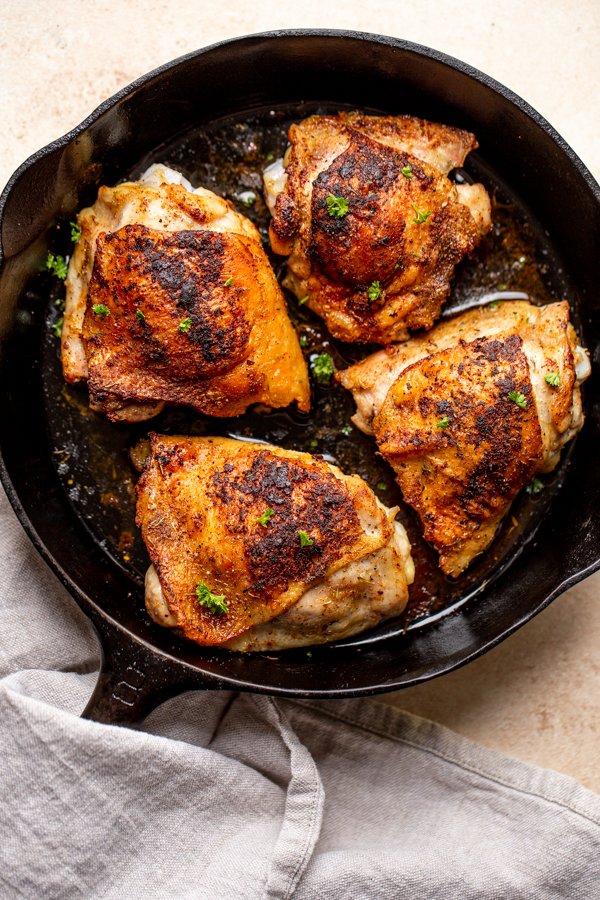 Ah, chicken thighs. Overlooked, underrated and crazy delicious if you ask me. And pan-roasted chicken thighs are just about as good as it gets. You need this recipe in your back pocket.
I used to think I was the only one who preferred chicken thighs to chicken breasts. But then, I posted this how to post on roasting chicken thighs and it was actually one of my first viral posts on the blog! I couldn't believe it.
But what I realized is that most of us prefer chicken thighs, we just don't know how to cook them, especially bone-in, skin-on. They got a bad wrap in the 90's when everything with a little bit of fat was deemed evil. But, now that we're coming out of that hole, chicken thighs are well on their way to making a comeback.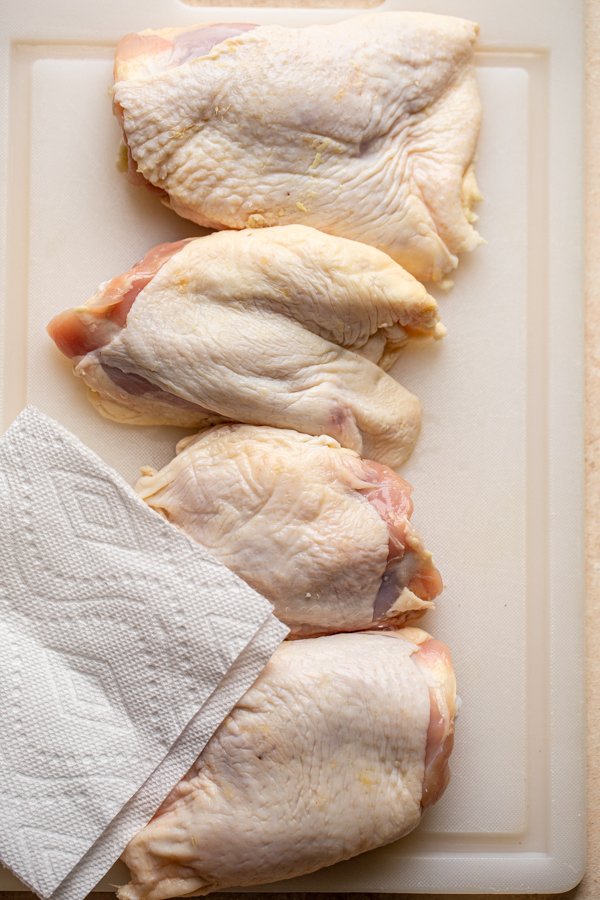 Why bone-in, skin-on thighs?
I prefer buying bone-in, skin-on chicken thighs for the following reasons:
They're juicer – cooking meat on the bone yields a juicier piece of meat because the meat is intact. There are fewer places for juices to run out, and you're getting added tenderness from the bones as they seep collagen and marrow (this is good for you, too!). Leaving the skin on also encourages juices to stay inside of the meat during cooking.
They're crispier – if you cook skin right, it makes a really lovely, crispy layer on top of the meat. Say goodbye to boring chicken.
You can save the bones and skin for homemade bone broth and stock – here's the recipe I use!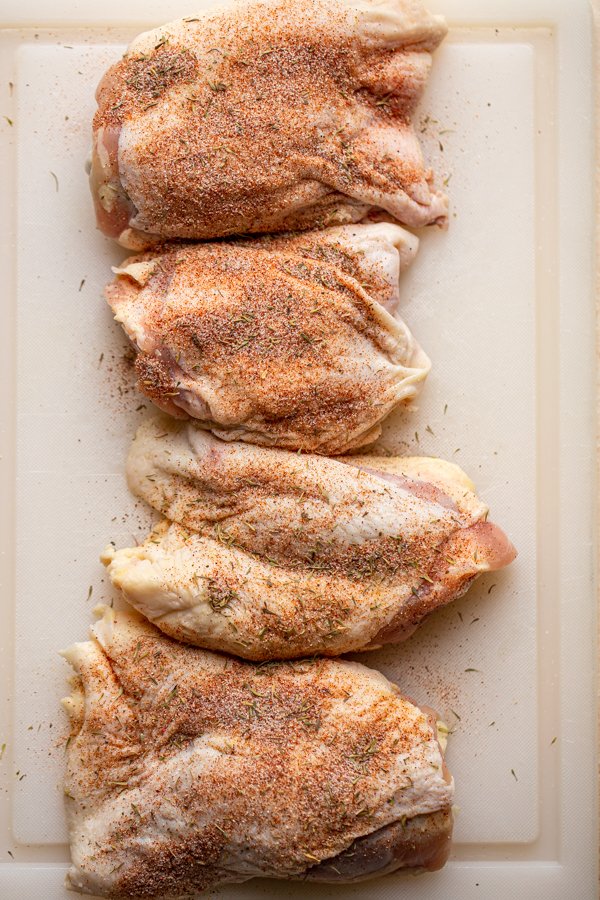 The secret to juicy and crispy pan-roasted chicken thighs
There are a few tips and tricks that I use for making sure my chicken thighs are super juicy and also crispy. Here we go:
Bring the meat to room temperature – set your chicken out on the counter to come to room temperature about 20 minutes before you're ready to cook. This is safe to do and helps with even cooking. You won't end up with dry spots in some places and undercooked spots in others.
Pat meat dry – take a paper towel and dab the chicken to make sure no moisture remains. Excess water can make your skin soggy and the chicken can stick to the pan.
Pan sear your chicken thighs – by pan searing before roasting, you're creating a layer of crust and texture.
Don't flip until the meat is ready to release – That being said, when pan searing, don't flip the meat until it's ready. If you go to flip it and it doesn't give right away, let it sear a bit longer. Once a nice crust is formed it will flip easily.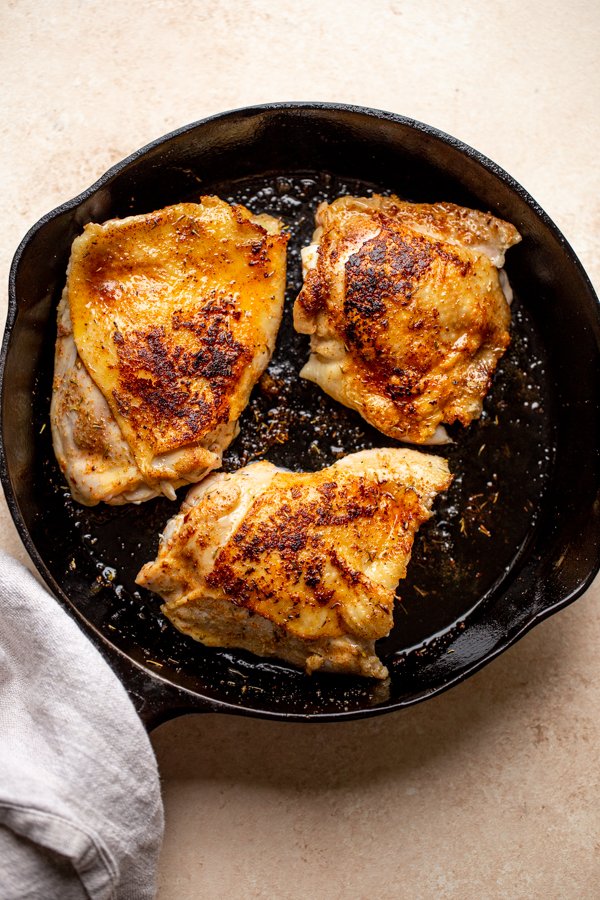 What is pan roasting?
Ah so you may still be wondering what pan roasting is. Pan roasting is the technique used when you sear meat in a pan (make sure it's oven safe – I like cast iron) and then finish cooking it in the oven. Sometimes, it's called pan seared, too.
It's really commonly used in restaurant cooking because you form a nice crust on the meat, start and speed up the cooking process, and then finish it (hands free) in the oven while you prepare the remainder of the meal.
Pan roasted chicken thighs aren't the only kind of meat you can pan sear, you can really do this with any type of meat!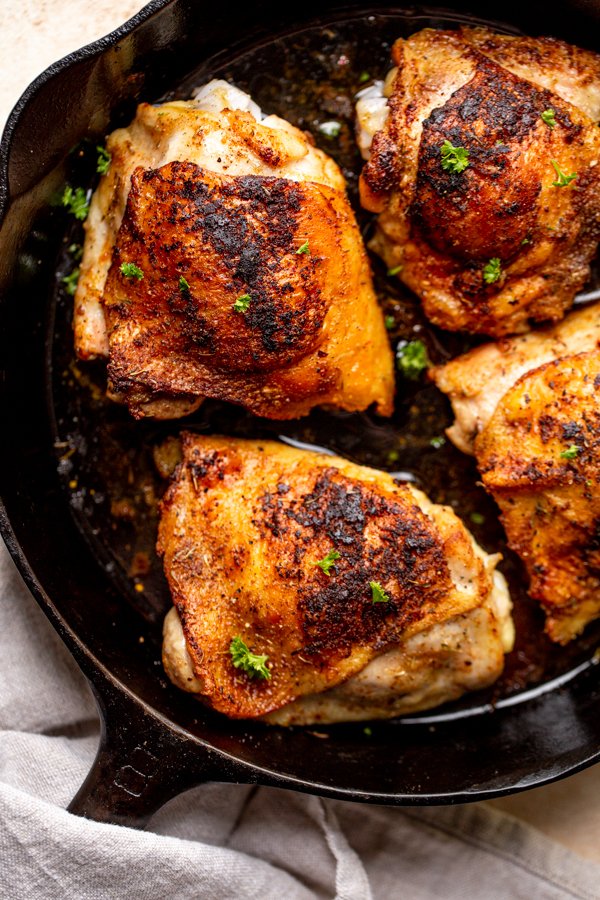 Why is pan roasting chicken thighs the best way to get crispy chicken thighs quickly?
As I mentioned above, pan roasting chicken thighs ensures that you'll have crispy skin on chicken thighs. Because you start the cooking process in a very hot pan, you jump start it, and it takes less time in the oven than just straight roasting does. There's a little more active time, but it's well worth it!
Print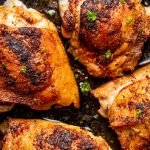 Pan-Roasted Chicken Thighs (Bone-In)
By pan roasting chicken thighs you get really really crispy skin and juicy and tender meat from bone-in, skin-on chicken thighs. 
Author:
Prep Time:

5 minutes

Cook Time:

35 minutes

Total Time:

40 minutes

Yield:

4

servings

1

x
Category:

Dinner

Method:

Pan Sear

Cuisine:

American

Diet:

Gluten Free
Scale
Ingredients
about

2.5

lbs. bone-in, skin-on chicken thighs (about

4

–

5

big thighs)
about

2 Tbsp

. olive oil (

1 tsp

. per thigh), divided

2 tsp

. paprika

1 tsp

. garlic powder

1 tsp

. onion powder

1/2 tsp

. ground sage

1

and 1/2 tsp. salt

1/2 tsp

. black pepper 
Instructions
Start by preheating the oven to 400F and set your chicken out on the counter to come to room temperature about 20 minutes before you're ready to cook. This is safe to do and helps with even cooking. Then, Pat the chicken totally dry with a paper towel.
Mix together all of the spices and seasonings.
Drizzle each chicken thigh with 1 teaspoon of olive oil and sprinkle an equal amount of the spice mixture onto each thigh. Rub the oil and spices all over the chicken. 
Heat an oven-safe or cast iron skillet over medium-high heat on the stove. Pick a skillet that's big enough to hold all of the chicken in an even layer with a bit of room between each piece. Once the skillet is hot, add the oil.
Then, lay the chicken thighs, skin side down in the skillet. Sear them for 5-7 minutes until they are nice and golden brown on top, and then flip them. When you go to flip them, they should give right away. If the chicken is sticking to the pan, it isn't done searing yet. 
Once the chicken is seared and the skin side is facing up, turn the stovetop burner off and slide the skillet into the oven. 
Bake for about 30 minutes, or until the chicken reaches an internal temperature of 165F. Rest for 10 minutes before serving!
Keywords: chicken, chicken thigh, pan sear