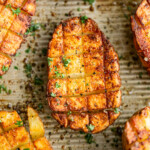 Scale
Ingredients
4

–

5

medium/large potatoes (russet or gold work best) 
about

2

–

3

Tbsp. butter (good quality if you can- grass-fed)

1 Tbsp

. olive oil 

1

–

2

tsp. sea salt 
Preheat the oven to 400F. 
Wash and dry the potatoes well. 
Slice them in half and then score by cutting shallow lengthwise slits along the surface of the potato at regular intervals. Be careful not to cut too deep, or the potatoes will fall apart during cooking. Then, turn the potato and do the same horizontally, creating little squares or diamonds. 
Slather about 1/2 Tbsp of butter on the cut side of each potato. Sprinkle with sea salt. 
Drizzle oil on a baking sheet and spread it all over the sheet. 
Lay the potatoes cut-side down on the sheet. 
Roast them in the oven for 30-40 minutes or until they're very golden brown and crispy. Do NOT flip them. Remove from the oven and serve!