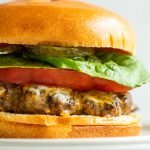 Scale
Ingredients
1

lb. ground venison 

2 tsp

. balsamic vinegar 

1/2 tsp

. Worcestershire sauce 

1 tsp

. garlic powder

1/2 tsp

. onion powder

1 tsp

. salt

1/2 tsp

. pepper 

2 Tbsp

. freezing cold butter, grated*
Burger buns (brioche is best and toppings you like – cheese (we like Pepper or Colby Jack), lettuce, tomato, pickles, ketchup, etc. 
Before beginning, place a stick of butter in the freezer. 
If you're cooking your burgers on a grill, go ahead and preheat the grill to medium-high (450-500F). If you're cooking on a stovetop, get out a large pan (preferably cast-iron) and set it on the appropriate burner. You're going to want to heat the pan for 3-5 minutes before cooking, so keep that in mind. 
Mix together the venison, balsamic, Worchestershire, garlic powder, onion powder, salt, and pepper. I like to use a fork and my hands. It's good to use a fork to "fluff" and break up the meat, you don't want it too packed. 
Right before you form the patties, grate in about 2 tablespoons of freezing cold butter (I use a regular, old cheese grater). Mix again quickly just to distribute, but not so much that the butter melts. 
Form the meat into 4 evenly sized balls and then shape them into patties. Form a divot in the top of the burgers to help catch some of the juice. 
Place the burgers on the grill or in the hot pan, and cook for anywhere from 5-8 minutes per side. I like to just flip the burgers once so they have a nice crust. If you're using cheese, add your cheese when you flip your burger over.
I use an internal read thermometer and pull my burgers at 140-145F (medium) but you can pull them at 150F-160F if you like yours more well done. 
Let your burgers rest for 5-10 minutes (SERIOUSLY) before assembling and eating. Voila!
Notes
When I tell people to add butter to burger meat I sometimes get flack from the health police. To me, it makes a huge difference, but of course, it isn't 100% necessary. If you're wanting to not use the butter, just don't use it. But, your butter won't be as juicy and it's only about 1/2 Tbsp. per serving. I always opt for very high quality, grass-fed butter, by the way. 
Nutrition
Serving Size:

1 burger (patty only)

Calories:

269

Sugar:

1 g

Sodium:

678 mg

Fat:

15 g

Saturated Fat:

8 g

Unsaturated Fat:

2 g

Trans Fat:

0 g

Carbohydrates:

2 g

Fiber:

0 g

Protein:

30 g

Cholesterol:

126 mg