Making perfect venison burgers isn't hard. All you need to do is add a bit of fat and a few flavors to make this underrated meat shine on burger night.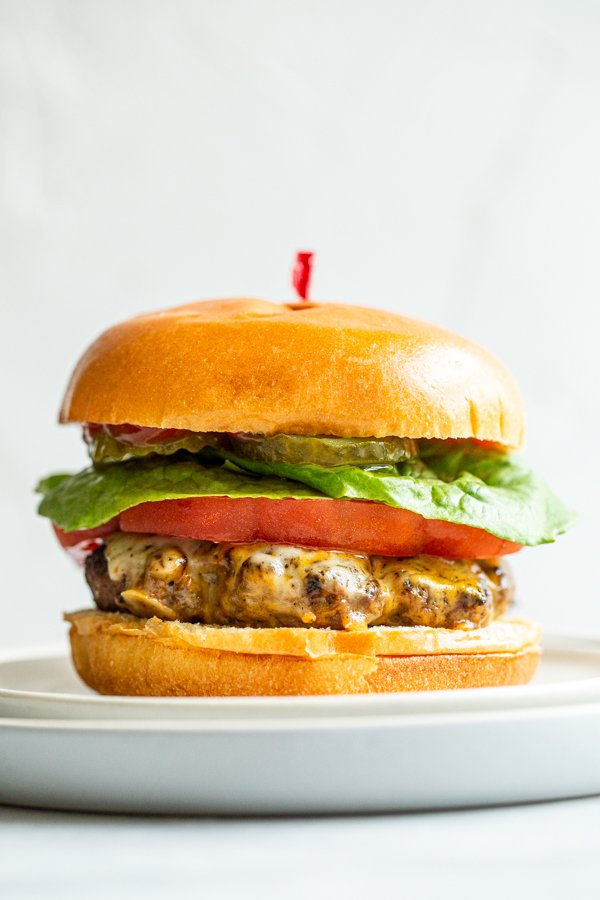 Ah, venison burgers. A popular dish to make with ground deer meat, but they often end up dry, tough and gamey.
If you find that this is usually true for you, you're probably cooking venison burgers like you're cooking beef burgers. With just a few simple tricks, you can take your wild game burger night to the next level and start using up that ground venison you have in the freezer. (For more venison cooking tips check out my free guide!)
Venison burgers are always a go-to in our house year-round when we're trying to use up ground venison, and these honestly are so crazy flavorful and juicy, I like them even more than traditional beef or turkey burgers. The best part is the lean, grass-fed, responsibly sourced protein.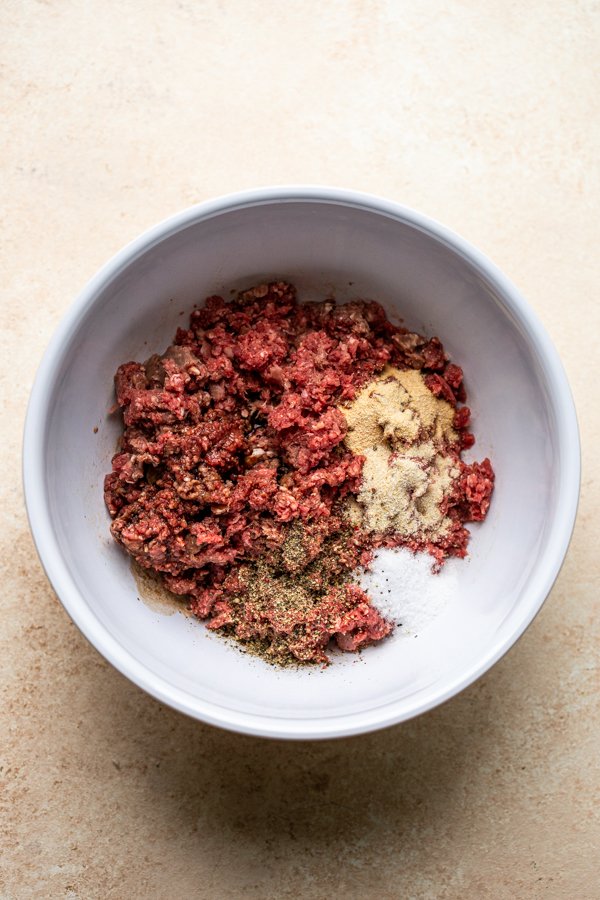 How do you make venison burgers that aren't dry?
The trick to cooking venison burgers is to add a bit of fat to the meat because it's very lean, and make sure you don't overcook them.
Adding fat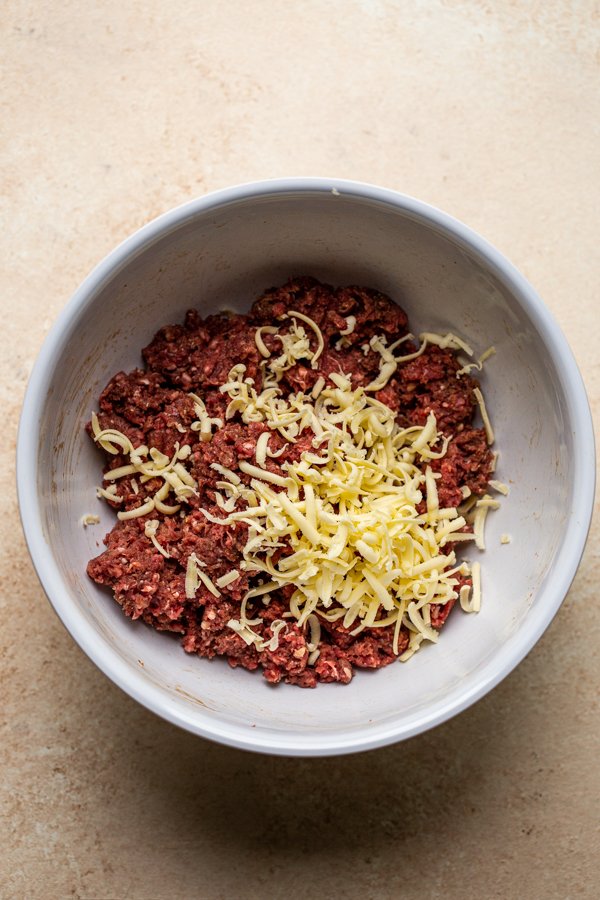 In this recipe, you'll see below that I'm using cold, grated butter and mixing a bit into the patties. Not too much, you don't want the burger to be greasy, but just about 1/2 tablespoon of grated butter per patty to give it some juice.
Our deer meat is also cut with 10% pork fat, so be sure to add some sort of fat to your grind (or have your butcher do it) when processing the meat.
Cooking to perfection
One of the #1 ways to ruin deer meat is to overcook it. I like my steaks rare to medium rare and my burgers just over medium, so about 140F internally.
Once your burgers reach about 140-145F, pull them off the heat source you're using and let them rest for a few minutes before serving them. This is SO important.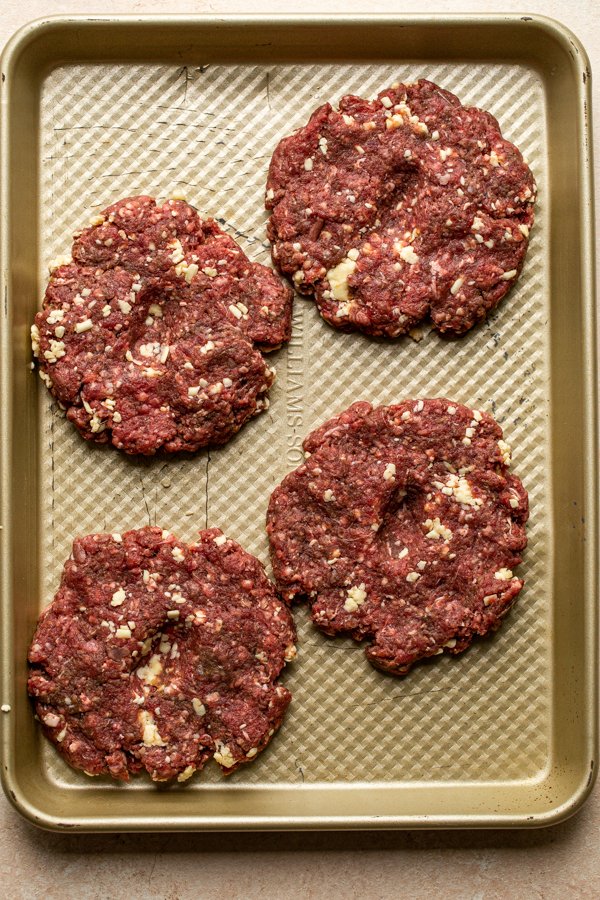 How do you make deer burgers taste good?
If you don't love the flavor of venison, or even if you do and you want to enhance it, you're going to want to add a bit of seasoning and acid to your burgers to let the meat shine.
I add a bit of balsamic vinegar and Worcestershire sauce to combat the richness but bring out the meaty flavor.
Then, it's just simple salt, pepper, garlic, and onion powder. It's really that easy!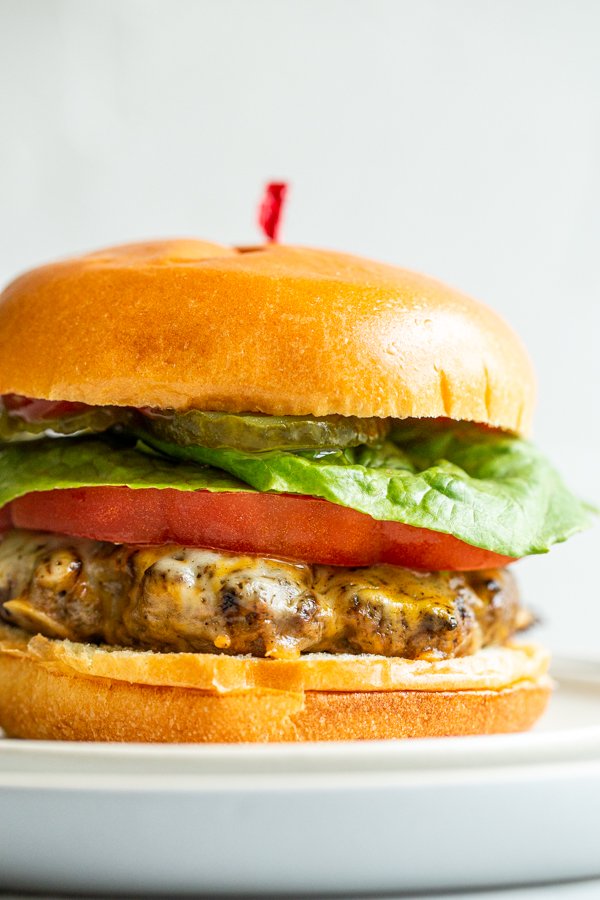 Love this recipe? Make sure to order a copy of my cookbook, Venison Every Day, for more amazing deer meat ideas.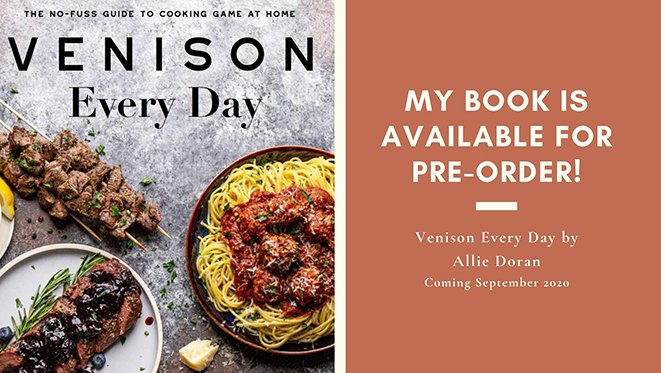 Print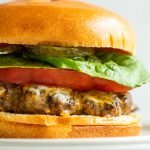 Venison Burger
Making perfect venison burgers isn't hard. All you need to do is add a bit of fat and a few flavors to make this underrated meat shine on burger night.
Author:
Prep Time:

10 minutes

Cook Time:

12 minutes

Total Time:

22 minutes

Yield:

4

burgers

1

x
Category:

Main Dish

Method:

Grill/Stovetop

Cuisine:

American
Scale
Ingredients
1

lb. ground venison 

2 tsp

. balsamic vinegar 

1/2 tsp

. Worcestershire sauce 

1 tsp

. garlic powder

1/2 tsp

. onion powder

1 tsp

. salt

1/2 tsp

. pepper 

2 Tbsp

. freezing cold butter, grated*
Burger buns (brioche is best and toppings you like – cheese (we like Pepper or Colby Jack), lettuce, tomato, pickles, ketchup, etc. 
Instructions
Before beginning, place a stick of butter in the freezer. 
If you're cooking your burgers on a grill, go ahead and preheat the grill to medium-high (450-500F). If you're cooking on a stovetop, get out a large pan (preferably cast-iron) and set it on the appropriate burner. You're going to want to heat the pan for 3-5 minutes before cooking, so keep that in mind. 
Mix together the venison, balsamic, Worchestershire, garlic powder, onion powder, salt, and pepper. I like to use a fork and my hands. It's good to use a fork to "fluff" and break up the meat, you don't want it too packed. 
Right before you form the patties, grate in about 2 tablespoons of freezing cold butter (I use a regular, old cheese grater). Mix again quickly just to distribute, but not so much that the butter melts. 
Form the meat into 4 evenly sized balls and then shape them into patties. Form a divot in the top of the burgers to help catch some of the juice. 
Place the burgers on the grill or in the hot pan, and cook for anywhere from 5-8 minutes per side. I like to just flip the burgers once so they have a nice crust. If you're using cheese, add your cheese when you flip your burger over.
I use an internal read thermometer and pull my burgers at 140-145F (medium) but you can pull them at 150F-160F if you like yours more well done. 
Let your burgers rest for 5-10 minutes (SERIOUSLY) before assembling and eating. Voila!
Notes
When I tell people to add butter to burger meat I sometimes get flack from the health police. To me, it makes a huge difference, but of course, it isn't 100% necessary. If you're wanting to not use the butter, just don't use it. But, your butter won't be as juicy and it's only about 1/2 Tbsp. per serving. I always opt for very high quality, grass-fed butter, by the way. 
Nutrition
Serving Size:

1 burger (patty only)

Calories:

269

Sugar:

1 g

Sodium:

678 mg

Fat:

15 g

Saturated Fat:

8 g

Unsaturated Fat:

2 g

Trans Fat:

0 g

Carbohydrates:

2 g

Fiber:

0 g

Protein:

30 g

Cholesterol:

126 mg
Keywords: venison, deer meat, burger, burgers
this post was originally published in June 2020. It was updated in June 2022.