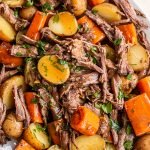 Scale
Ingredients
3

–

4

lb venison roast (shoulder or neck is best, bone-in or out is fine – see notes)*

1

and 1/2 tsp. salt, divided

1 Tbsp

. high heat tolerant cooking fat (duck fat, avocado oil, clarified butter/ghee)

1

and 1/2 cups venison stock or beef stock*

2 Tbsp

. tomato paste

1 Tbsp

. balsamic vinegar

1

and 1/2 tsp. Worchestershire sauce

1 tsp

. dried thyme

1 tsp

. dried parsley

1 tsp

. pepper

5

garlic cloves, minced

1

large, yellow onion, cut into large pieces

1

lb. baby yellow potatoes

4

–

5

carrots, peeled and cut into

2

-inch pieces

2 Tbsp

. tapioca starch, arrowroot powder or cornstarch
Remove your roast from the packaging and dry thoroughly with a paper towel to remove any liquid or old blood. Then, sprinkle 1/2 teaspoon of the salt all over the meat. 
Heat the oil/fat in a large skillet over medium-medium high heat and sear the roast on all sides until brown. If you go to flip the meat and it's sticking to the pan, it's not ready to be flipped. When a sear forms, it will release from the skillet. 
Once seared all over, remove the roast from the skillet and place it in the bottom of a slow cooker. 
Pour in the stock or add frozen stock to the bottom of the slow cooker. Then, add the tomato paste, balsamic vinegar, Worchestershire sauce, thyme, parsley, pepper, half of the garlic and 1/2 teaspoon of the salt. Rub that all over the meat the best you can. 
Then, add the onions, carrots and potatoes on top. Sprinkle on the remaining salt and garlic. 
Set the slow cooker to low and cook for 8-9 hours, or until falling-apart tender*
When you're ready to serve, remove the meat and shred it on a board. Toss the veggies in the juice and move them to a platter to add with the pulled venison roast. You can halve the potatoes if you like. 
If you want gravy, mix the cornstarch (or tapioca or arrowroot powder) with a bit of the strained pot drippings to make a slurry. Then, add the rest of the drippings and the slurry to a small saucepan and reduce over medium-low heat for 10 minutes. 
Serve & ENJOY!
Notes
This recipe works well for a variety of roast cuts. A shoulder or neck (my favorite) roast is best if you have it, even better if the bone is still in. This really is the best way to work with shoulder and neck roasts – you need to cook them low and slow to break down the connective tissue to get them tender. If you use a bone-in roast, I like to save the bone to make a batch of venison stock/broth. You can use a hind leg roast cut but know that they can be used for other purposes such as pastrami or corned venison if you're feeling creative
Note that you need 1 1/2 cups of cooking liquid for this but you can change up what you use. If you'd like to get creative, try adding in both wine and stock or beer and stock for different flavor profiles. 
You can try cooking this on high for 4-6 hours if you're in a time pinch but I never get as tender results as I do here. Please note that I strongly recommend planning around a 8-9 hour cook on low heat.