It's very simple to make venison stock (or deer bone broth) right in your slow cooker or on the stove. Use up bones and scrap veggies you already have on hand.
I cannot talk about the pros of making your own venison stock at home enough. Seriously, I can't. Not only is it majorly good for you and respectful to the animal you've harvested, but it saves you time and money, too.
Over the past few years, I've gotten obsessed with making my own stock/broth at home. It's absolutely so easy to do. With very little active time involved, I find myself creating a literal stock pile (lol) in our deep freezer of all different kinds of stock to use in the cold months. But first things first…
What's the difference between stock and broth?
Technically, stock is a richer more gelatinous liquid using more bone than meat to make a flavorful cooking liquid. It adds liquid but also body to recipes. Broth is also used in cooking now, but it is really more for sipping (or slurping) alone. Bone broth is technically for sipping, but has more bones present to contribute to a higher collagen and gelatin content in the broth.
For all intents and purposes here, I'll call this recipe stock, but it can also be doctored up with a bit of salt and pepper for a delicious sipping deer bone broth.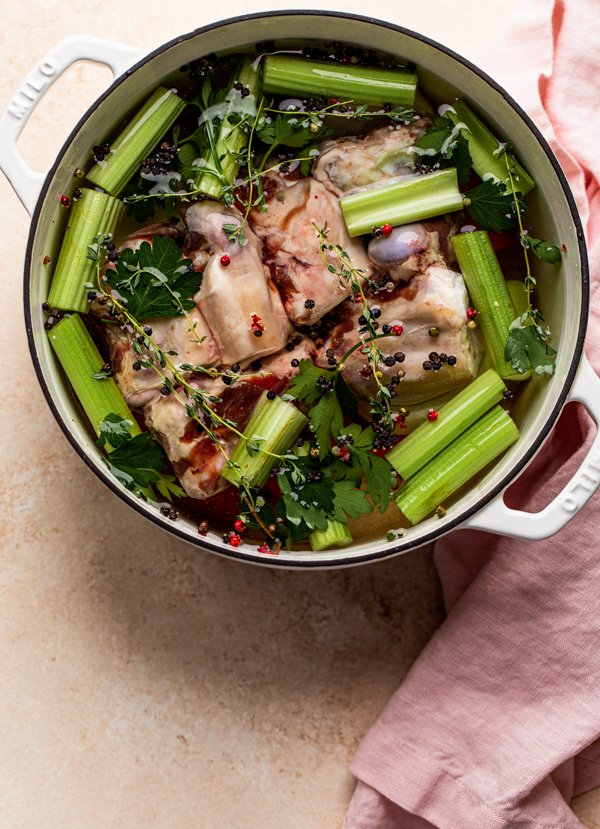 What can you do with deer bones?
Make this venison stock recipe 🙂 But really, don't throw away your bones. Whether you have some laying around from processing or you have bone-in roasts, ribs, or chops – set/freeze the bones aside for later or get to making some of this venison stock. When I make a bone-in roast, I save any bones left and make this.
With this method, it doesn't really matter if you're using raw bones or cooked. Just make sure that if you're not using the bone right away, you freeze it until you're ready.
For venison stock, knuckle bones are my absolute FAVORITE. They're from the knee joint and are almost always leftover from processing. If you use them in stock, when it's chilled, you'll likely have something that resembles Jell-o. This is exactly what you want because it makes the gelatin has released into the broth. The result will not only be fabulous for you, but it will create velvety soups, stews, roasts, and more.
Is deer bone broth good for you?
Yes, yes, and YES! Homemade bone broth or stock is fabulous for you. Venison stock is even better because you're using an animal that has most likely been raised in the wild and ethically sourced and killed.
Quality bone broth/stock has said to have anti-inflammatory properties which can support digestion, gut health, and the immune system. Venison stock also has a wonderful amino acid profile. Due to the high collagen and gelatin levels, it's also good for your skin and joints.
Oh, beautiful youth elixir!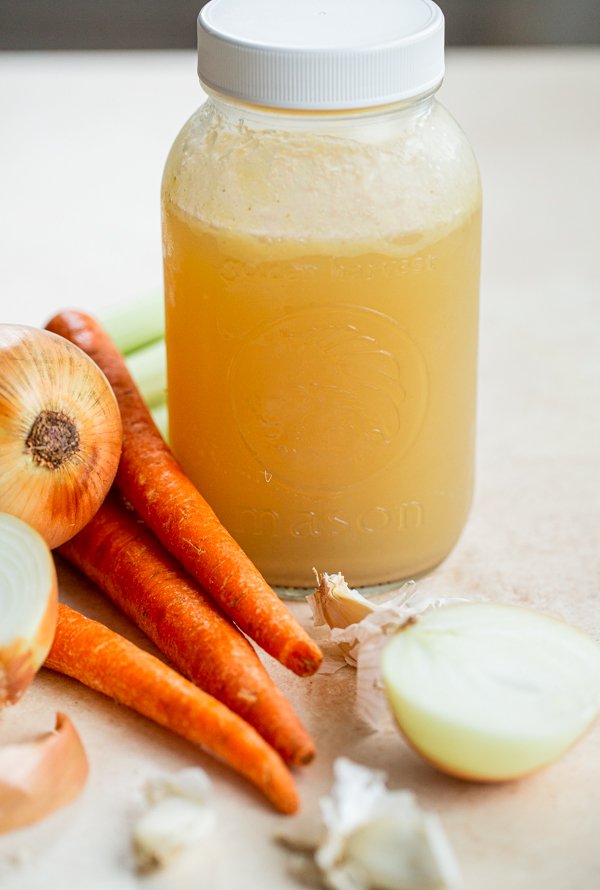 Making venison stock in your slow cooker
If you make venison stock in your slow cooker, your job couldn't be easier. If you want a TON of flavor from the stock, you can roast the bones beforehand (around 30 minutes at 400F will do) but it honestly isn't mandatory. I know a lot of busy families don't have time for that. Frozen bones are perfectly fine.
All you need to do is lay your deer bones in the pot of a slow cooker. Add aromatics, I like onion, celery, carrot, and garlic, to the pot. You can also use veggie scraps from the freezer. If you have fresh herbs on hand, great. Add them. If not, you can add some dried herbs of choice if you'd like – parsley and thyme are nice. Bay leaf and whole peppercorns are wonderful, too.
I choose to add a bit of salt to my stock, but you truly don't have to. The only thing you need to do for venison stock is add a bit of raw apple cider vinegar to the mixture. The apple cider vinegar helps break down the cartilage resulting in a richer deer bone broth. This is actually true for any stock or bone broth you want to make.
Once your stock has simmered in the slow cooker for anywhere from 8-12 hours, strain it out, let it cool, and chill in the fridge. If you'd like, you can skim off the fat once cooled. You've now made deer stock!
How to store venison stock
For storing your beautiful venison stock, you can store it in the fridge (I like to use quart-sized glass jars) for about a week. It also freezes beautifully. It lasts about 12 months (6 months for max flavor), but I've used some past 12 months without issue. Go with your nose after defrosting.
For storage, you can store the stock in freezer bags, vacuum-sealed bags OR, my personal favorite way is to pour it into silicone muffin tin cups and freeze. Pop the little frozen cups of broth out and store them in a freezer bag. Each cup is 1/2 cup, so it's easy to take as much or as little as you need!
Stock this good would cost you at least $8 a quart at the store. At LEAST. So, think of the money you're saving. I use venison stock with any red meat (even beef) but it takes venison recipes, like my venison stew and venison veggie soup to a whole new level.
Need more staple recipes like this? Find over 50 in my cookbook, Venison Every Day!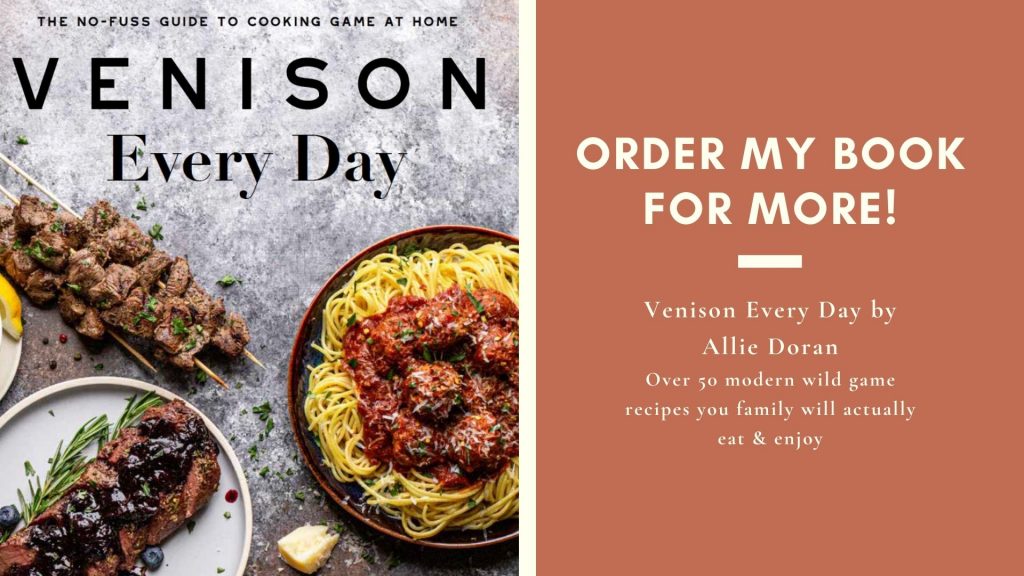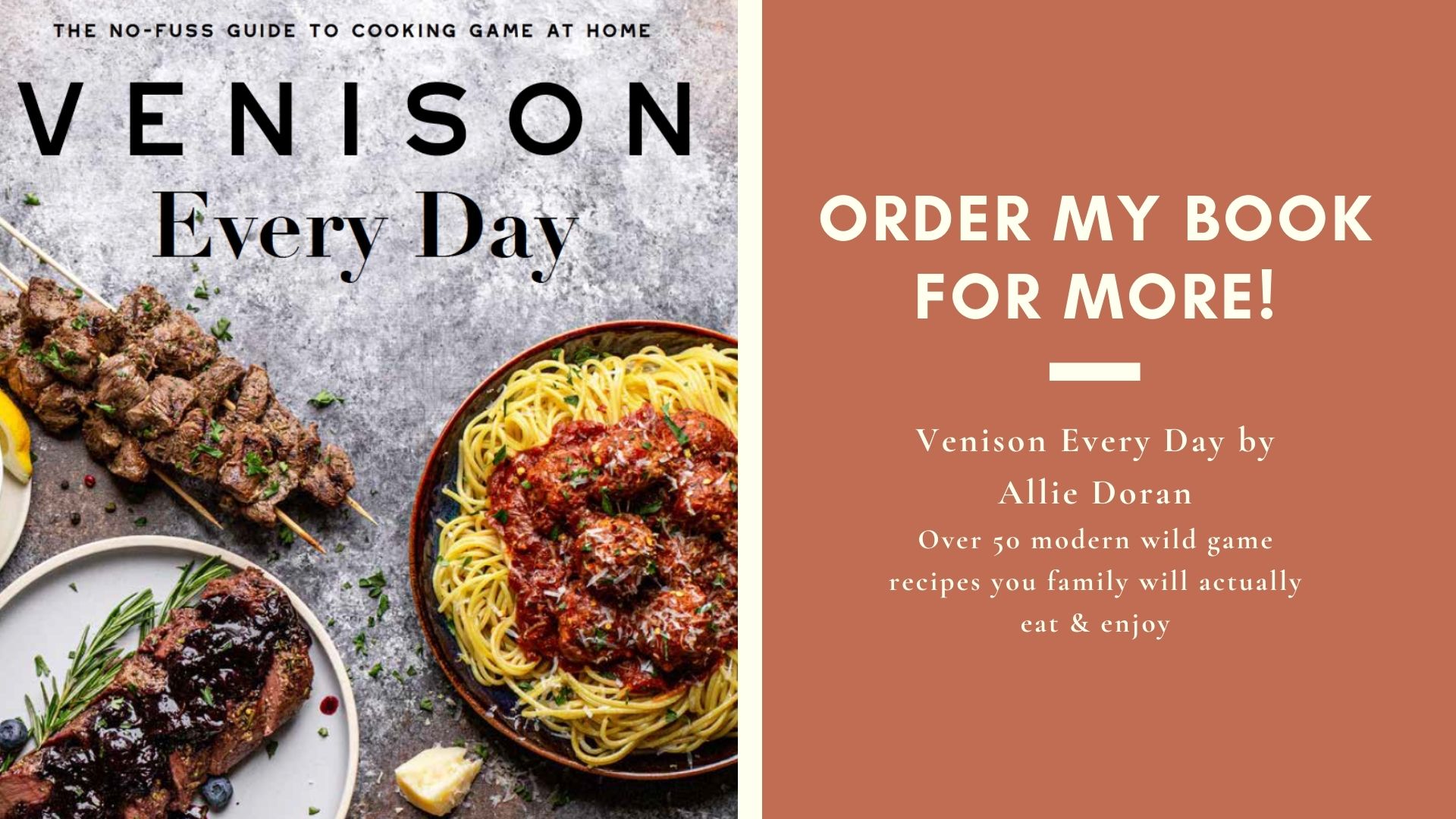 Print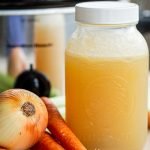 How to Make Venison Stock | Slow Cooker Friendly (deer bone broth)
It's very simple to make venison stock (or deer bone broth) right in your slow cooker or on the stove. Use up bones and scrap veggies you already have on hand.
Author:
Prep Time:

10 minutes

Cook Time:

8 hours

Total Time:

8 hours 10 minutes

Yield: about

12 cups

1

x
Category:

Stock

Method:

Slow Cooker

Cuisine:

French American
Scale
Ingredients
About

2

lbs. deer bones (I like knucklebones, they're nice and gelatin-rich)

2

onions, halved*

1

garlic bulb, halved

3

celery stalks, roughly chopped

2

carrots, roughly chopped 

2 tsp

. salt

1 tsp

. peppercorns 

1 Tbsp

. apple cider vinegar
optional herbs: thyme, parsley, bay leaves – about 2-3 sprigs of each
water
Instructions
Add all of the ingredients to the bottom of your slow cooker and fill with water to the top, until everything is basically covered. 
Turn the slow cooker to low for 8-12 hours and let it simmer away. 
Once cooked, turn the slow cooker off and let it cool a bit before ladling all of the liquid through a fine-mesh strainer into a bowl with a lid. 
Chill the stock in the fridge until the fat rises to the top in a hard layer. 
If desired, remove the fat once it's hard, I usually do. 
To store the stock, keep it in quart-sized jars in the fridge for about a week or freeze. I like to freeze mine in silicone muffin tin cups (1/2 cup portions), pop them out, and then store them in freezer-safe bags. It's best to use it within 6 months for flavor, but you could really go at least a year. 
Notes
In place of the vegetables above, you can use about 3-4 cups of veggie scraps. I keep mine frozen in a bag in the freezer. 
Keywords: stock, venison, deer, broth, bone broth