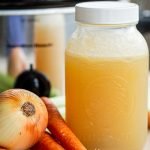 Scale
Ingredients
About

2

lbs. deer bones (I like knucklebones, they're nice and gelatin-rich)

2

onions, halved*

1

garlic bulb, halved

3

celery stalks, roughly chopped

2

carrots, roughly chopped 

2 tsp

. salt

1 tsp

. peppercorns 

1 Tbsp

. apple cider vinegar
optional herbs: thyme, parsley, bay leaves – about 2-3 sprigs of each
water
Add all of the ingredients to the bottom of your slow cooker and fill with water to the top, until everything is basically covered. 
Turn the slow cooker to low for 8-12 hours and let it simmer away. 
Once cooked, turn the slow cooker off and let it cool a bit before ladling all of the liquid through a fine-mesh strainer into a bowl with a lid. 
Chill the stock in the fridge until the fat rises to the top in a hard layer. 
If desired, remove the fat once it's hard, I usually do. 
To store the stock, keep it in quart-sized jars in the fridge for about a week or freeze. I like to freeze mine in silicone muffin tin cups (1/2 cup portions), pop them out, and then store them in freezer-safe bags. It's best to use it within 6 months for flavor, but you could really go at least a year. 
Notes
In place of the vegetables above, you can use about 3-4 cups of veggie scraps. I keep mine frozen in a bag in the freezer.