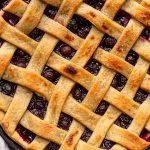 Scale
Ingredients
1

–

2

unbaked pie crusts (depending on if you want to do a lattice/full crust topper) – here's my recipe! My recipe makes 2 crusts

6

heaping cups fresh blueberries

1 cup

granulated sugar (or

1/2 cup

granulated sugar and

1/2 cup

honey for less sugar)

1/4 cup

tapioca starch (or arrowroot powder or cornstarch) 

1

lemon, juiced 

1/4 tsp

. nutmeg
fresh whipped cream (or vanilla ice cream) for serving
Start by making your crust if you're using homemade. Once the crust has been made and has had time to rest in the fridge, roll one of the crusts out and place it in a 9-inch pie plate*. Trim and press the edges as desired if you're not doing a lattice top or full crust topper. 
Preheat the oven to 425F. 
Add the blueberries, sugar, tapioca starch, lemon juice, and nutmeg to a bowl and mix well. 
Pour the blueberry filling into the pie plate and if you're making a lattice top crust or covering the pie with another full crust (make sure to leave slits for ventilation) do so. Here's a step by step guide for making a lattice top crust. 
Set the pie plate on a rimmed baking sheet. The filling will bubble over during baking and you don't want it all over the oven. The baking sheet will catch the excess. 
Slide the pie in the oven on the middle rack and bake for 25 minutes at 425F. 
Turn the oven down to 350F and bake for an additional 45-60 minutes (this greatly depends on your oven and pie plate), or until the filling is bubbling and the crust is golden brown*. You may need to cover the pie with foil if the lattice or crust topper starts to brown too fast.
Remove the pie from the oven on the baking sheet and allow it to cool completely to room temperature before serving. This makes sure the filling sets. 
Serve with fresh whipped cream and/or vanilla ice cream!
Notes
a deep-dish pie plate will work, as will an 8 or 10-inch pie plate if you don't have a standard 9. You just may have a little less or leftover filling and will need to adjust the cook time accordingly. However, I always use a 9-inch. 
If your crust starts to brown too much on the edges, cover the edges with foil or use a pie crust protector shield.