Step by step instructions for making a lattice-top pie makes baking a gorgeous pie simple. Learn the basics, tips, and tricks.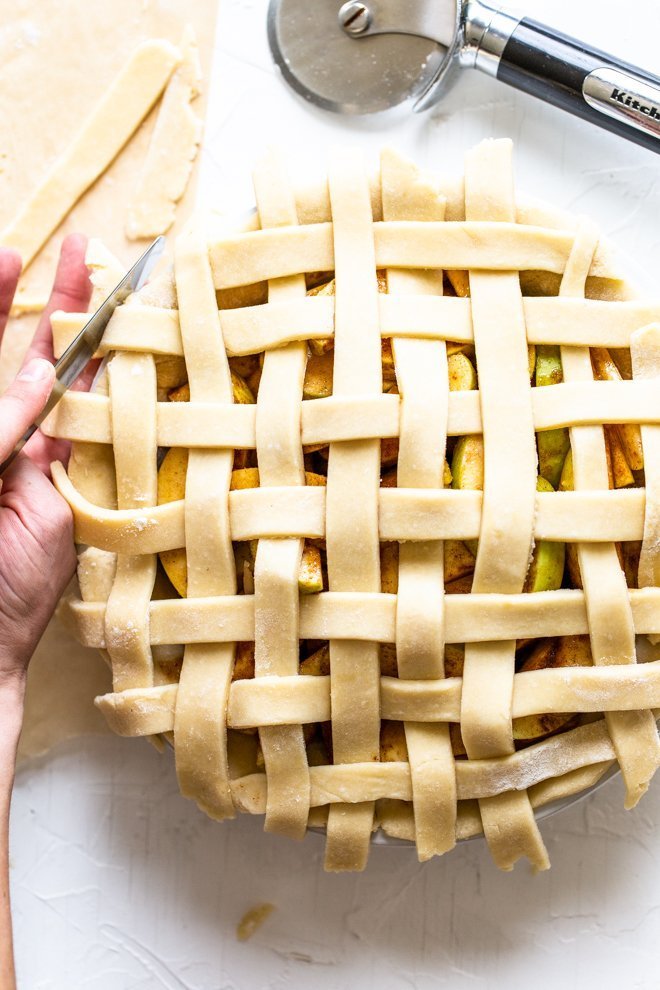 Making a lattice-top pie crust is easier than it looks if you use a few tips and tricks. It's really just laying a few strips of pie dough down and weaving a few more strips in perpendicularly. The end result is gorgeous!
If you read that first sentence and you're still scratching your head, don't worry, friend! I'll break it down for you.
For starters, you'll need 2, unbaked pie crusts.
Here's my recipe (makes 2 crusts) and a video of how to do it!
Once you have the dough made and pie filled, weave the lattice-top crust
Start by rolling out your dough, and slice even strips with a pizza cutter or knife. Then lay half of the strips on top of the pie.
Starting with the largest middle piece first, lay a strip of dough across the pie, in the opposite direction of the other strips. Then, lift up every other piece so you create a basket wave look!
Keep going until you reach the end on both sides. Then, trim the remaining strips.
Fold the pieces under the bottom crust and decorate the edges as you please. I think crimping with a fork or pinching the edges is easiest for your first try.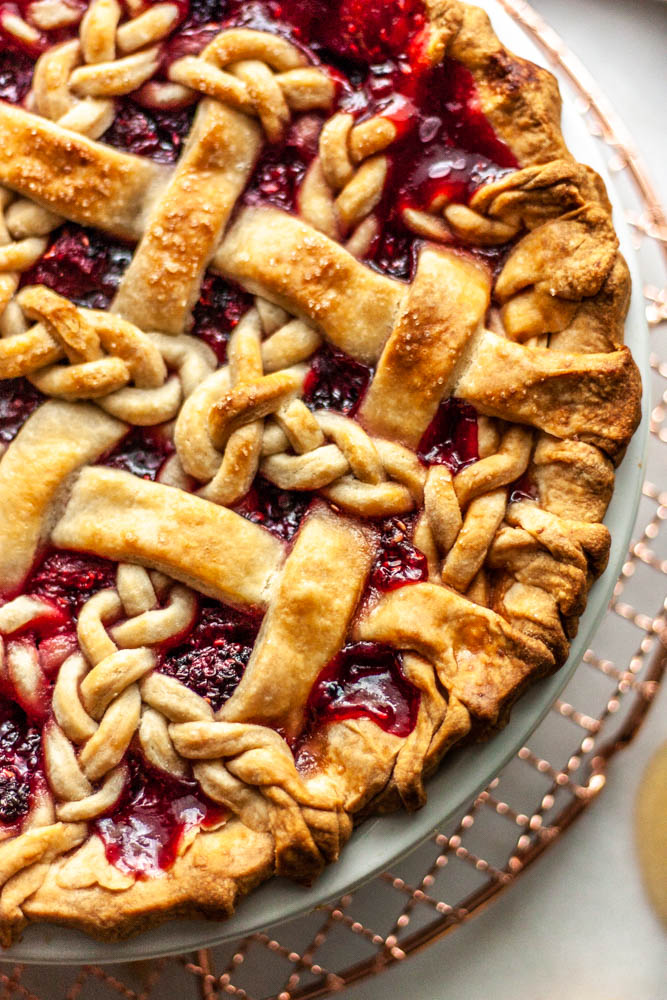 A few tips & tricks for making a lattice-top pie crust:
Always make sure you're working with cold dough. Warm dough can stretch and isn't as easy to place. If it gets warm, go ahead and set the pie and strips back into the fridge for 10 minutes while you're working.
Use plenty of flour on your workspace.
Cut the dough with a pizza cutter! So much easier to get a clean line!
Give yourself plenty of space to work. There's nothing worse than stressing out because you have a crowded counter.
Take your time. Again, you can always pop your dough back in the fridge if you need a break. It's best to not overwork the dough.
If your lattice starts to brown too fast in the oven, cover the pie with foil so it doesn't burn!
Practice, practice, practice! Even if your result isn't amazing the first time, try again! It will still taste scrumptious
Let's Be Friends
Sign up to get the latest and be the first to know about recipes.