Reflecting on the smiles, giggles, ups, downs and the second year spent in the kitchen & behind the camera 
A Year In The Life – Year Two
Last year I posted a wrap up on Miss AK, outlining the first 6 months of its existence. This year has been one of exponential growth, massive change and a ton of excitement. For someone who has a habit of barreling ahead full speed without looking back, I figure a little reflection is in order as we move into 2018.
2017 was off the chain, so to speak. I learned a bit more about photography, ate and made some killer food, quit my job in commercial real estate, started working for myself (you can find more of my recipes at Pure Taste Recipes)… andddddddd got engaged to my best friend in the whole wide world.
Yep. SO MUCH HAPPY.
Yet, amidst all of the happiness and hubbub, there is room for so much growth. A few weeks ago, I saw some members of my business support group talking about their theme words for 2018. I kind of shrugged off the post, but the thought stuck with me. I'm a person who does well in hard times. It's easy for me to find the good and push on. When everything starts to go my way, I doubt the process, myself, and I start to focus on everything else in life that could go wrong.
So, my words for 2018 are Happy & Grateful. I choose to think about all of the things, big and small that make me happy. I choose to let wedding planning, learning about marriage, and my relationship with J bring me joy. I choose to be grateful for my career as a full-time recipe developer. I choose to focus less on the occasional uncertainty and more on the opportunity that I have. That being said, here are a few things that have made me happy & grateful this year.
And as always, thank you for every like, click, share, kind word, and mention of my recipes. It means more than you will ever know.
FAVORITE RECIPES:
Chai Spiced Breakfast Quinoa with Bosc Pears 
Roasted Tomato & Garlic Bruschetta 
Dairy Free Cream Chicken Corn Chowder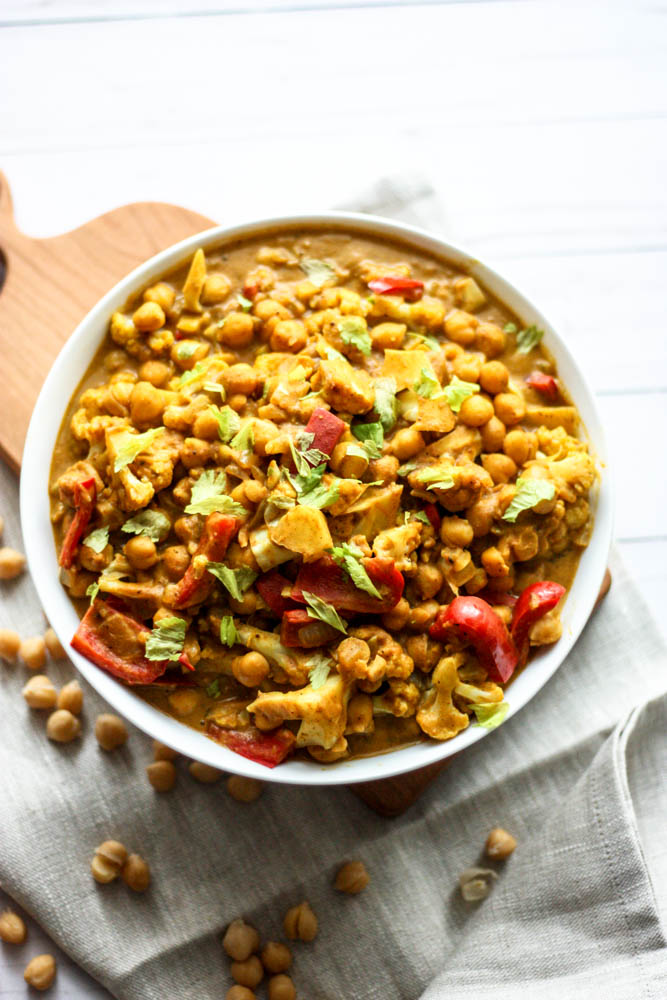 Vegan Pumpkin & Chickpea Curry (also great with chicken for a non-vegan version)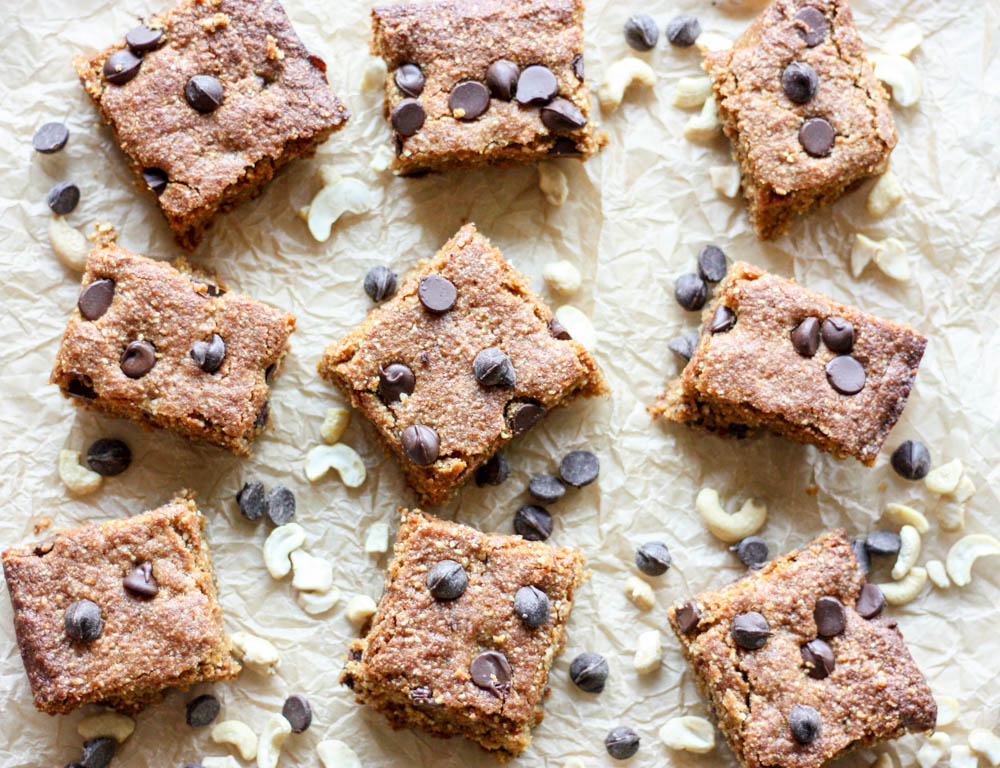 Chocolate Chip Cashew Cookie Bars 
Charred Citrus and Pomegranate Gin and Tonic (also amazing with vodka)
LESSONS LEARNED:
Things will always improve if you give yourself the grace to allow them to and if you TRY. This can be applied to so many areas in my life (and maybe yours) but in relation to food blogging, photography is my most literal example. I have a long way to go before I can call myself a successful photographer, but here's proof that a little love can go a long way. If you're struggling to improve your photography, time and lighting are your greatest friends.
Find something else to focus on besides your job. If you're lucky enough to be passionate about your career it can be pretty all-consuming. It's easy to eat, sleep and breathe work (or sometimes not sleep and lie in bed while brainstorming ideas). I recently started babysitting for two sweet families three days a week. I love children, the structure and commitment give me something to build my days around, and the few hours that I spend interacting with humans (especially the tiny ones) gives me so much joy.
OH YEAH, AND OUR SWEET ENGAGEMENT:
J proposed to me on Saturday, June 3rd, 2017, at the top of Hawk Mountain. We quickly decided that having a long engagement was not ideal, so we're planning our wedding for Saturday, April 14th, 2018. We're less than 4 months out, are knee deep in planning, and to put it bluntly – we're PUMPED, EXCITED & READY to tie the knot.
We're planning our honeymoon in Jackson Hole, WY in May and we can't wait for all of the adventures ahead!
To read more about our engagement story – go here! For more on our engagement photos & vendors – go here!
xoxx,
Miss AK
Instagram – https://www.instagram.com/miss.allieskitchen/
Facebook – https://www.facebook.com/missallieskitchen/
Pinterest – https://www.pinterest.com/miss_ak/
Twitter – https://twitter.com/missallieskitch