Learn the top 5 skills you can easily master at home from a bestselling cookbook author and hunter's wife. Gain confidence in the kitchen and start cooking more venison at home!
Cooking more venison at home is actually MUCH simpler than it seems. If you find yourself thinking "but venison is so gamey, I'd rather just buy beef" or "it takes so much time and it never comes out how I want it" or even "I don't want to buy a bunch of ingredients to cook with deer and never use them again"…you've come to the right place.
As an "accidental hunter's wife" and cookbook author, I've had my fair share of mistakes in the kitchen. But over the years I've learned a thing or two and if you follow these 5 tips below your meals are about to be next level in no time. Trust me, you got this.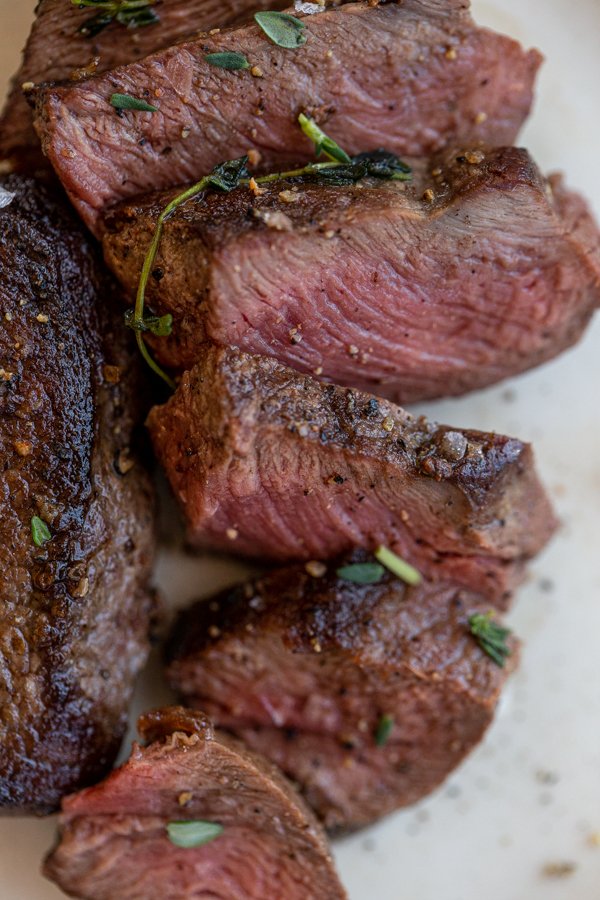 Cooking more venison isn't hard, you just need to fine tune some skills
Learn how to prep meat before and after freezing but before cooking
There's a lot of talk out there claiming the reason venison tastes "gamey" is solely due to factors in the hunt, field, or processing. I wholeheartedly agree that variables like shot placement/swiftness of kill, age, gender, hormones, environment, field dressing, processing, hanging/dry aging, soaking and more can impact the flavor of the meat.
However, claiming that those pre-kitchen variables are the only factors contributing to a great meal with deer meat is like saying that growing great grapes is the only step that matters in winemaking. You can harvest beautiful grapes but you must make sure they are crushed, fermented, filtered, aged, stored, served and paired appropriately to have a GREAT wine.
So while careful harvesting and processing is extremely important, let's take that beautiful meat and respect it in the kitchen by not just slapping a can of cream of mushroom soup over it and calling it a day.
SO, when you bring your processed meat in the kitchen before you freeze it, be sure to:
If you have ground meat, portion it out into 1-2lb portions (depending on how much you need at a time)
Vacuum seal
Weigh and label cuts (trust me, even if you think you'll remember what something is when it's smooshed in a vacuum pack – you won't!)
And during/after thawing be sure to:
Defrost meat on a paper towel lined plate OR pat meat dry with a paper towel to absorb up the red liquid called myoglobin (looks like blood). To me, this helps create a cleaner flavor and dry proteins sear much better creating a yummy crust on your meat when cooking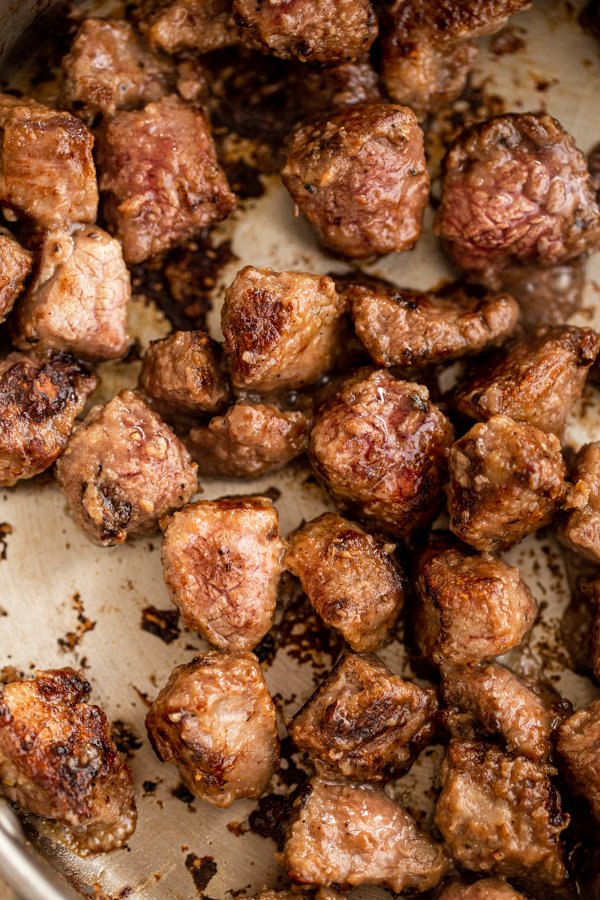 Discover how to balance the flavors of venison
The foundation of great cooking is reliant on acid, fat, salt and heat. Let's talk about acid and fat for balance.
Venison is a lean meat so it's best when reinforced with some sort of fat. I like to grate a bit of grass-fed butter into my burgers, and use marinades with plenty of fat to give the meat some richness.
But my favorite tip (and the tip people seem to love the most) is adding acid to every single one of my deer meat dishes. This can be in the form of citrus, vinegars, fermented foods and even buttermilk. Even adding a squeeze of lemon juice on a steak after cooking will blow your mind.
Master seasoning blends that compliment deer meat
Different foods play well with certain flavors and the same is true for venison and game meats. I don't find the need to invest in a bunch of fancy seasoning blends or have ingredients like juniper berries on hand at all times. A few simple herbs and spices that you already have on and will be perfect. Here are a few things I like to keep in my pantry all of the time:
Italian seasoning
Herbs de Provence
Fresh garlic
Chili powder
Cumin
Dried or fresh thyme
I'm telling you, you can make the majority of the food in my cookbook with those seasonings right there.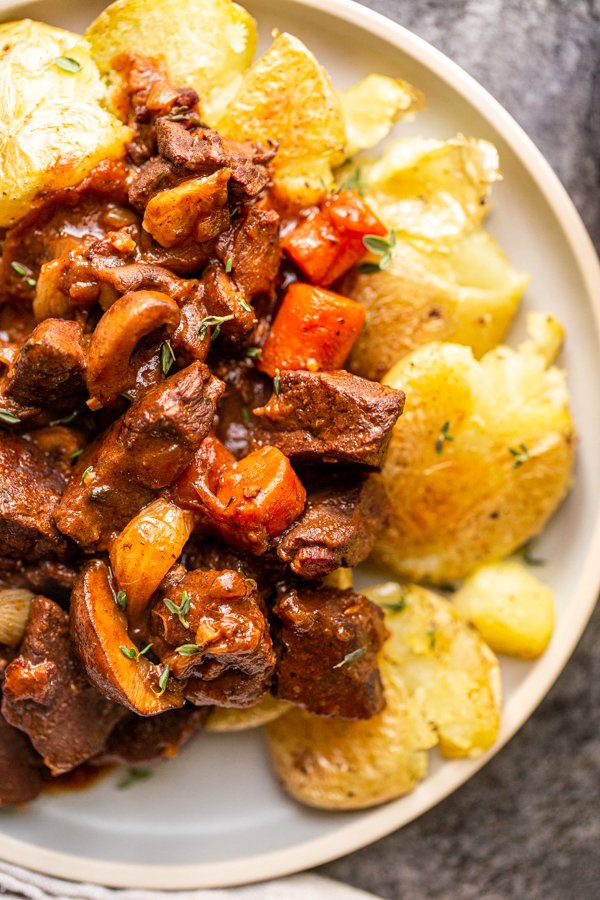 Decipher appropriate cooking temperatures for different cuts
The best way to explain this is – for tender cuts (tenderloin, backstrap/loin, heart, steaks, kebabs) cook hot and fast to medium rare at most. I usually pull my tender cuts from the heat at 112-117F.
For tough cuts (roasts, shanks, stew meat) you want to cook low and slow until they're falling apart tender. If you have a roast, stew meat chunks or shank/ossobuco that isn't falling apart, lower the oven temperature and cook it longer until it is. You want to braise this meat, or cook it in a bit of liquid so it doesn't dry out. You can baste it as you go.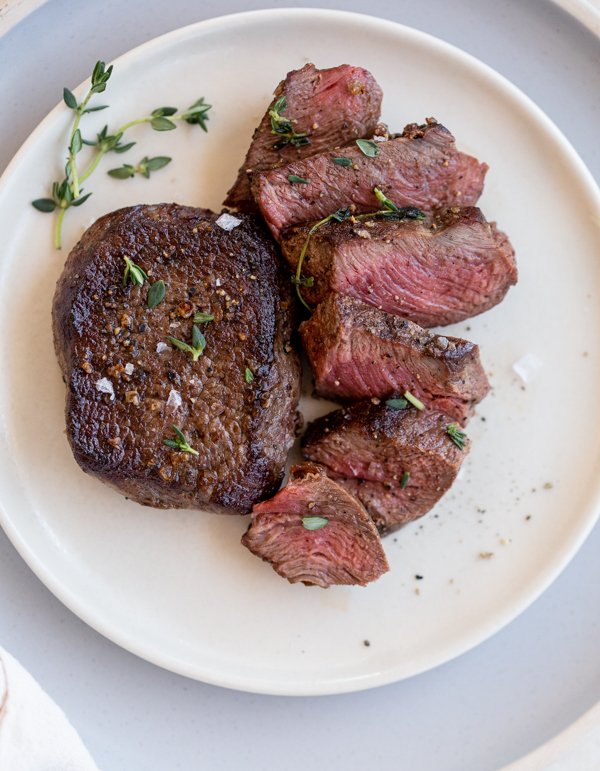 Get in the habit of resting cooked proteins
Lastly, make sure when you're pulling tender cuts (tenderloin, backstrap/loin, heart, steaks, kebabs), rest them for about 10 minutes before slicing and serving. This allows the meat to reabsorb some of their juice which is important because venison is so lean.
Start with these few recipes to get you moving on your venison cooking journey!