My friends threw me the most amazing bachelorette and I'm sharing a few ways we kept things healthy-ish!
How to Have a Healthy-ish Bachelorette Party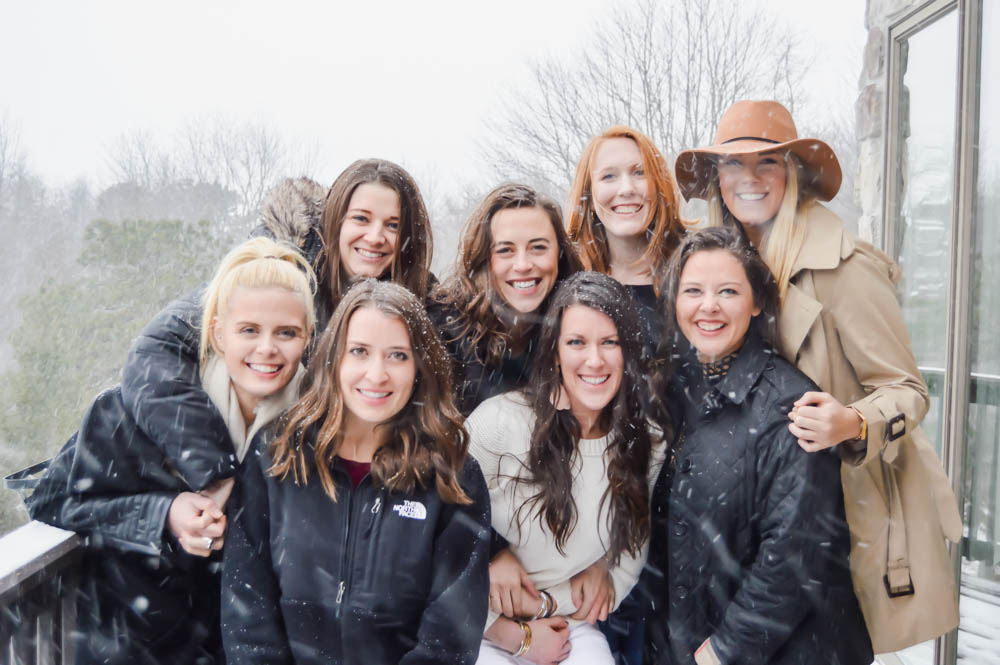 Photo Credit: Lauren Haines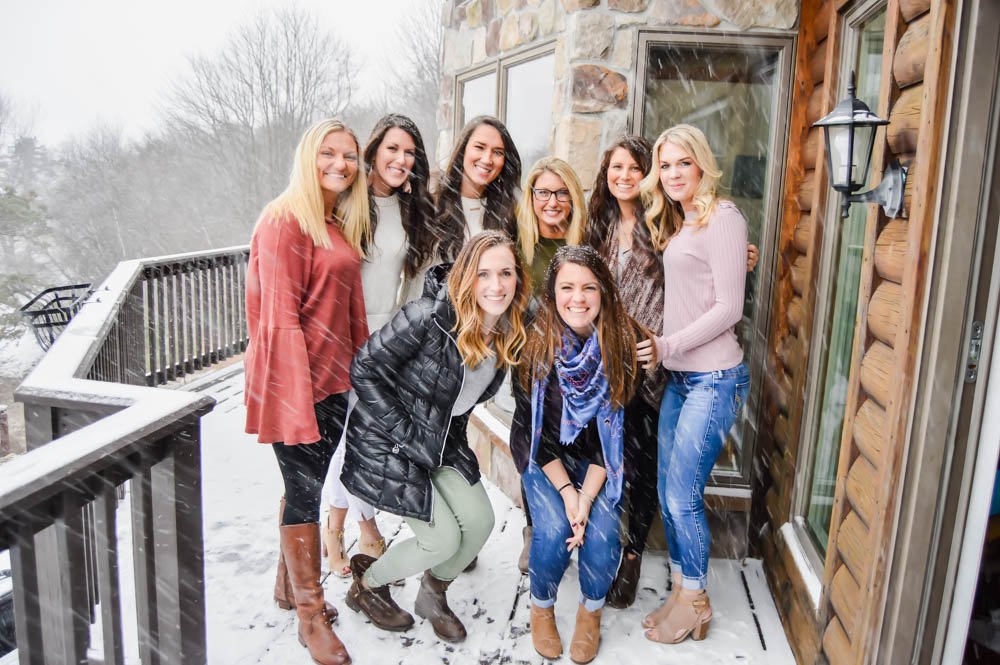 Photo Credit: Lauren Haines
Before I begin this post I'd like to all let you know that I literally cannot take credit for any of the planning, work or events that happened at my bachelorette party. My amazing maid of honor, Amanda (I brag about here a bit in THIS POST) and my bridesmaids all went above and beyond to make my weekend the most special weekend ever. My only real job was to bring myself, an 80's pageant themed dresses and alllllll the GT's Kombucha (easy right???). Here are a few things we chatted about and did that I think made it super amazing and just a bit healthier than your typical weekend away.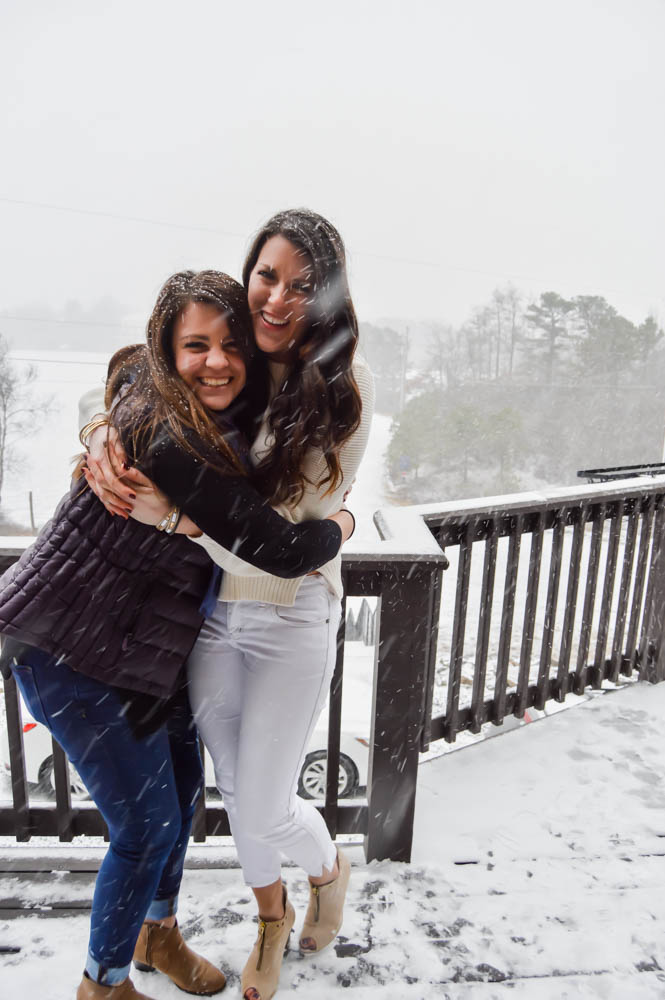 Photo Credit: Lauren Haines
BE CLEAR ABOUT WHAT YOU'RE WANTING TO DO
When Amanda and I started chatting about the bachelorette weekend, I did make it clear from the start that I didn't necessarily want to spend my entire time bar hopping. I wanted to spend time relaxing on the couch catching up with my gal pals. Let me be clear – I don't think there is anything wrong with a weekend bar hopping, I personally enjoy that. I just know that not all of my friends find that enjoyable AND I don't get to see some of them that often so I wanted a space where we could all be together and relax while having fun.
We decided that a mountain house with plenty of bedrooms for all 17 (lol, I still can't believe I have 17 friends) of us would fit the bill. If you're curious or looking for a great rental property – here's where we stayed.
PLAN ACTIVITIES THAT GALS FROM ALL WALKS OF LIFE WILL ENJOY
Since we had 3 days to fill, we decided on a few fun activities. My amazing friend and bridesmaid Liz created a few games for us to play on Friday night. She had my fiance J (Jared) answer questions about me and made it into the most fun jeopardy EVER.
On Saturday, we woke up and were able to practice yoga together. My gal pals were sweet enough to coordinate with Boundless Yoga and they were able to teach a class right in our home for the weekend. Yoga practice has become increasingly important in my life and it was wonderful to share that!
Saturday afternoon we did head to a BEAUTIFUL winery, Mountain View Vineyard, and then to a brewery, Barley Creek Brewing Company, for a quick bite and drinks. Getting out of the house and making a few fun stops was amazing.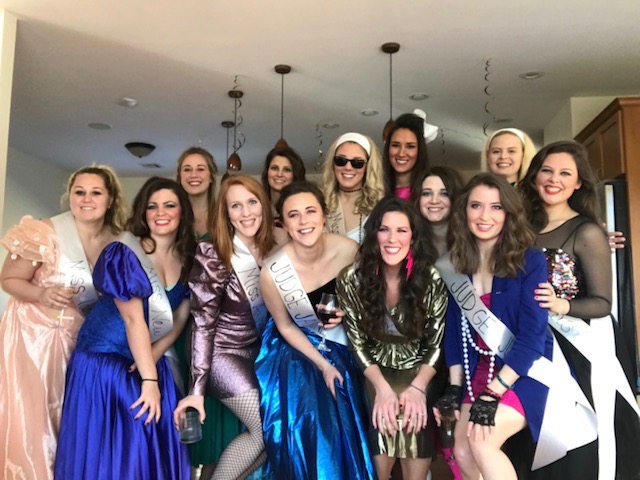 Sunday afternoon we did an 80's Pageant themed MURDER MYSTERY. Yeppppp. That happened and it was quite possibly the greatest thing ever. Everybody brought their A-game with their outfits. Having a coordinated event like this was awesome to have to look forward to and it worked really well with such a large group. However, I don't like being a Negative Nell, but my maid of honor, Amanda, who coordinated the game, had an extremely hard time dealing with the murder mystery kit company (customer service is awful!!). So, we recommend using a kit, but I can't give a reccomendation there. I have to be honest!
DRINK KOMBUCHA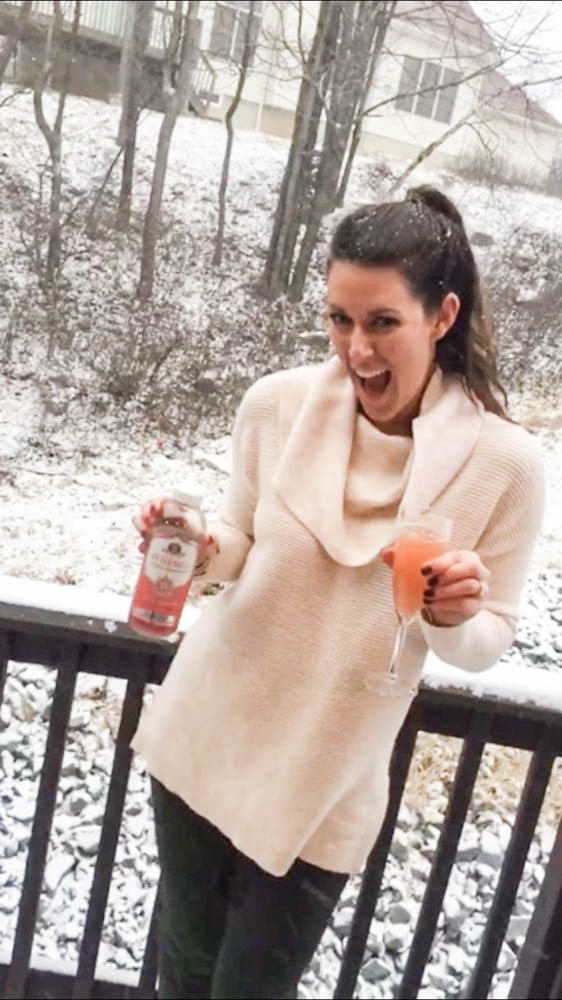 It's no secret that I am quite literally kombucha obsessed and GT's Kombucha is my favorite EVER. They were kind enough to send us enough for all of us gals to have a booch a day for the whole weekend! On Friday, I was able to set up a kombucha cocktail bar for the girls upon their arrival.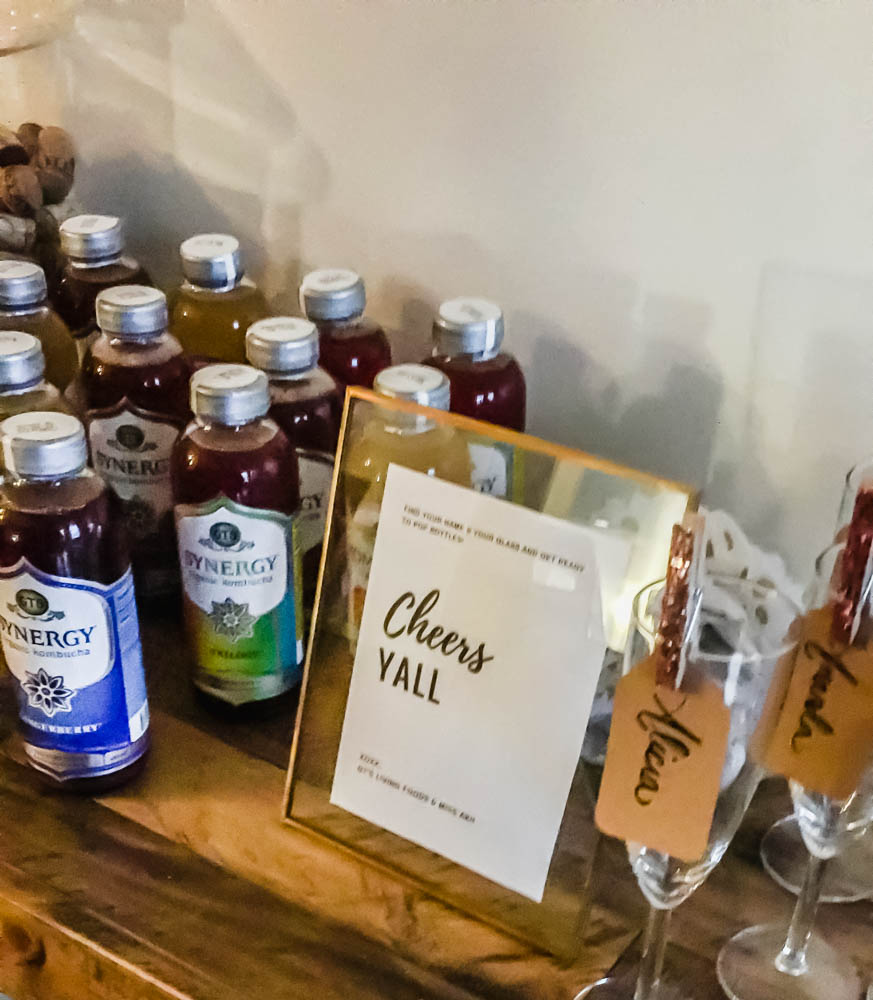 Kombucha is the perfect, lower in sugar drink mixer and it pairs well with vodka, rum and my fave – champagne!
Oh, and if you have a little too much fun (aka booze) the night before, there is nothing like a GT's Kombucha (the house favorites were Trilogy and Gingeraid) in the morning to help you feel like yourself. #realtalk
We all felt so special being able to pop kombucha bottles all weekend and I absolutely recommend bringing some with you to your next weekend getaway, bachelorette or not. They sell kombucha by the case at our local Wal Mart now so it's even easier!
TRY TO MOVE A BIT EACH DAY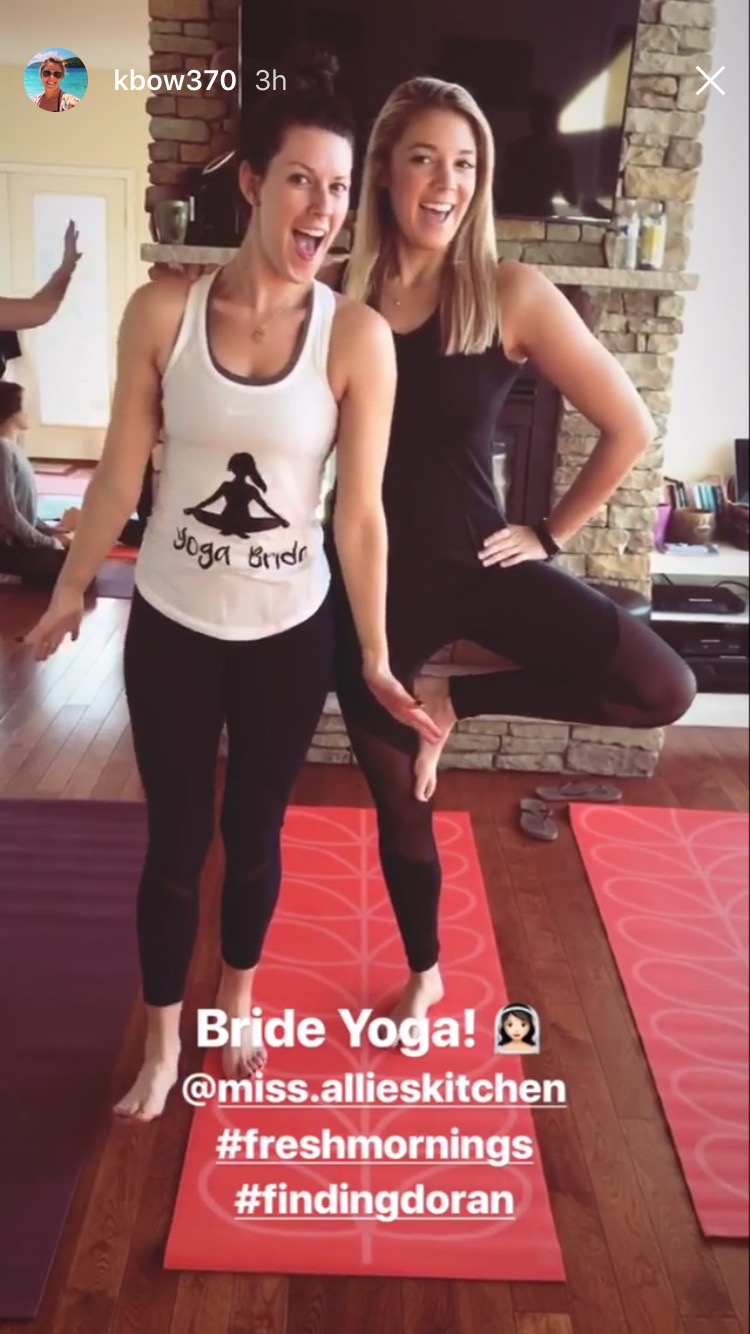 On Saturday we practiced yoga and on Sunday a bunch of us went on a little snowy walk around the lake community. We're all really active gals, so keeping our bodies in motion was really important to us. I think it's important to maintain some level of activity when you travel to help your body feel aligned. So, make movement fun on your trip!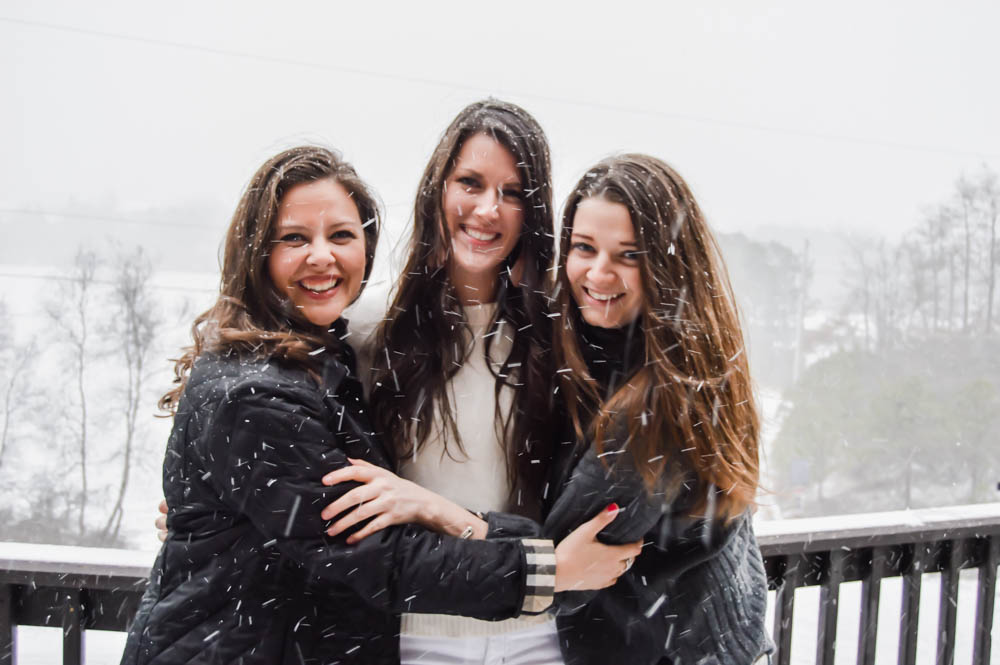 Photo Credit: Lauren Haines
LET YOURSELF INDULGE A LITTLE IF YOU WANT TO
Alright – I may have had a few Oreos with breakfast on this trip. For me, indulging a bit on food and alcohol (within reason, clearly) is healthy for my mental health. Mental health is so so important for overall wellness and I had more fun not restricting myself than I would if I tried to be strict with my diet.
My bridesmaids were kind enough to bring most of our meals for the weekend – we had walking tacos, pasta bakes, pizza, egg bakes, parfaits and plenty of snacks in the house. You can bet that I ate every bit of what they whipped up, and it was absolutely healthier eating in, but letting myself live a little has been so beneficial to my mental and physical health.
FINAL THOUGHTS
My bachelorette weekend made me feel beyond special. Engagement season is such a wonderful time in your life, but the stresses of wedding planning can be real. Having a weekend to relax, practice yoga, drink all of the champagne and GT's Kombucha, watch Amy Schumer and snuggle with my favorite girls was beyond needed and I am forever grateful to everyone who made the weekend possible!
xoxx,
Miss AK
Instagram – https://www.instagram.com/miss.allieskitchen/
Facebook – https://www.facebook.com/missallieskitchen/
Pinterest – https://www.pinterest.com/miss_ak/
Twitter – https://twitter.com/missallieskitch