This Maple Bourbon Pumpkin Pie with Pecan Buttermilk Crust takes pumpkin pie to the next level. Impress your guests with this homemade masterpiece.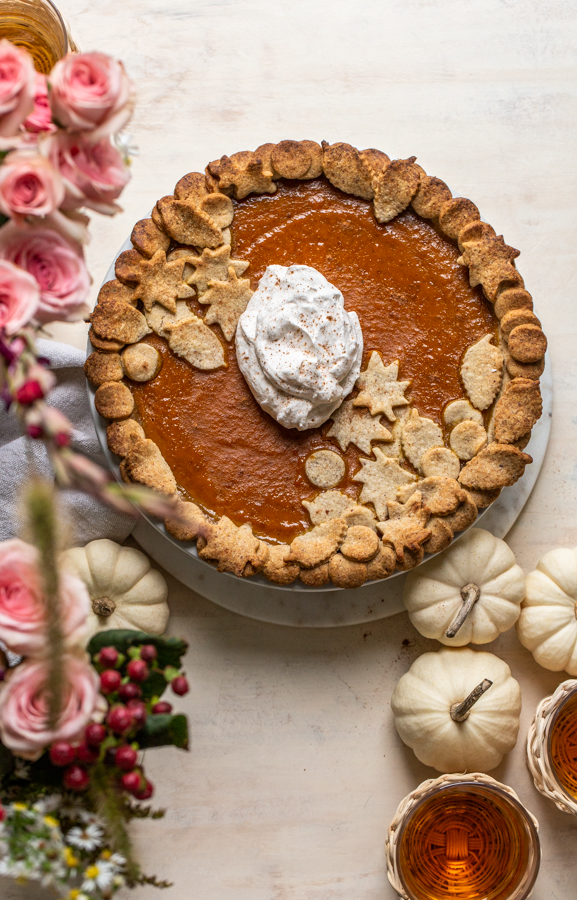 Hello yes, hi. Let's all take a moment to welcome our pie of the month, shall we? LIKE HELLO, IT HAS BOURBON. Say hello to this Maple Bourbon Pumpkin Pie with Pecan Buttermilk Crust.
I can't even begin to tell you about the pecan buttermilk crust. It's kinda like pie crust and one of those little pecan shortbread cookies had a baby. So, I'll let you do the math here, but this one is a winner. Like, serve to your out of town guests on Thanksgiving kinda winner. If you want a classic crust, here's mine. It's also a staple in our house. That's what I use in my Lazy Girl Rustic Apple Galette, my Black Raspberry Pie, and my Chocolate Chip Pecan Pie!
I will say, when I mean bourbon I mean bourbon. It's there. It kinda creeps up on your palate and kisses the back of your tongue and makes you want a stiff drink in front of a fire. It's not overpowering, but if you're a whiskey or bourbon lover…just trust me on this one.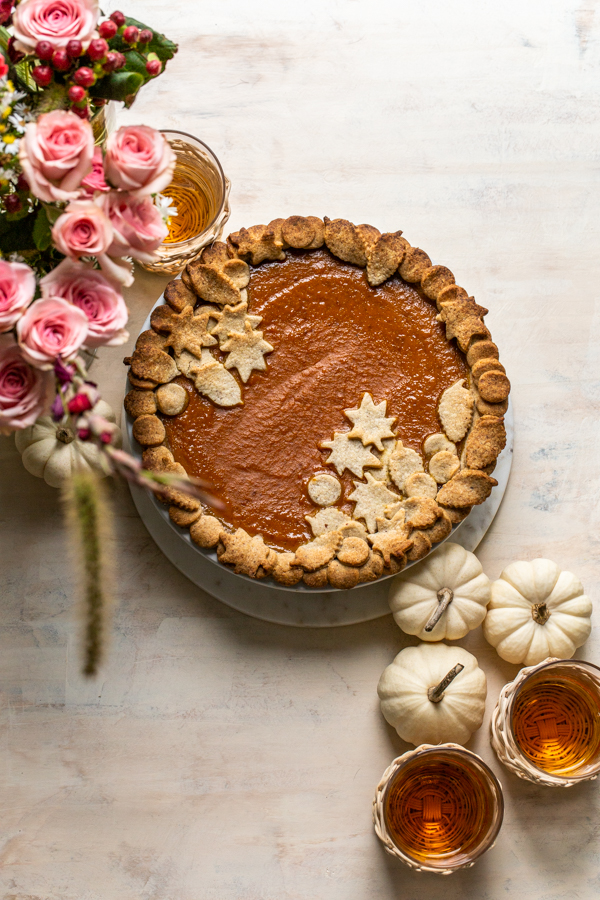 Here's how I make it!
Or, watch me break it down step by step below.
Let's start with the pecan buttermilk crust: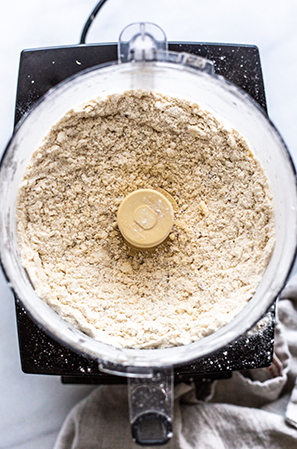 And then, it's time to decorate the Bourbon Pumpkin Pie.
I developed this recipe so you can have extra crust to play with for pretty decorations like these leaves (post contains affiliate links):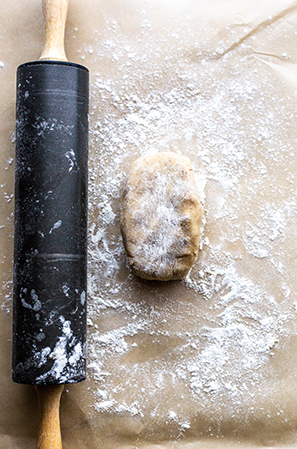 Here's the link to snag them, I use them SO much this time of year! Once you have your crust made, the going is really simple.
To make the bouron pumpkin pie filling you'll need a few things:
Pumpkin puree – make sure you're getting 100% pumpkin puree, not pie filling!
Coconut milk – I use this in place of evaporated milk. This recipe has an extra egg yolk for thickness which is perfect.
Bourbon whiskey – straight bourbon whiskey is best here. Don't use rye or Canadian, I don't think they're sweet enough.
Maple syrup – a touch of maple syrup gives flavor, but we're still using regular granulated sugar so that the pie isn't too watery.
Granulated sugar – see? Told you. Granulated sugar 🙂
Eggs – eggs are necessary for pumpkin pie. They help make it custard-like and provide texture, thickness, and firmness to the filling.
Pumpkin pie spice – I think you could see this one coming 🙂
And you top it with ice cream or whipped cream and pour yourself a nightcap. How's that for awesome?
Come hang out with me on Instagram, friends!
Print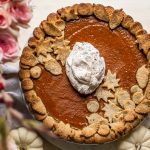 Maple Bourbon Pumpkin Pie with Pecan Buttermilk Crust
This Maple Bourbon Pumpkin Pie with Pecan Buttermilk Crust takes pumpkin pie to the next level. Impress your guests with this homemade masterpiece.
Scale
Ingredients
For the crust:
2 cups

all-purpose flour

1 cup

chopped pecans

1/4 cup

granulated sugar

3/4 tsp

. salt

10 Tbsp

. cold butter, cut into cubes

4

–

5

Tbsp. cold buttermilk
For the filling:
2

+ 1/2 cups pumpkin puree (about

1.5

cans)

1 cup

full fat coconut milk

1/2 cup

bourbon whiskey

1/4 cup

maple syrup

3

eggs +

1

egg yolk, at room temperature

3/4 cup

granulated sugar

3 tsp

. pumpkin pie spice

1

–

9.5

inch deep dish pie plate*
Instructions
Add the flour, pecans, sugar, and salt to a food processor and pulse together.
Add the butter and combine until the mixture looks like a fine meal.
Add the buttermilk, 1 tablespoon at a time until the dough pulls together.
Remove the dough from the food processor, shape it into a disc, wrap in plastic and pop in the fridge for 30 minutes or up to 2 days.
When you're ready to make the pie, remove the pie crust dough from the fridge.
Preheat the oven to 375 degrees.
If desired, remove 1/3 of the pie crust dough for decoration such as leaves (as pictured) or a braid.*
Roll out the crust, and place it into the pie plate.
Trim the edges and if you're making a braid or decorating with pie crust cookie cutters, prepare the details, attach and refrigerate the crust while you make the filling.
For the filling combine the pumpkin, coconut milk, bourbon, maple syrup, eggs, egg yolk, sugar, and pumpkin pie spice in a bowl well.
Remove the pie shell from the fridge and pour in the filling.
Place the pie into the oven for 40-50 minutes or until the crust is golden brown and the filling is just set, but still jiggles a tiny bit in the middle.
Let cool completely, refrigerate and serve!
Notes
I used a deep dish pie plate. You can use a standard pie plate, you'll just have a little extra filling left over.
If you don't' want to decorate your crust, refrigerate the extra pie crust dough and use it to make a mini pie in a ramekin or save it for another time by freezing.