Venice
Hey, hi, hellerrr there! OK, confession: I am horrible at lifestyle/personal posts. Food writing comes easily to me. Telling you about my experiences, day to day life, and travel feels so different. I never know what to tell, how much detail to go into, or really what you all want to read!
So, I'm sitting here, writing and trying to put myself in your shoes. Here goes!
If you didn't read my news via social media or blog posts lately, I have had the AMAZING opportunity to travel overseas to Italy this summer. I traveled with my parents and met my brother (who was already abroad for his studies) and we spent a week visiting some of the most incredible places I have ever seen.
I'd love to share my trip highlights, a lot about what I ate (and drank), and a few travel tips I found helpful along the way. I'm going to break my Italy Travel section up into 3-4 pieces; we were there for 7 days and that is just WAY too much information for one post! Unfortunately, I decided not to bring my big girl camera on the trip (it is just SO heavy), so most of these shots were taken from my iPone 6. Excuse the picture quality! I'll be posting these Italy summaries weekly, along with my new recipes which go up every Tuesday, so stay tuned!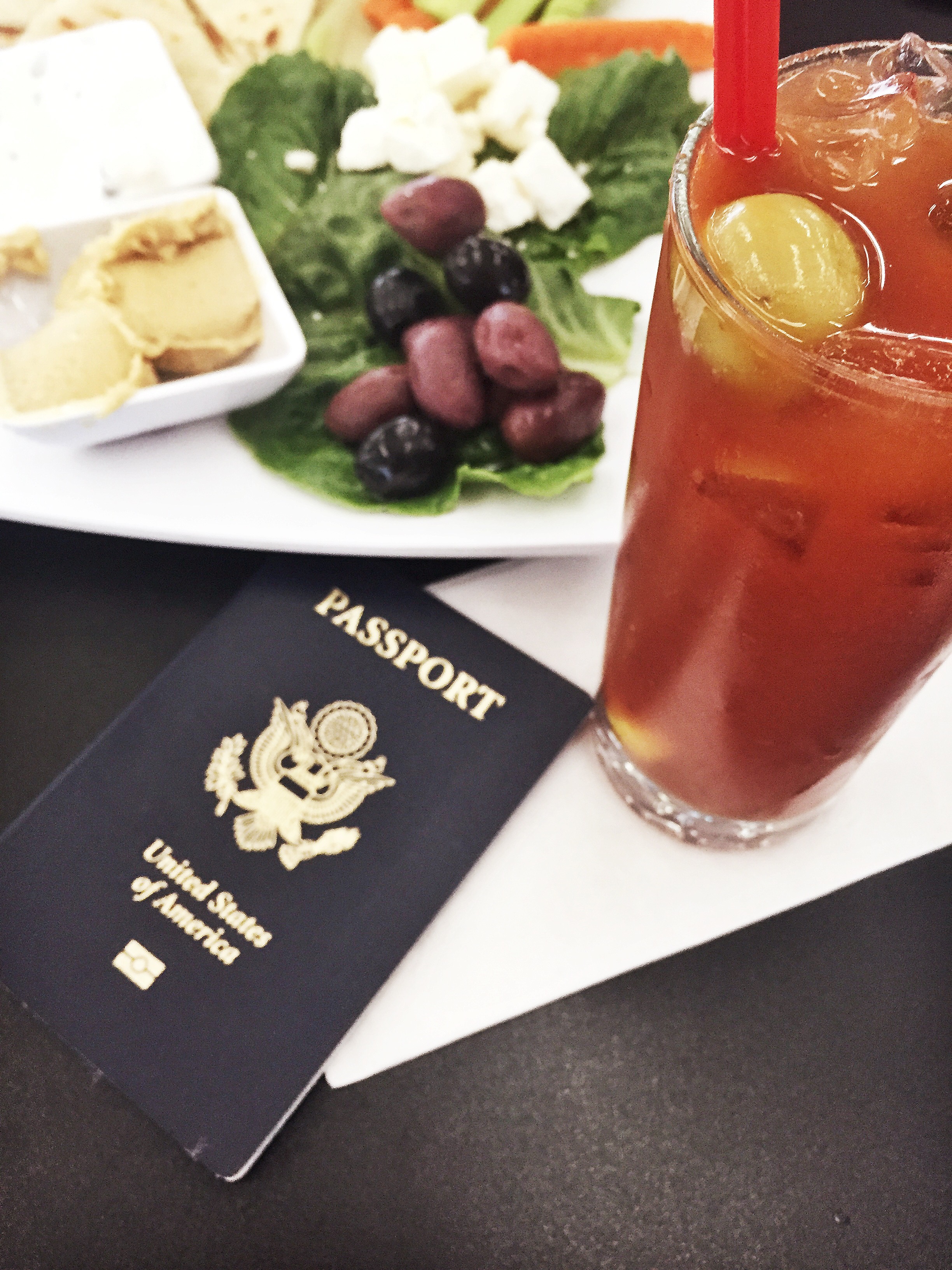 OK, OK, time for the good part:
Day One:
We arrived in Rome after our 8.5-hour flight bright and early on Sunday morning. We flew through the night to help us adjust to the time change – I've never been to Europe so this was a totally new concept to me. After arriving in the Rome airport, we met up with my brother, Matt, and boarded our plane to Venice.
Venice is totally mind blowing when you first arrive because they have to travel EVERYWHERE by boat. No cars, no mopeds, nothing but boats. We took a water taxi to the island and got the party started.
By the time we got settled, it was time to hit the streets for aperitivo which is basically just pre-dinner cocktails and small bites! Italians eat later than us Americans, so it was nice to have something to hold me over! My favorite aperitivo drink was a Campari Spritz, which is basically Campari liquor, prosecco, and a bit of soda water.
Our first din was had at Al Fontego dei Pescatori. I started with the cuttlefish pasta cooked in its own ink. Yes, it was black, but it was weirdly refreshing (hello, lemon zest). And, my 5-year-old self loved that my teeth turned kinda black when I chewed it lol.
Side note: We generally had about 2-4 courses each night, but I'll just be sharing my highlights. 1) I didn't want to be the weird girl taking a picture of EVERY dish, and 2) I think you'd want to kill me. Balance, people.
The food on night one was really good, but I feel like each night built on the last. Looking back, I think we had a few more authentic meals during our time in Italy.
We had to end our first night with none other than…GELATO:
Day Two:
We kicked this morning off with a fantastic boat tour of the island. It was SO fun to hear about how diverse and lively Venice was. Today, it is mainly a tourist destination (which bums me out), but imagining it in its glory is SO cool
It's really neat to cross the Rialto Bridge and make your way over to Piazza San Marco. I loved the farmers market that pops up every morning.
And when in Venice, you must have lunch on the water…can you believe this view??!
We then toured Doge's Palace and visited St. Mark's Basilica (which are right near Piazza San Marco) before heading to an old, preserved palace designed to show all of the different rooms and it still holds original pieces of furniture, china, light fixtures, etc., which I thought was fabulous. The detail was INCREDIBLE.
Day two was my parent's 29th anniversary and we celebrated at La Lanterna ds Gas. The lighting was a little dark, as we ate outside in the campo (like a piazza) so, I didn't get any pictures. My brother and I split this fantastic piece of Bronzino (Italian sea bass) packed with salt and a side of veggies for our main.
Then it was off to Veccheo for after dinner drinks and dessert where I had to have the tiramisu (duh).
Next stop: FLORENCE!
Venice highlights:
This was a beautiful city; the fact that it was just all on the water BLEW my mind!
After seeing other parts of Italy, this actually ended up to be my least favorite actual location but probably my favorite location to photograph. The colors make it such a lively little town!
Travel Tips:
OK, so travel neck pillows and ear plugs are a must on overnight flights. I recommend grabbing a large water bottle if you're a water drinker like me before boarding. Sometimes, it takes a while for the stewardess to get to you with such a large flight, and flying is SO dehydrating.
I did some free weight and bodyweight exercises the night before I left. In the morning, I went for a run and had a good stretch before my flight. Obviously, you're going to feel cramped on a long flight, but this really helped me relax and feel like my muscles weren't totally jello.
I follow the Kayla Bikini Body Guide pretty closely, so that's what I did as my night before workout; but here is a great little write up by Shape.com on a Pre-Travel Workout.
Stay tuned for the next portion of my little tour of Italy!
xoxx,
Miss AK
Let's Be Friends
Sign up to get the latest and be the first to know about recipes.