What To Do if You're a Fit Foodie Visiting Baltimore
This past spring, my blogger pals, Kelly with Eat The Gains, Dana with Eats 2 Know, and Leslie with Balanced Life Leslie decided it was about dang time that we met in person.  At the time, we were experiencing some major FOMO as we watched our west coast blogger besties hit Expo West, one of the largest health food expos in the country. But…oh wait, there was Expo East happening in Baltimore this September.
Plane and train tickets were booked and we quickly decided to stay at The Kimpton Hotel Monaco…which ended up being one heck of a great decision – great location, great service… and a room with bunk beds?! Heck yes.
After initial plans were made, we asked ourselves: what the heck are a bunch of fitness & foodie fanatics going to do in Baltimore for 4 days? Surprisingly so, Baltimore not only didn't disappoint, but it quite literally rocked our socks off.
Okay so here's what our stay looked like, starting with the most important item first… what and where we ate.
What We Ate
Wednesday:
For lunch on Wednesday, we quickly ran over Encantada, which is this WAY cool spot that was kind enough to host us for a complimentary meal inside the American Visionary Art Museum.
They focus on sustainable food married with artistic presentation… oh yeah and they have some pretty killer toast creations on the menu. My favorite – the BLT. The buffalo cauliflower wings & Brussels were also legendary.
Dinner was a Whole Foods party. We hit the brown box bar hard, and obviously had to grab a few bags of Siete Chips after working out with part of their awesome team earlier that day, but more on that later. In case you're wondering, this is what going to Whole Foods with a bunch of bloggers looks like:
Thursday:
Our hotel, The Kimpton Hotel Monaco, was kind enough to send us some breaky on the house, which we were eternally grateful for after another serious sweat sesh. Man, I can't wait to tell you about the workouts… but first food. I promised food. And for breakfast, I had a perfectly poached egg, mixed sauteed veggies, and some roasted taters. Talk about a power breakfast before hitting Expo!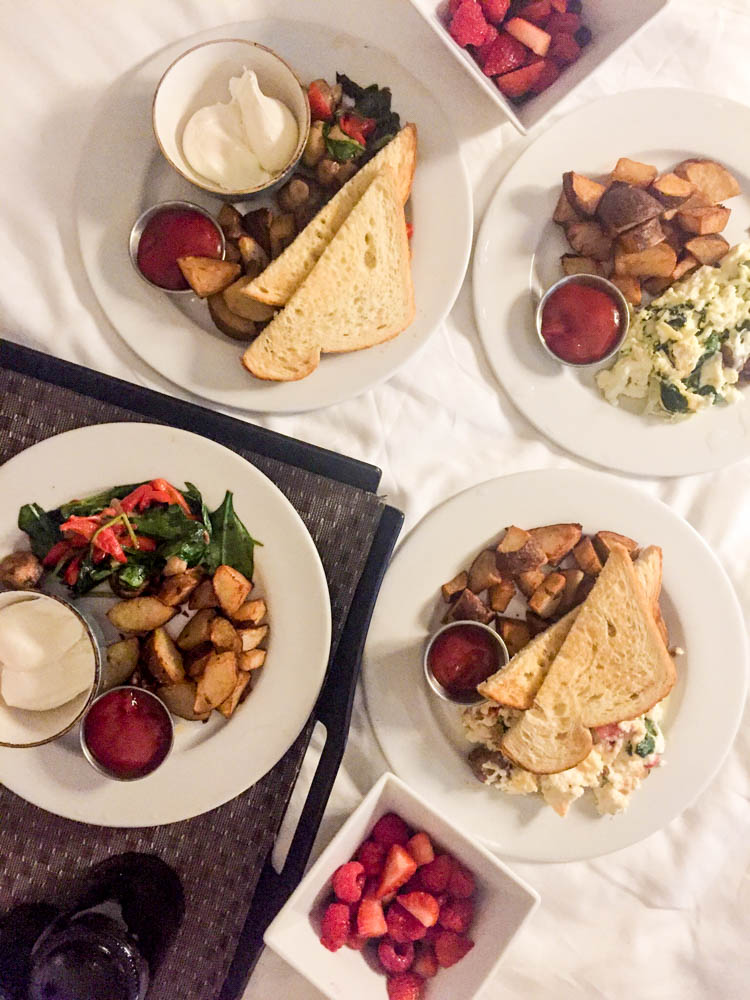 I try not to play favorites, but I kind of have to with our dinner on Thursday, which was hosted by Cosima.
The chef, Donna, follows her mother's footsteps by focusing on Southern Italian and Mediterranean foods with a modern flair. Not only was she extremely conscious of some food allergies in our group, but she carefully crafted the most sublime menu which paired wonderfully with their extensive wine list. This spot is a MUST VISIT in Mill No. 1 if you're in town (or if you're a resident and haven't been).
My favorite dishes from the meal (bear with me there are a few):
To Start – Roasted cauli, orange & beet salad,  eggplant ratatouille, and fermented veggies & olives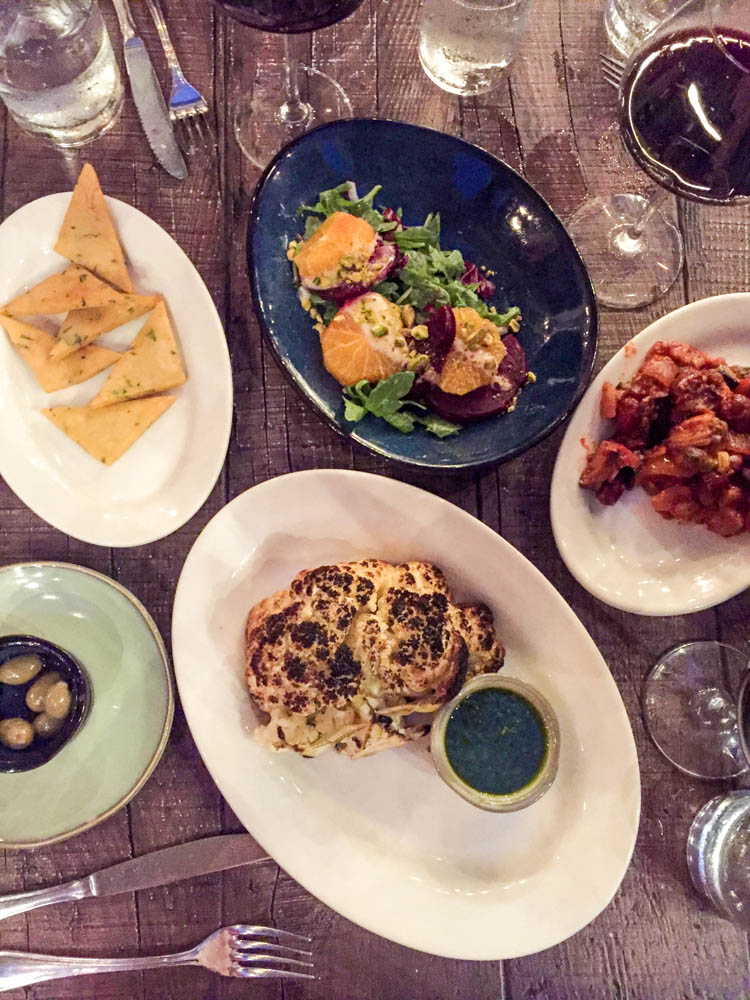 Our mains – Grilled Bronzino, Roasted Chicken, Roasted Wild Boar, and the Special Pizza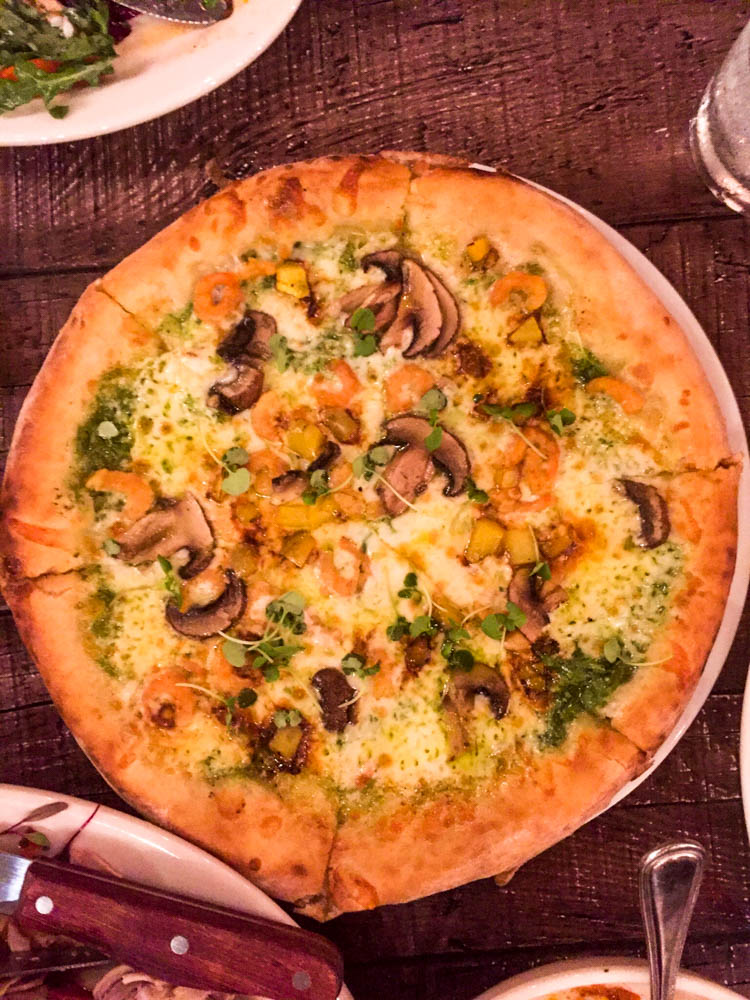 And to finish we had – chocolate & blackberry sorbet and the most amazing cinnamon sugar coated donuts
Truly legendary. You MUST go.
Friday
By the time Friday rolled around, we slept in a bit after the long day on Thursday and snacked on a few Perfect Bars & Anita's Yogurt before hitting the Expo booths again for more foodie fun. They were two of my FAVORITE booths to visit.
By dinnertime, on Friday we were mega relaxed after our treatments at Charm City Integrative Health (more on that below, too!!) and ready to kick our feet up at B&O Brasserie, the restaurant inside of our hotel that was kind enough to provide us with dinner our final night.
We each ordered the most refreshing salads; I opted for the Cucumber & Watermelon. For my main, a beautifully prepared plate of Rainbow Trout. Oddly, I was mega grateful for the endless pot of hot lemon water they provided us with. After all of the nut butter, granola & chips at Expo, our digestive systems were grateful for it and the lean protein and veggies.
Where We Got Our Sweat On 
Wednesday:
After unloading our bags at the hotel and the lunch at Encantada we headed to Peak Performance Training to sweat with some of our sweet friends at Siete Foods.
Peak incorporates interval training, which is one of my favorite ways to sweat, and monitors your heart rate while you're sweating so you can see how you're performing over the course of the workout. It's always fun to learn a few new moves and workout with friends!
Thursday:
On Thursday, we were up bright and early for a 6 am spin class at REV Cycle Studio. I'm not normally a big fan of spin classes, but I loved the environment at REV and was so glad to get a workout in before hitting the Expo floor.
Where We Practiced Some SERIOUS Self-Care
Friday
We decided to take a break from the gym on Friday and got down with some seriously cool recovery techniques at Charm City Integrative Health. The owner, Tom Ingegno, was wildly informative and we had an amazing time receiving cryotherapy and cupping treatments. I'll explain below if you're like whaaaaa…
Here we are about to do cryotherapy!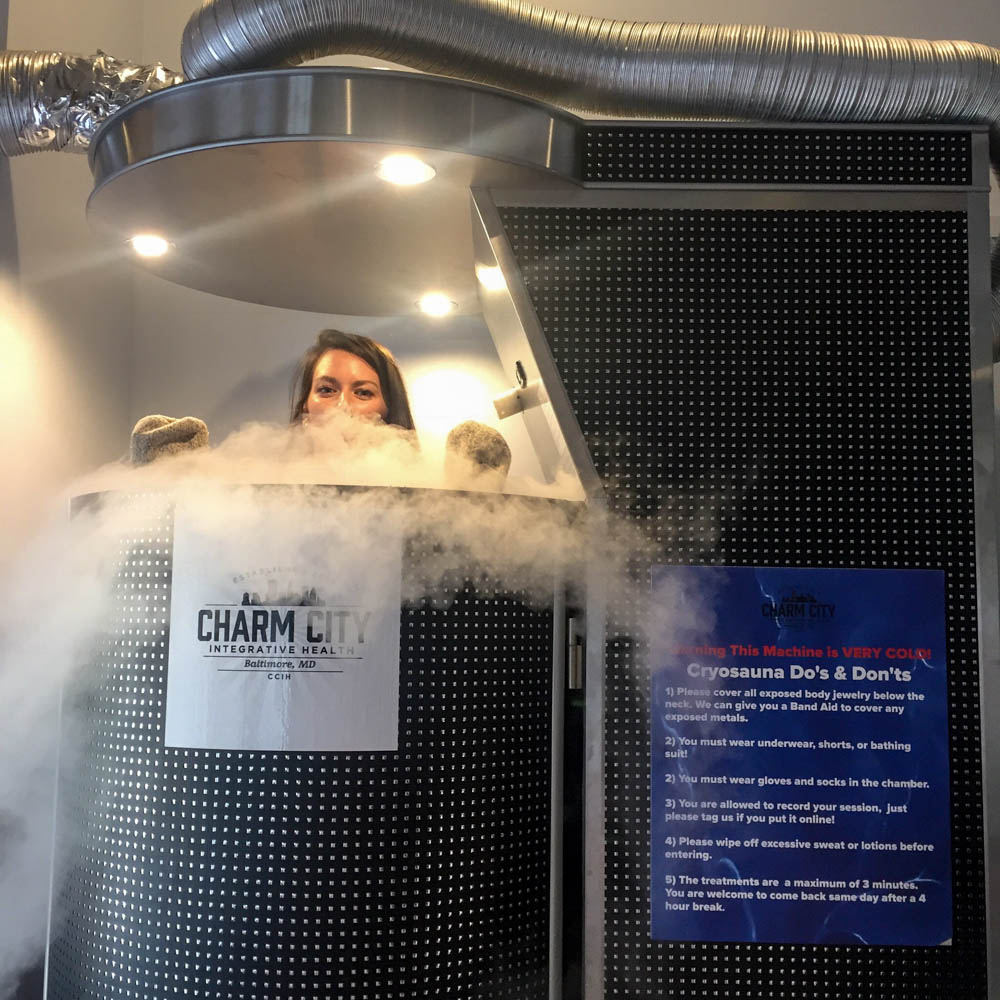 I'm pictured here in the cryosauna which was around -184 degrees F where I was able to hang for 3 minutes. My hands and toes were totally protected, and this is thought to help with workout recovery & pain treatment. Read more here! 
I'm not sharing any photos of my cupping experience, but it was absolutely wild and wonderful. Glass cups were adhered to my back with a sort of vacuum seal and this encourages blood flow and tissue repair. Read more here!
RECAP
All in all, Baltimore had way more in store than I could have ever imagined. I can't wait to get back and I'm absolutely tempted to head back down for another cryotherapy session soon! To hear more about our trip from Leslie's point of view, check out her recap post!
xoxx,
Miss AK
Instagram – https://www.instagram.com/miss.allieskitchen/
Facebook – https://www.facebook.com/missallieskitchen/
Pinterest – https://www.pinterest.com/miss_ak/
Twitter – https://twitter.com/missallieskitch