tips, tricks, and secrets for completing the popular 30 day challenge
 How To Actually Complete A Whole30
I did it. You did. WE DID IT! If you're reading this and you've just finished or are about to finish the 2017 January Whole30, you should be celebrating. This is a huge milestone. Why? Because you put your health, your personal well-being, and how you feel first and you FINISHED what you set out to do.
If you weren't able to stick to the program entirely, if you're still hesitant to start, or if you really have no interest in completing a Whole30, that's okay! I wanted to write this post because I honestly feel really great, and for the first time in my life, I have fully finished a program I set out to do. And that's because of all of you.
Whole30 isn't easy, and I'm a little proud to say that over the course of 30 days, I stuck to the program. I should tell you – I caught the Flu the last 3 days of my journey. Yes, I had 2 cough drops containing honey. We went out to eat one night and I had a few tastes of J's sauteed beef and veggies and I'm not sure if there was soy in the seasoning. AND I was developing a recipe for one of my favorite clients, which was definitely not Whole30 approved, and I allowed myself a minuscule bite. I stand by my work and there is no way in HECK that you can be a good recipe developer without tasting your food. But, there were no sips of wine, and no sneaking peanut butter and chocolate in the pantry. I FINISHED. There are a few reasons I was successful and I'll tell you what I think did the trick!
Tell Someone… or Everyone –
In my case, I very publically announced on my blog and social media channels that I was diving into the January Whole30. You guys are probably the main reason I completed this. Not only did I feel like I had a community and a great support network, but I would have felt like a total fraud if I didn't finish and my Whole30 journey after announcing it. Which would have probably eaten me alive. Miss Allie's Kitchen is founded on the principals of realness. Real food, real talk, and real life solutions. No BS. So, thank YOU for holding me accountable.
Simplify Your Meal Plan Game –
It's easy for me to get caught up in fun recipes and sometimes I improperly calculate what we actually NEED for the week to like, survive. Instead of complicating things, I batch roasted tons of potatoes, sweet potatoes, carrots, and cauliflower (to name a few) in the beginning of the week and cooked up a few types of proteins. The proteins were mainly chicken, hardboiled eggs, slow cooked pork or beef and meatballs. When life hit, I had easy things to heat in a bowl. Some nights, I got creative in the kitchen, but I always had those fallbacks. I'll be posting a few of my easy, balanced bowls in the future.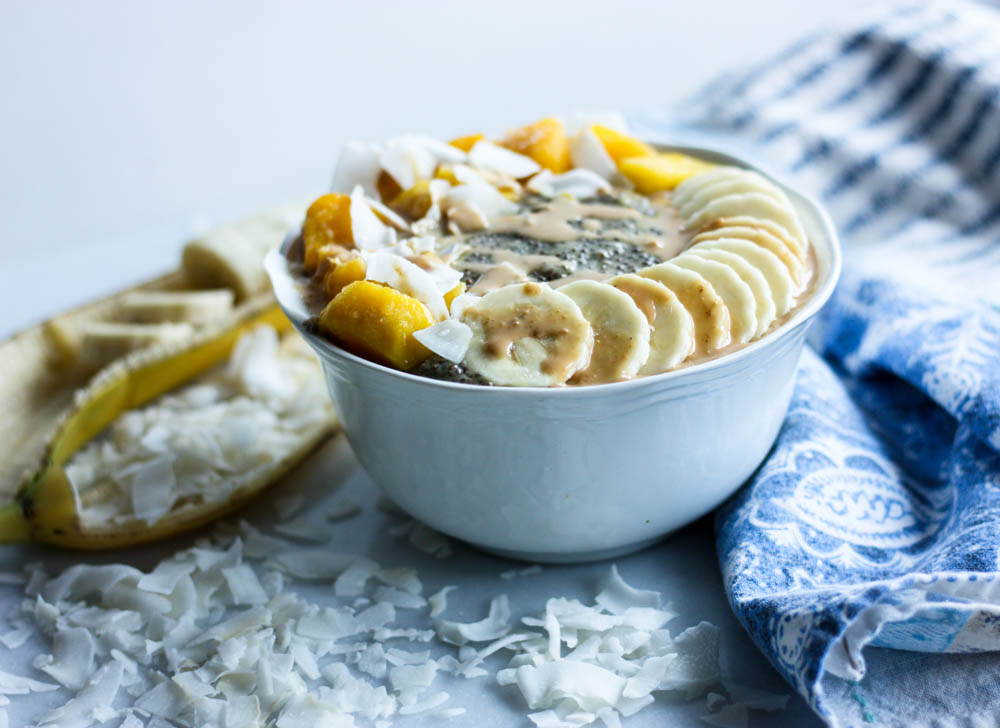 Check out this Stovetop Tropical Chia Pudding for a quick breakfast or snack!
Don't Let A Small Slip-Up Defeat You –
Nothing always goes according to plan. I explained above that I had a small bite of a non-compliant dish that I was creating for a client and I had a couple of cough drops to ease a flu symptom. I could have easily thrown in the towel and given into the all or nothing mentality. But, life happens and I wasn't about to give up on myself because everything didn't fit into my perfect vision. Life gets messy, miscommunications happen at restaurants, and things pop up along the way. By all means, don't cheap purposefully, but if a mistake or a necessary slip up happens, breathe deep, focus on your goal, and move on.
Learn to be BFF With Your Slow Cooker –
Ok so yes, most of the recipes this month on Miss AK were made in the slow cooker. Do you know how stinking awesome that made my life? Each week I had about 6-8 servings that were basically made for me in that glorious, magical pot. I pick the busiest night of my week, and the day before, I prep the slow cooker meal. The morning of my busy day, I throw the meal in my slow cooker and come home to dinner at the end of a long day. There is literally no room for error or a slip-up.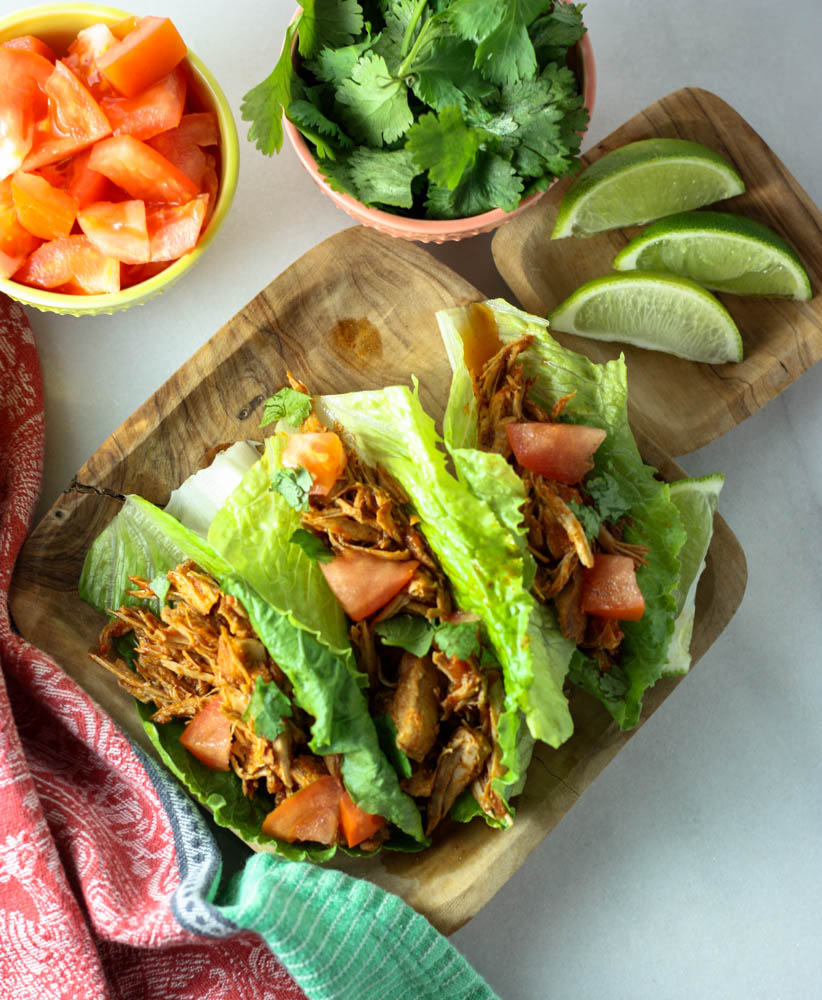 Yep, make these Pork Carnitas Tacos RIGHT in your Slow Cooker.
Don't Focus On What You Can't Have –
I saw a common trend with a few Whole30ers, they were all about the foods they couldn't have and making it through the 30 days to eat them again. I'm going to go a little tough love on you here: that's not what Whole30 is about. If we spend all of our time thinking about the can'ts in life, or in this case THE RULES, we're going to associate some negative feelings with certain actions. Which, I think is actually why Whole30 gets a bad wrap. There's a lot of positivity behind the psychology of Whole30 and the creators are asking us to change our mindsets and habits for just 30 days and implement what we learn afterward. Whole30 is designed to change your habits and outlook to give you the freedom to say no to things that make you feel crummy because you learn to love other foods and the way they make you FEEL. Sure, I had a few cravings. Mainly just wine, pizza, chocolate and tortilla chips. Instead of whining about it and dwelling, I tried to do turn my attention to something else, like how much I loved the new tea I just splurged on, or how awesome the run I went on earlier was.  I know, it's hard, but seriously, don't underestimate the power of a positive mindset.
You CAN totally have this melt-in-your-mouth Slow Cooker Braised Short Rib platter for your next Whole30 meal.
Focus On How You Feel –
First of all, Whole30 makes no claims that you will "Drop the weight fast during the 30 days". In fact, the creators urge you NOT to weigh yourself or focus on weight. I LOVE this. And it is the reason it worked for me. I'll be honest, for years, I tried to "Lose The Weight" (ughhh I hate that statement, and it sometimes still haunts me). I tried to implement a totally clean diet with no alcohol about 3 years ago when I had a contract with a modeling agency. No one ever came out and told me to "drop 10lbs before the next runway show", but when you're a 22-year-old woman who lifts weights standing next to a 15-year-old little girl on a catwalk, there are going to be some physical differences. And it's really hard not to get inside of your own head. The week or two before a gig I was miserable. Eating "clean" just to look good just didn't carry enough weight for me and I don't think I ever thought about how I felt. When you eat well to feel great, I think it makes a huge difference because you're focusing on your quality of life and what's on the inside.
A few things going forward – you can totally expect to see more Whole30 inspired meals on Miss Allie's Kitchen. I absolutely loved eating less sugar and did notice an improvement in some soreness and inflammation in my left hip. I'm going to be diving into foods that make me FEEL GOOD this year and I hope you'll do the same. Don't forget to check me out on Social Media for additional resources & inspiration!
xoxx,
Miss AK
Don't Forget To Follow Me On Social Media & Pin This for Later!
Instagram – https://www.instagram.com/miss.allieskitchen/
Facebook – https://www.facebook.com/missallieskitchen/
Pinterest – https://www.pinterest.com/miss_ak/
Twitter – https://twitter.com/missallieskitch

WHOLE30 COMPLIANT RECIPIES #ONTHEBLOG:
Dairy Free Tomato Soup and Cauliflower Steak
Beanless White Kale Chicken Slow Cooker Chili 
Apple Walnut Stuffed Tenderloin
Venison Shepherd's Pie (please use ghee – not butter)
Sausage and Peppers in Acorn Squash 
Mini Buffalo Chicken Sandwiches
Let's Be Friends
Sign up to get the latest and be the first to know about recipes.