The easiest bolognese sauce you will ever make. It comes together so quickly and is perfect for a filling weeknight meal!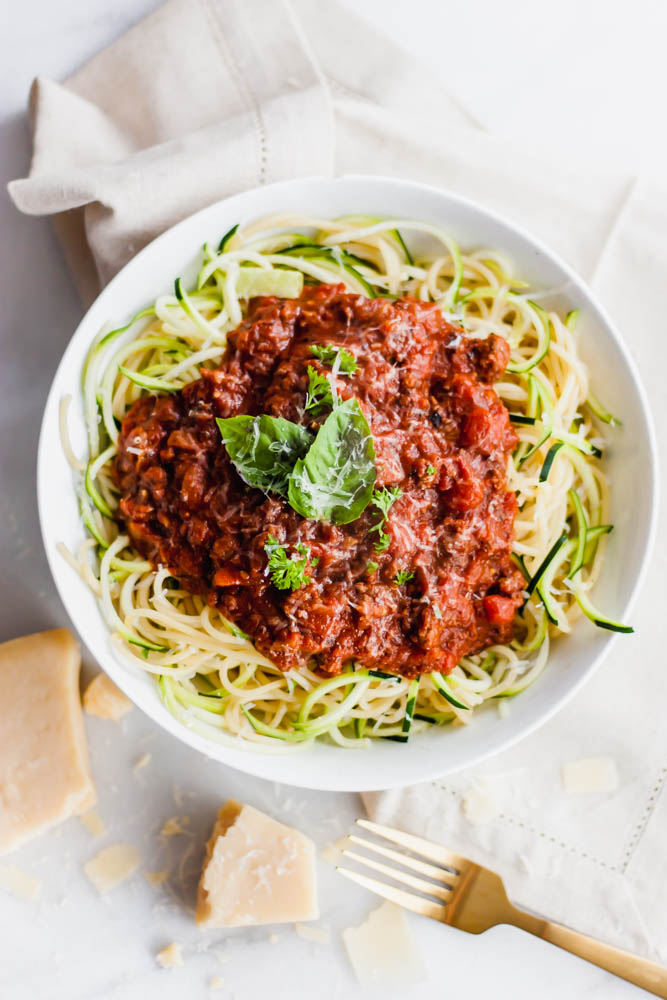 Best Ever Easy Weeknight Bolognese Sauce
Italian food was the first type of food I ever learned to cook. On Sundays growing up, my dad and I would make everyone tuna melts after church and map out the dinner game plan. We'd usually make chicken cacciatore, Bronzino, or classic marinara.
The marinara was my favorite. I loved chopping the onions and garlic (still literally my go-to thing to do when I'm stressed) and watching everything come together in the pot. My absolute favorite part of the night was when he'd kind of tip-toe into the dining room, grab a bottle of wine and snag the sugar out of the pantry. Just before we'd add the tomato products, we'd deglaze the pan with a bit of wine. Once we added the tomato products, we'd add a bit of sugar for a touch of sweet. He'd quickly put the two items back so no one would know our "secret" ingredients.
Later in life, I realized that these two ingredients, in fact, were not all that uncommon in a really good sauce. I also learned that good sauce doesn't have to be complicated. Oh and, I discovered that my fiance, J, loves everything with meat in it, so I learned to make a darn good bolognese over the years to fill his belly when I don't feel like messing with meatballs.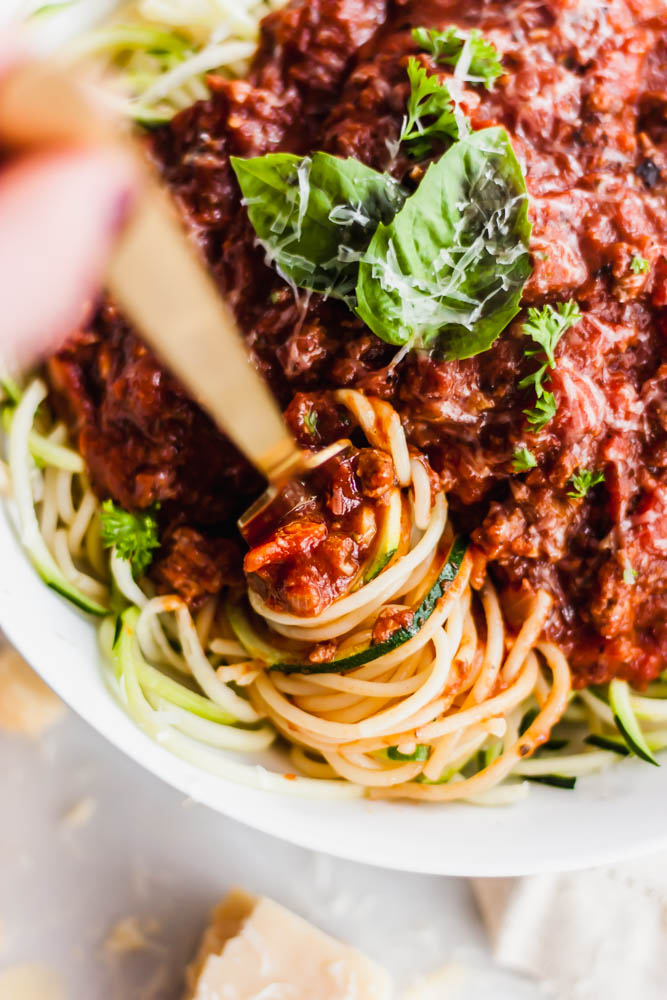 We're calling this Best Ever Weeknight Bolognese Sauce because it quite literally is all of those things. Flavor-wise – on point. Texture-wise – thick enough to hold up to zoodles but not too thick. We don't use sugar, but a touch of honey and dry wine does the trick. Instead of using whole, plum tomatoes, I use diced tomatoes with all of their juices to save on time. This comes together in about 10 minutes, and you can forget about it for about 20 minutes while you set the table, fold a load of laundry, or unwind with a glass of vino. You can bet my dad would recommend that you do the latter.
LET'S GET TO IT!
WHAT YOU'LL NEED (increments & directions below in the printout – tip get everything out before starting!):
Lean ground beef – about 85%-90% (or turkey if you like)
Olive oil (I use a good quality extra virgin)
Yellow onion
Garlic
Italian seasoning
Salt
Pepper
Dry red wine (I opt for cabernet or a full-bodied merlot)
Raw honey
Diced tomatoes
Tomato paste
Pasta or zoodles of choice (I use a blend)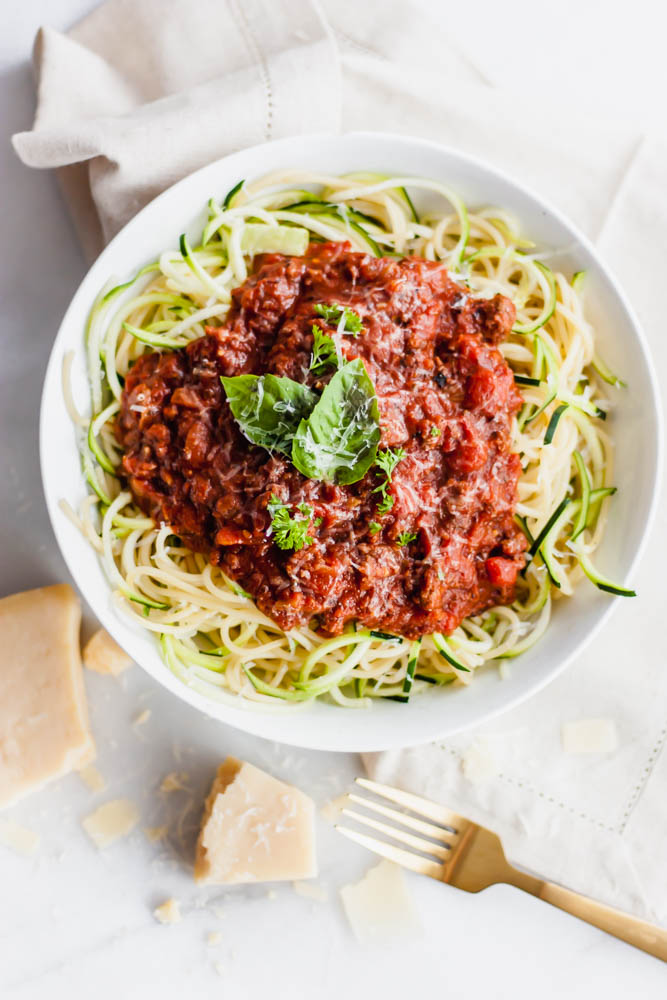 Print
Best Ever Easy Weeknight Bolognese Sauce
Scale
Ingredients
1

lb. lean ground beef (or turkey if you like)

1 Tablespoon

olive oil (I use a good quality extra virgin)

1

yellow onion, diced

4

garlic cloves, minced

1

+

1/2 Tablespoons

Italian seasoning

1 teaspoon

salt (more to taste if needed)

1/2 teaspoon

pepper (more to taste if needed)

1 cup

dry red wine (I opt for cabernet or a full-bodied merlot)

1 Tablespoon

raw honey

64 oz

. diced tomatoes

1

6 oz. can tomato paste

1

lb. pasta or zoodles of choice
Instructions
Heat a large saucepan over medium-high heat.
Add the olive oil and allow the oil to heat as you dice the onion and mince the garlic.
Add the onion to the saucepan and saute for about 7 minutes, or until the onion is nicely caramelized. Add the ground meat and cook for an additional 7 minutes, or until the meat is browned.
Add the garlic, Italian seasoning, salt, and pepper and saute for 3 minutes before adding the wine to deglaze the pan.
Let this cook down for 3-5 minutes before adding the honey, diced tomatoes and tomato paste.
Mix everything together well and let the mixture boil.
Reduce the heat to low and let this simmer, covered, for at least 20 minutes, but up to 2-3 hours. The longer it sits the better, but it's ready after 20!
Serve with your choice of noodle and enjoy!
If you have leftover sauce, scoop it into a plastic freezer bag or freezer container, and freeze for up to 3 months.
xoxx,
Miss AK
Instagram – https://www.instagram.com/miss.allieskitchen/
Facebook – https://www.facebook.com/missallieskitchen/
Pinterest – https://www.pinterest.com/miss_ak/
Twitter – https://twitter.com/missallieskitch