This Blackberry Raspberry Old Fashioned recipe is a play on classic old fashioned with a fun and fruity twist!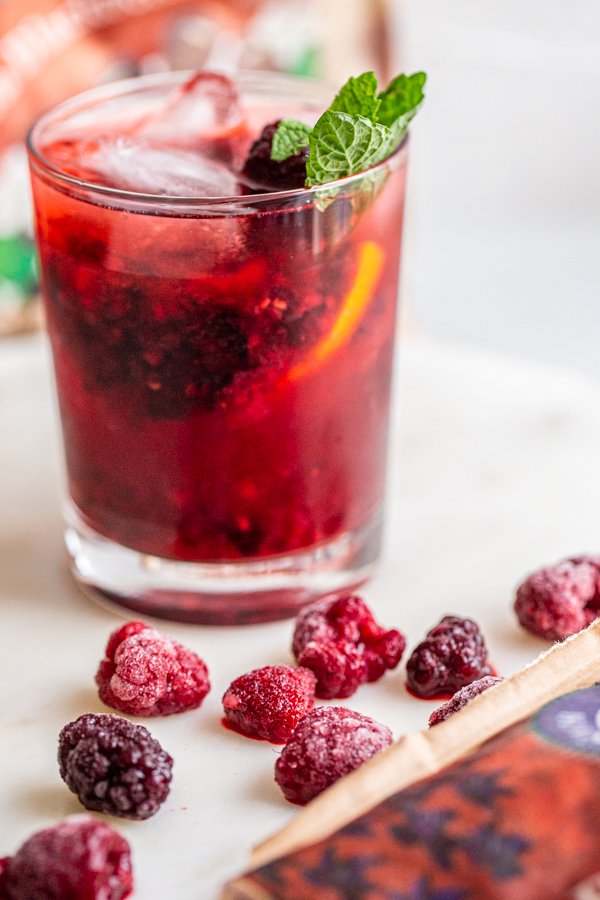 This Blackberry Raspberry Old Fashioned Cocktail recipe is sponsored by Stahlbush Island Farms. As always, all opinions remain my own and I am proud to partner with brands I love.
Old fashioned cocktails are one of my husband Jared's favorite drinks. He's a lover of all things bourbon, and I have to admit, I am more of a whiskey girl myself when it comes to the hard stuff. A traditional old fashioned is a bit strong for me, but this Blackberry Raspberry Old Fashioned is the perfect cocktail for both of us.
It's got all of the traditional flavor notes of a traditional old fashioned cocktail, but I added some blackberries and raspberries for a fun and a bit fruity twist on a classic.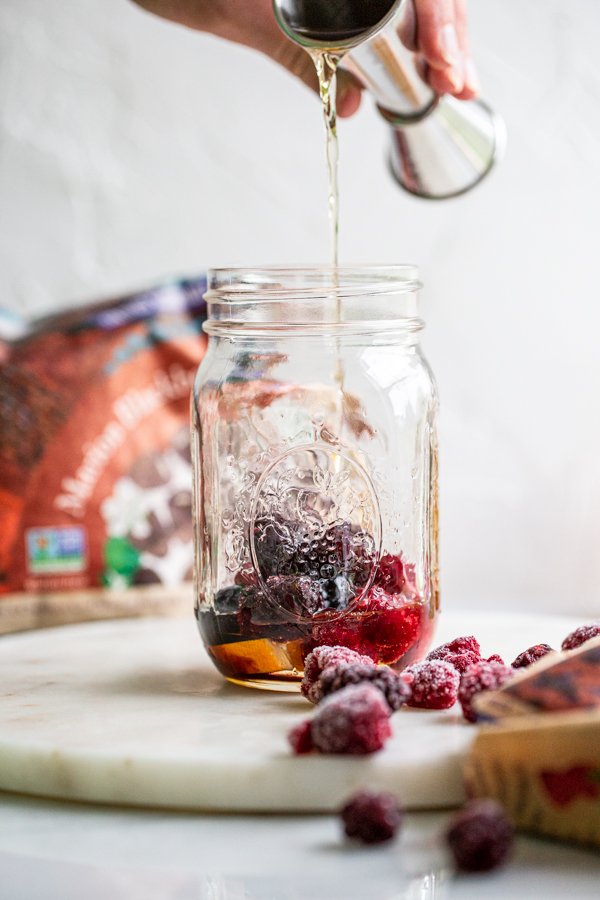 Any bourbon-based cocktail always reminds me of my hubby and I was thinking about a time a few years ago when J and I decided to ditch our usual foodie routine and we headed to a local rock climbing gym for a date night. We made the 30-minute drive after work on a Friday and bustled in the door, eager to get started, spend some quality time, and share a few laughs. We tied on our arguably dorky and rented climbing shoes, strapped on our chalk packs, and quite literally, grabbed the ropes.
He climbed first and scaled the beginner wall within seconds, and I took the role of the ground person, feeding him the rope. When it was my turn to climb, my nervousness bubbled up, and I shook while climbing the first wall. I made it to the top and slowly lowered to the ground. Do you know that feeling when your fear builds after you've actually accomplished something and you feel like you can never do it again? Yeah, that happened.
We moved to a more difficult spot; he climbed and I let my anxiety fester. I made it halfway through the next wall and I was stuck. "I look like an idiot", I thought. I looked around for the next logical rock, which was nowhere in reach. I looked down at him and said, "I can't make it up, let me down". To my surprise, he yelled up and said "Nope, you're not coming down, I'll hold you up there all night if I have to. You can do this. Just slow down, take a breath, and figure it out. You could do any wall in this place if you put your mind to it". Do you know what happened? I made it to the top.
That date night totally still reminds me of how our relationship is these days. Sometimes, when I want to throw in the towel, he's always right behind me, encouraging me to stick it out until I reach the top. So, here's to all of the bourbon loving partners out there, whip up one of these Blackberry Raspberry Old Fashioned cocktails to celebrate them whenever you want!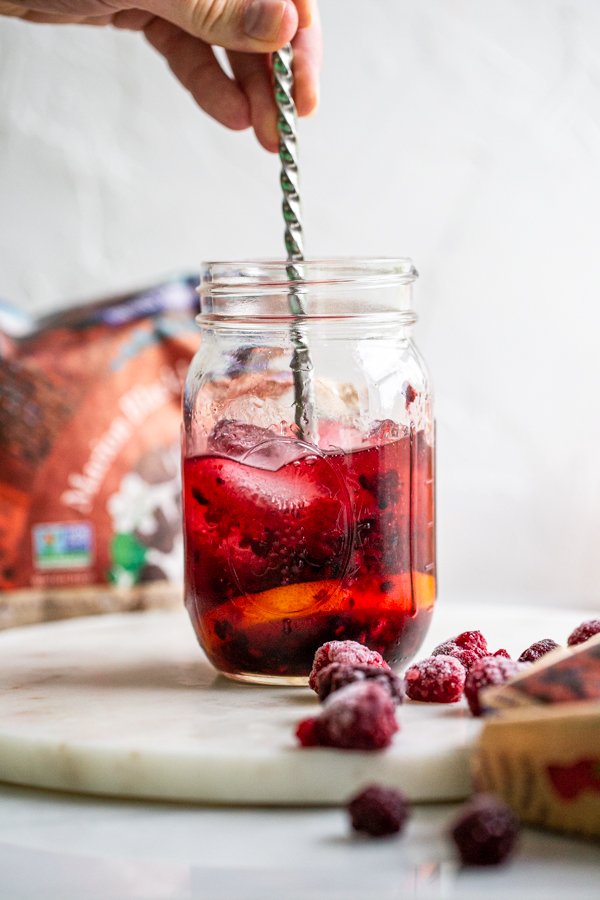 What's In a Blackberry Raspberry Old Fashioned?
You're just going to need a few ingredients for making this cocktail. I love using Stahlbush Island Farms frozen berries when I don't have fresh so I can make this any time of the year, not just berry season. All you need to do is pop a few berries in your cocktail shaker right from the freezer and whip up your cocktail. It's that easy!
Anyway, you'll need:
Bourbon whiskey (we like Bulleit, Woodford Reserve, and Blanton's best)
Simple syrup
Aromatic bitters
Maraschino cherries (we like Luxardo or any dark cherry, not the bright red ones)
Orange slices
Ice cubes
Fresh mint (optional)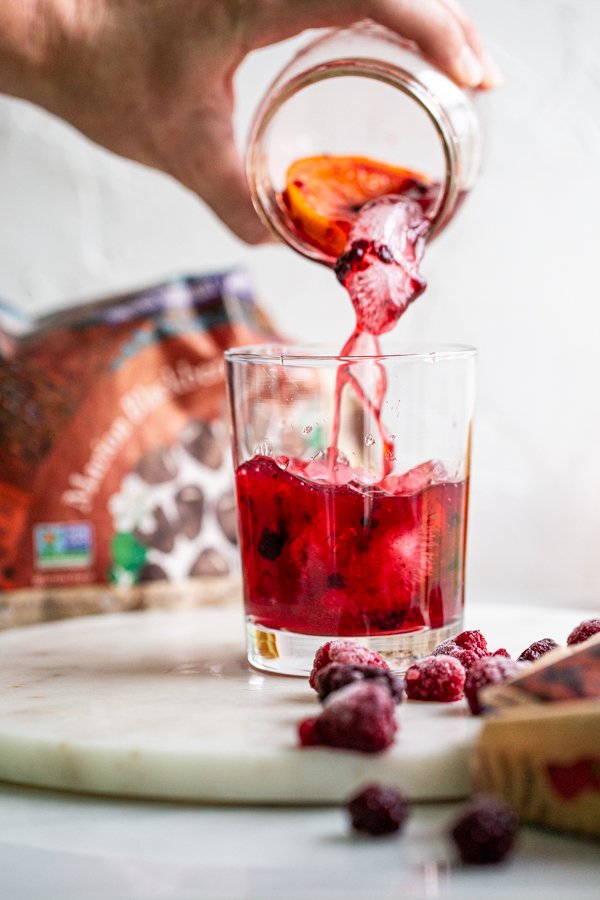 Shaken, stirred, or…?
The answer for this Blackberry Raspberry Old Fashioned recipe is stirred! First, you'll muddle your ingredients together, add ice, and then stir stir stir. You want to stir vigorously for about 30 seconds to agitate the cocktail and let the ice cubes infuse with the alcohol to create a really well-balanced drink that's not too strong and that's really cold.
I pour everything, seeds, ice cubes, and all right into a glass and serve as is! You can strain, but it's much better in my opinion when you don't! That, my friend, is how you make a Blackberry Raspberry Old Fashioned cocktail!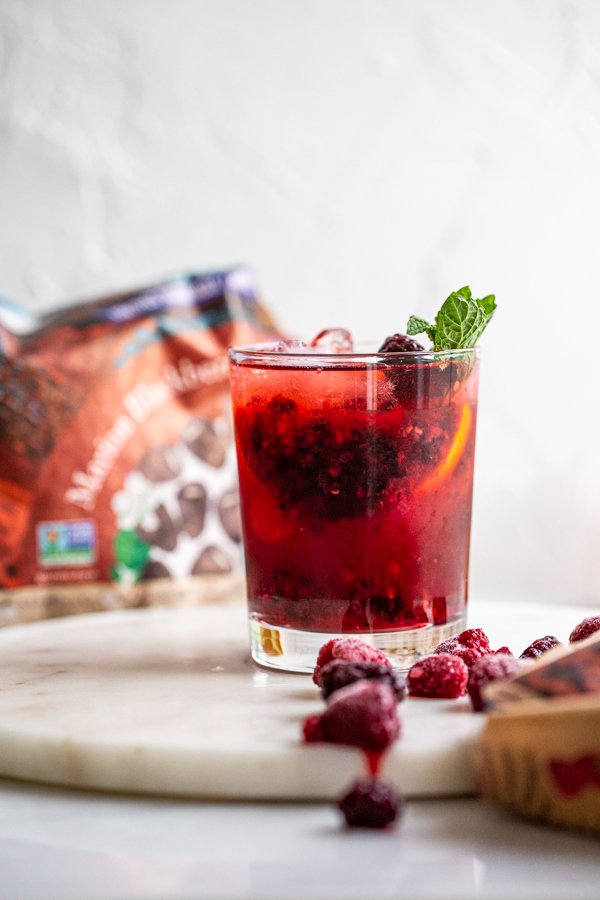 Print
Instructions
[tasty-recipe id="10561"]
This post was originally published in February 2017 and was updated in June 2020.