Alight y'all, let's get dippy with it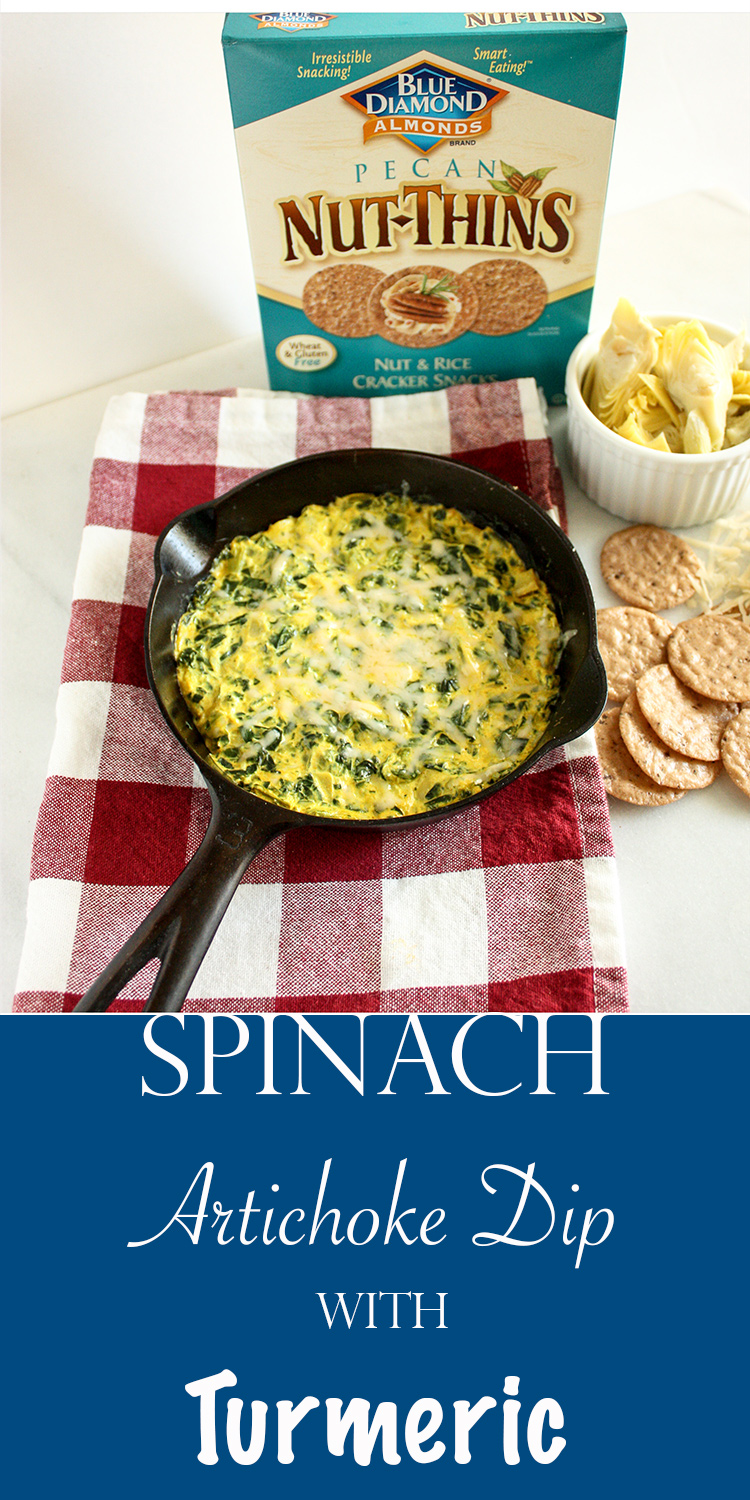 Spinach & Artichoke Dip With Tumeric – For Two!
this post may contain affiliate links
Remember a few weeks ago when I asked what YOU all wanted to see on Miss Allie's Kitchen? Well here's proof I make good on my promises. This one was a request from one of my gal pals, Lizzy. She does a lot of entertaining (her fiance is close with JMan so she always has a houseful of boys raiding the pantry), but she was wanting a healthy twist on a personal favorite: Spinach & Artichoke Dip!
Before I start gushing about this dip, let's talk about my latest obsession: turmeric. There is a laundry list of reasons why I love this herb, but I'm mainly using it for the immune boosting and anit-inflammatory properties. Reducing inflammation in my body has become a big priority as of late. An inflamed gut (which can be caused by a variety of foods and factors) can be painful, and I like to heal my sore muscles out after an intense workout. And NO ONE wants to be sick, so that's a given!
The addition of turmeric in this dish is actually helping a typically "unhealthy" dip work with our bodies instead of against them. How about them apples??!
Turmeric is a relatively inexpensive herb, and a little goes a LONG way, which is why it is a great supplement for those of us on a budget. I think it goes really well in eggs, soups, and I love making batches of Golden Milk, which is a hot, spiced drink that uses turmeric. Here's the recipe I follow by: Happy Healthy Mama . It has a distinct flavor, but it works well in both sweet and savory recipes. Y'all know I like to give you options so that purchase doesn't go to waste in the pantry!
OK, so back to our dip! We're swapping the cream cheese for greek yogurt (duh), and sticking to parmesan cheese. Hard cheeses have much less fat in them, making it lighter and easier to digest. The turmeric takes on a nutty, almost cheesy flavor that works really well with the artichoke & spinach.
This dip recipe can easily be doubled, or even tripled to feed a crowd, but I feel like we often struggle to make something portioned for small groups of people so we prevent over-eating!
WHAT YOU'LL NEED:
Greek Yogurt
Frozen Chopped Spinach
Artichoke
Garlic
Tumeric
Onion Powder
Salt
Pepper
Fresh Parmesan Cheese – Grated
Small cast iron, or baking dish
WHAT YOU'LL DO:
Preheat the oven to 350 degrees.
If you're using a cast iron, start by heating the pan & sauteeing the garlic. Add the frozen spinach in, and when it defrosts, measure in the artichoke. Cook this for about 2 mins, or until everything is warm.
Pull the pan from the heat, and in a separate bowl, add the greek yogurt, spices, cheese and the cooked veggie mixture. Give this a good stir before spooning it back into the cast iron or dish. Top with a sprinkle of extra cheese.
Put the pan into your hot oven and let it bake for 5-7 minutes, turn the oven on broil and let it go for 1 additional minute to brown the cheese a smidge.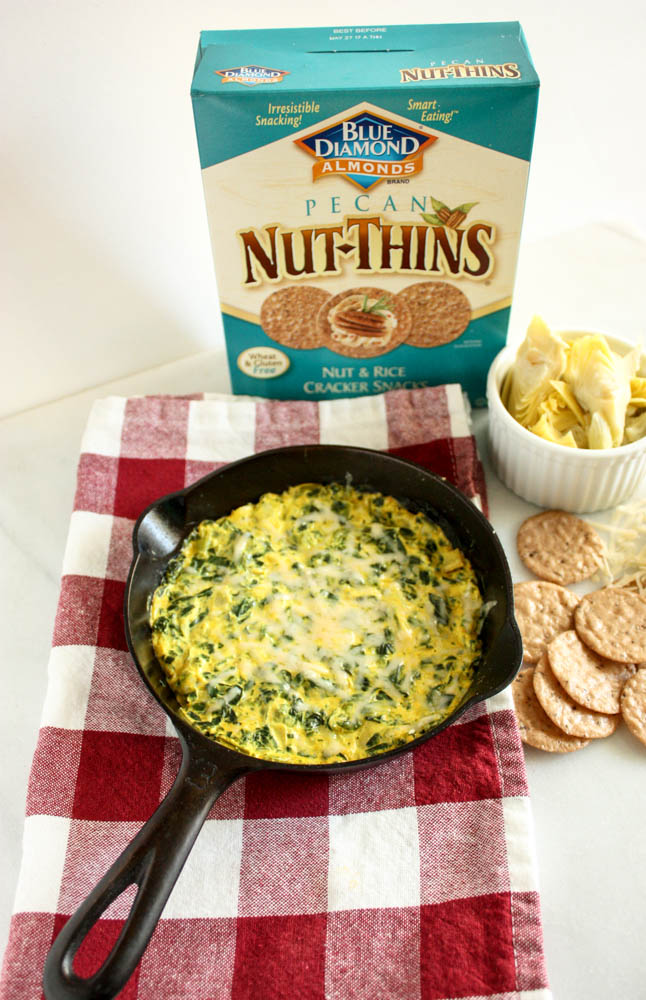 I love to serve this with a healthful cracker option, like these Nut Thins from Almond Breeze. Delicious & nutritions!!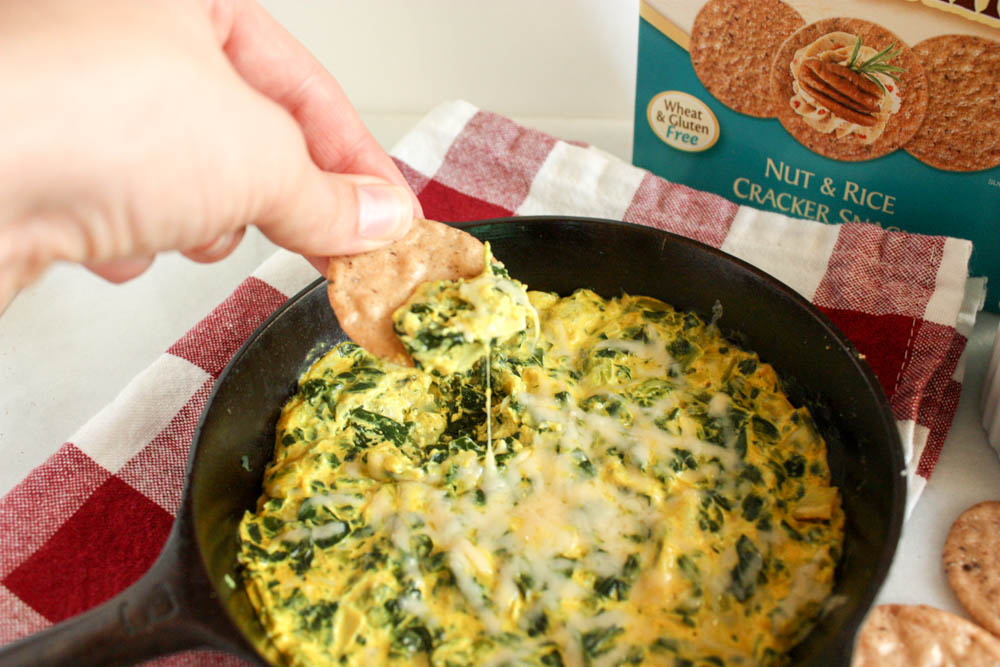 xoxx,
Miss AK
Spinach & Artichoke Dip with Turmeric – For Two!
Author:
Prep time:
Cook time:
Total time:
Oven to 350 degrees
Ingredients
1/4 cup of Greek Yogurt
1/4 cup of Frozen Chopped Spinach
1/4 cup of canned Artichoke hearts
1/2 tsp of fresh, minced Garlic
1/2 tsp of Tumeric
1/4 tsp of Onion Powder
1/4 tsp of Salt
1/4 tsp of Pepper
1/4 cup of Fresh Parmesan Cheese – Grated
Instructions
Preheat the oven to 350 degrees.
If you're using a cast iron, start by heating the pan & sauteeing the garlic.
Add the frozen spinach in, and when it defrosts, measure in the artichoke.
Cook this for about 2 mins, or until everything is warm.
Pull the pan from the heat, and in a separate bowl, add the greek yogurt, spices, cheese and the cooked veggie mixture.
Give this a good stir before spooning it back into the cast iron or dish.
Top with a sprinkle of extra cheese.
Put the pan into your hot oven and let it bake for 5-7 minutes, turn the oven on broil and let it go for 1 additional minute to brown the cheese a smidge.
Go ahead – get dippy with it