Classic cheesecake gets an upgrade with a perfectly baked chocolate chip cookie crust. It's milk & cookies…but better.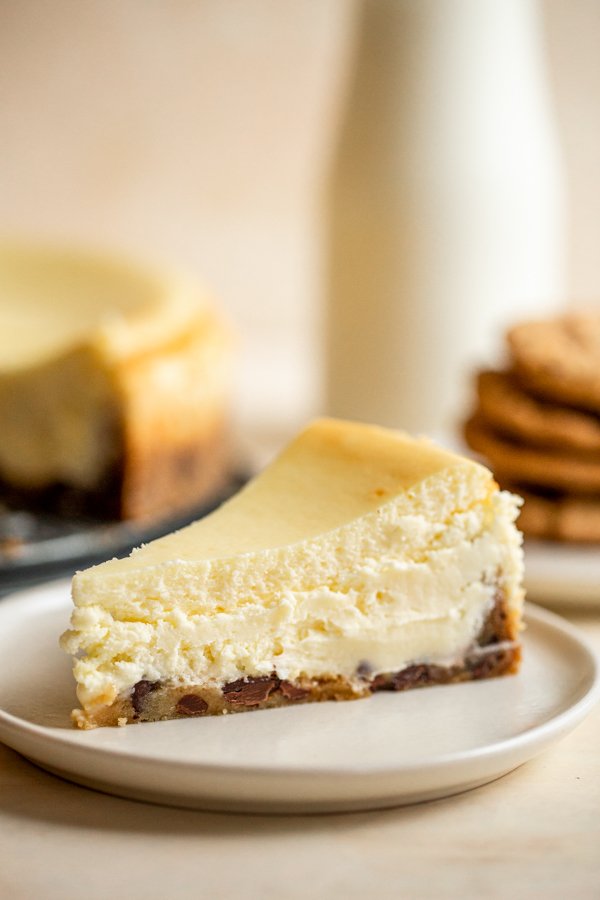 This chocolate chip cookie cheesecake recipe is sponsored by Philadelphia Cream Cheese. As always, all opinions remain my own and I am proud to partner with brands I love. Thanks for supporting MAK!
Does it get better than cookies and milk? Well, yeah, actually it does and I'm about to show you how in this post. But really, back to my main point. Few things can beat a glass of cold milk and a gooey, chocolate chip cookie.
Which is why I had to figure out how to make something better than cookies and milk. Because WHY NOT.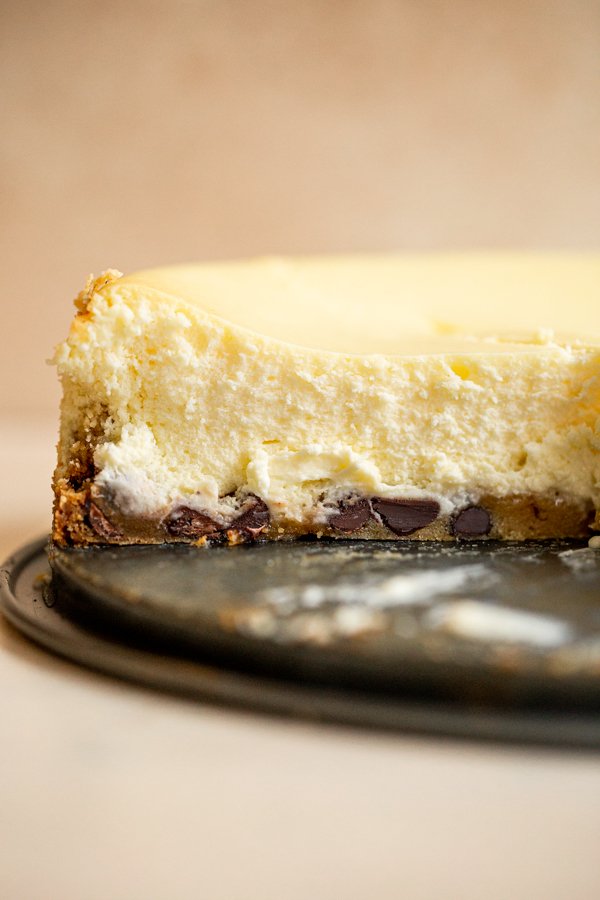 If there's something all of you readers out there love, it's cheesecake. Chocolate cheesecake, lemon cheesecake, pumpkin cheesecake…you name it, you guys are INTO it. And, I know we all agree that Philadelphia Cream Cheese is the KING of cream cheese. So, I thought, why not take two favorites and combine them!
At first, when I thought of a chocolate chip cookie cheesecake I thought of baked chocolate chip cookies ground up with butter to make a play on a graham cracker crust. But honeystly, that just seemed to basic to me when I really got to thinking about it.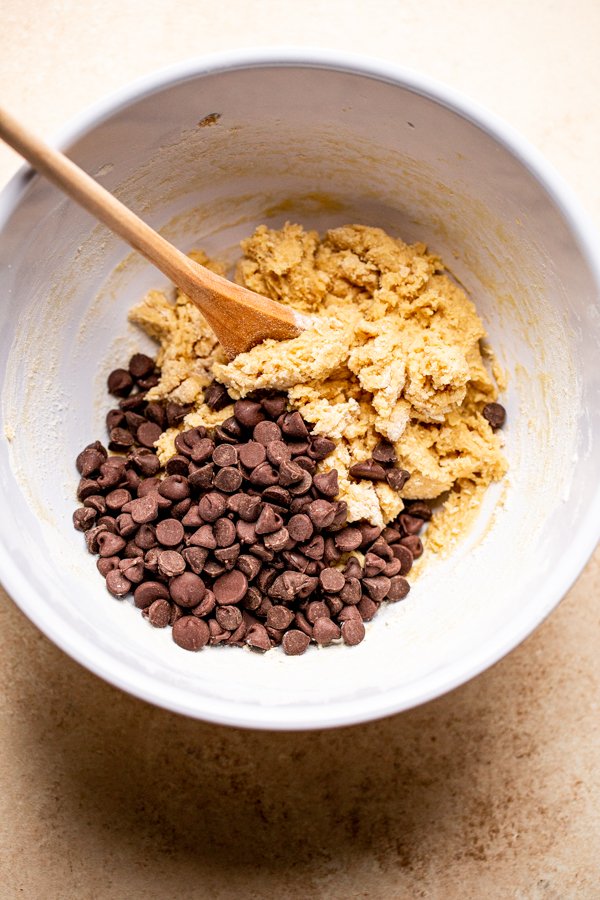 The recipe needed ooey-gooey, fresh-baked chocolate chip cookie goodness to live up to a name like chocolate chip cookie cheesecake, you know? So that's when I decided. We were going to make a classic cheesecake made with nothing but the best Philadelphia Cream Cheese and pour the unbaked cheesecake batter over cookie dough and bake it all together.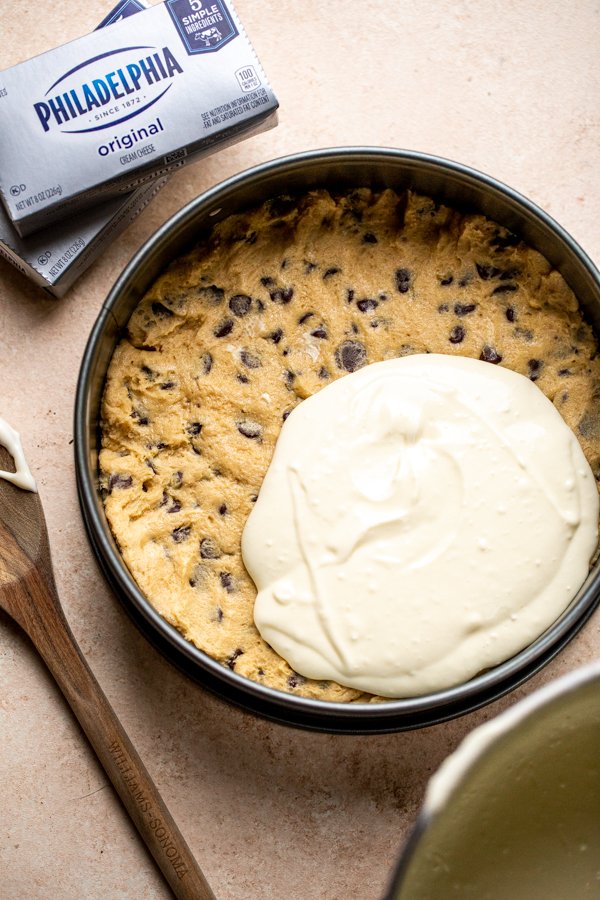 The best part is that this works PERFECTLY. The cheesecake and chocolate chip cookie bake together in a 325F oven for about 45-55 minutes and each separate layer is perfectly done!
The cheesecake is creamy and moist and the cookie gets nicely browned on the edges, but still slightly gooey on the inside. It really does create a nice crust for the cheesecake, and I was so pleasantly surprised with how easy this was to do!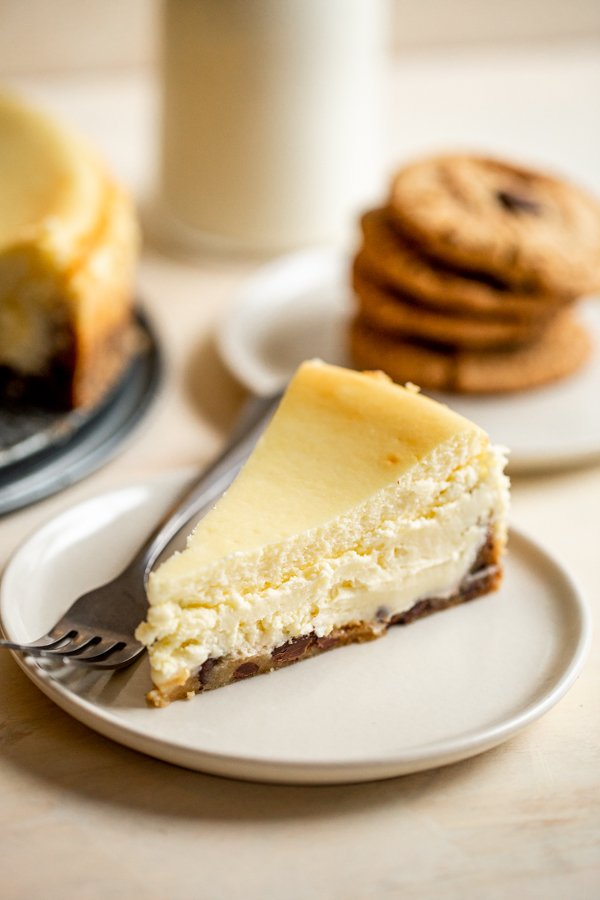 So, how do you assemble the chocolate chip cookie cheesecake?
I'm telling you…beyond simple. All you need to do is whip up some cookie dough. THEN, press the unbaked dough into the bottom of a springform pan. Then, whip together your cheesecake batter.
Pour the cheesecake batter directly over the cookie dough, et voila! Check out the recipe card below for my water bath hack so your cheesecake doesn't crack. Happy baking!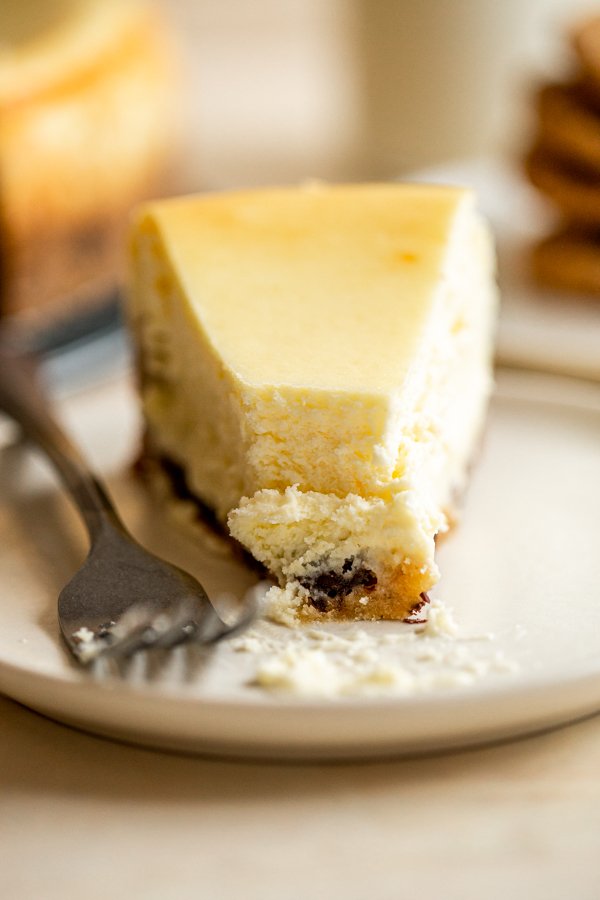 When you make this, come tag me on Instagram!
Print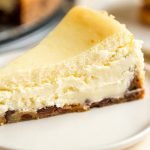 Milk & Cookies Cheesecake | Chocolate Chip Cookie Crust Cheesecake
Classic cheesecake gets an upgrade with a perfectly baked chocolate chip cookie crust. It's milk & cookies…but better.
Author:
Prep Time:

20 minutes

Cook Time:

45 minutes

Total Time:

65 minutes + 4 hours cooling time

Yield:

16 slices

Category:

Dessert

Method:

Oven

Cuisine:

American
Ingredients
For the crust:
6 Tbsp. softened butter

1/2 cup granulated sugar

1/3 cup brown sugar

1 egg, at room temperature

1 tsp. vanilla

1 cup flour

1/2 tsp. baking soda

1 pinch sea salt

1 cup chocolate chips, morsels or chunks
For the cheesecake:
4 pkg. (8oz. each) Philadelphia Cream Cheese

1 cup granulated sugar

4 eggs, at room temperature

1/4 cup sour cream, at room temperature

1/4 cup heavy whipping cream, at room temperature

2 tsp. vanilla extract
Instructions
Before beginning, set all ingredients out on the counter to come to room temperature. This is very important because it ensures a creamy cheesecake.

Preheat the oven to 325ºF and put a large pot of water on to boil. When it reaches a boiling point, pour it into a casserole dish or oven-safe pot placed on the bottom rack in the oven. This acts as a makeshift water bath and turns the oven into a "steam room", ensuring that your crust won't crack.

To make the cookie crust, start by creaming together the sugar and butter until light and fluffy. Then incorporate the egg and vanilla until fully combined. 

Next, add the flour, baking soda, and salt and mix until just combined. Then, fold in the chocolate chips. 

Scoop all of the cookie dough out of the bowl and press it into the bottom of a greased 9-inch springform pan. Make sure to press the dough up the sides of the pan a bit to make a crust. Set the pan aside.

To make the cheesecake filling, add the cream cheese to a bowl and beat with a standing or hand-held mixer for 30 seconds, or until smooth. Add the sugar and cream together for about 1 minute. Then, add the sour cream, heavy cream, and vanilla. Combine.

Crack the eggs into a separate bowl. Add the eggs one at a time to the cream cheese, scraping the sides of the bowl after each addition.  Combine everything well until you have a very smooth cheesecake batter.

Pour the cheesecake batter over the cookie crust into the springform pan.

Slide the cheesecake into the oven on the middle rack. Bake for 45-50 minutes or until the sides look set but the center still jiggles slightly when nudged.  

Turn the oven off and prop it open a little bit. Allow the cheesecake to cool for an hour in the oven.

After the hour has passed, allow the cheesecake to cool completely before placing in the fridge to cool for at least 2 hours.

Slice with a hot, clean knife and serve!
Keywords: cheesecake, cookie, cookie cake