This is the easiest, crack-free chocolate cheesecake recipe. It's simple, rich, decadent and you'll fall in love with the 2 ingredient ganache topping.
This chocolate cheesecake post is sponsored by Philadelphia Cream Cheese. As always, all opinions remain my own and I'm proud to partner with brands I love and trust.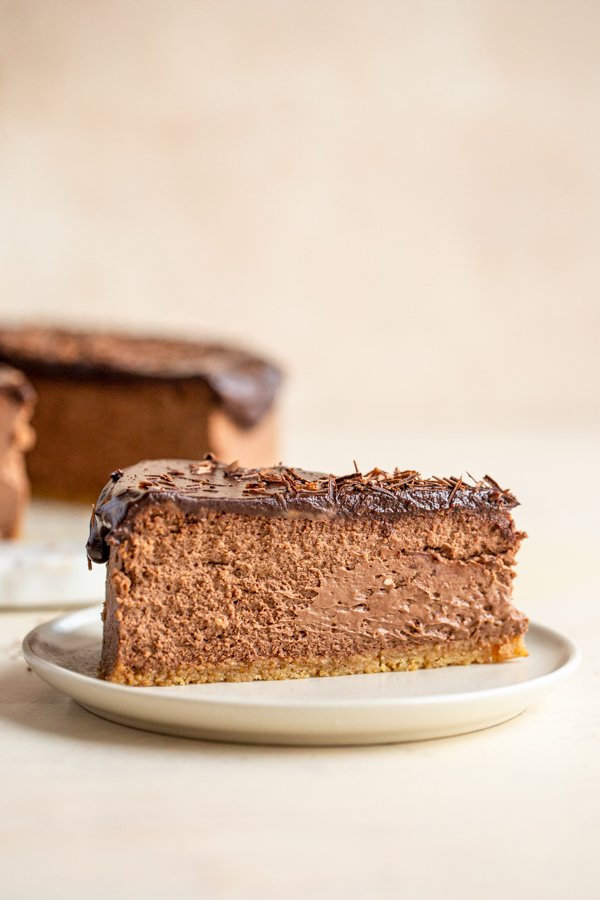 This chocolate cheesecake is easily the most velvety and decadent dessert there ever was. If you're a total chocoholic, you absolutely have to make this recipe. Did I mention the simplest, 2 ingredient ganache?
I used to think that cheesecake was just something I'd order out in a restaurant or get at family parties on a special occasion. When I started making it at home more often, I was really surprised at how easy it was! Now, it's one of those things I could whip up without a recipe on the fly because the ingredient ratios are so simple. It actually requires very little active time, and there are just a few things that will make your life easier and result in a crack-free cheesecake.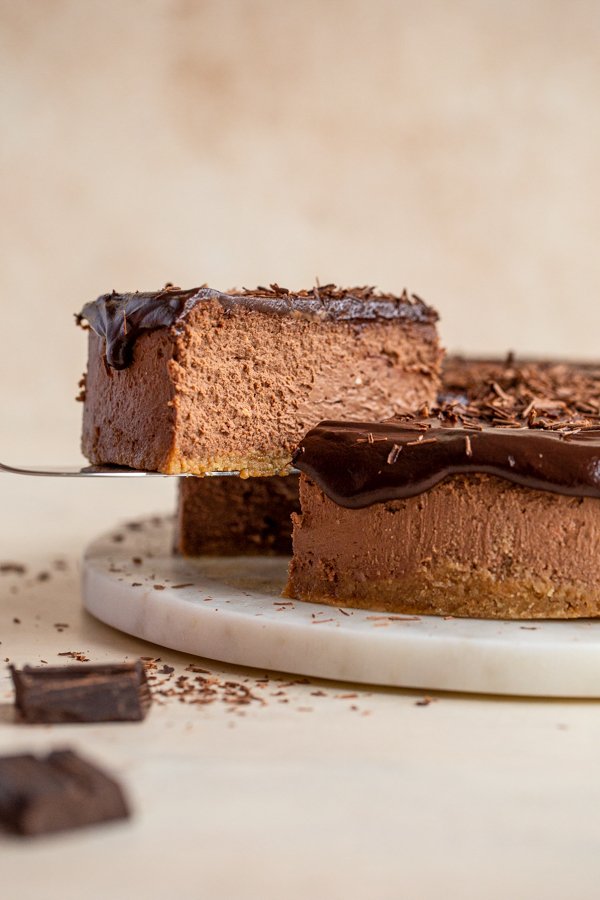 How do you make perfect cheesecake every time?
Use quality ingredients! I never make cheesecake without Philadelphia Cream Cheese. It's just the best cream cheese ever and because it's so high quality, it makes a better cheesecake. I'm not really sure why you would make cheesecake without it! I also always use free-range eggs, good quality sugar, and high-quality dairy products. Oh, and having the "good vanilla" never hurts either – where my Ina fans at? But seriously, pure vanilla extract only, no vanilla flavor. Too many additives that could mess up your cheesecake.
Room temperature ingredients! I think this is the biggest mistake that people make. If you've ever tried to cream or whip cold cream cheese, you know that it's a clumpy mess. For cheesecake, you want your cream cheese to be whipped and lump-free. And then, if you add cold ingredients to our soft cream cheese, you're making it cold and lumpy, again! So, set everything out and make sure it's room temp before you begin. I'm telling you that this is the secret.
Makeshift water bath! A cheesecake does need a water bath because putting water around a cheesecake creates a steam room that helps to prevent cracks. But, instead of worrying about finding a pan your springform pan will fit in and leakage, just fill a casserole dish up about 3/4 full with boiling hot water in the oven on the rack UNDER the cheesecake. This essentially does the same thing, without the hassle.
Now that you know how to make a foolproof cheesecake…
How do you make a chocolate cheesecake?
This recipe couldn't be more simple. To you usual cast of cheesecake characters (Philadelphia Cream Cheese, sugar, heavy whipping cream, sour cream, eggs, vanilla) you'll just add some melted, semisweet chocolate!
After the cheesecake has baked and cooled, you'll melt together more semisweet chocolate and more heavy whipping cream. This gets drizzled over the cheesecake. There you have your super fast, 2 ingredient ganache! It's the perfect way to take this to the next level, with less than 5 minutes of work!
Print
Easiest Chocolate Cheesecake with 2 Ingredient Ganache
This is the easiest, crack-free chocolate cheesecake recipe. It's simple, rich, decadent and you'll fall in love with the 2 ingredient ganache topping.
Author:
Prep Time:

15 minutes + 4 hours cooling time

Cook Time:

45 minutes

Total Time:

1 hour + + 4 hours cooling time

Yield:

16 servings

Category:

Dessert

Method:

Oven

Cuisine:

American
Ingredients
For the crust:
6 chocolate graham cracker sheets, about 1 cup chocolate graham cracker crumbs

4 Tbsp. melted butter

1/4 cup brown sugar

1 pinch sea salt
For the chocolate cheesecake:
6 oz. semi-sweet chocolate

4 pkg. (8oz. each) Philadelphia Cream Cheese

1 cup granulated sugar

3 eggs, at room temperature

1/4 cup sour cream, at room temperature

1/4 cup heavy whipping cream, at room temperature

2 tsp. vanilla extract

1/2 tsp. sea salt
For the ganache: 
1 cup chopped semisweet chocolate or semisweet chocolate chips

1/2 cup heavy whipping cream
Instructions
Before beginning, set all ingredients out on the counter to come to room temperature. This is very important because it ensures a creamy cheesecake. 

 Preheat the oven to 325ºF and put a large pot of water on to boil to make a water bath.

To make the water bath, wrap a 9-inch springform pan with foil, covering the bottom and the sides to ensure that no water leaks in. Place the wrapped springform pan in a large casserole dish or baking dish with a lip and set it aside.

To make the crust, in a food processor or high-powered blender, add the graham crackers and pulse until they're a coarse meal.

Add the butter, brown sugar and salt, and process or mix until combined.

Press the crust mixture into the bottom of the springform pan. Set aside.

Melt the chocolate for the cheesecake in the microwave in a microwave-safe bowl in 30-second increments on high power. Scrape the sides and stir between each increment. When melted, set aside to cool a bit.

To make the cheesecake filling, add the cream cheese to a bowl and beat with a standing or hand-held mixer for 30 seconds, or until smooth. Add the sugar and cream together for about 1 minute.  

Crack the eggs into a separate bowl. Add the eggs one at a time to the cream cheese, scraping the sides of the bowl after each addition.  

Add the sour cream, heavy cream, melted chocolate, vanilla, and sea salt and beat until everything is mixed well. Pour the cheesecake mixture over the crust into the springform pan.

The springform pan should still be sitting in the bottom of the baking dish. Slide the baking dish into the oven on the middle rack and fill it with the boiling water to complete the water bath. This helps the cheesecake not to crack. Be careful not to splash water onto the cheesecake.

Bake for 45-50 minutes or until the sides look set but the center still jiggles slightly when nudged.  

Turn the oven off and prop it open a little bit. Allow the cheesecake to cool for an hour in the oven.

After the hour has passed, allow the cheesecake to cool completely before placing in the fridge to cool for at least 2 hours.

Just before you're ready to serve, prepare the chocolate ganache.

Add the chocolate for the ganache to a microwave-safe bowl. Melt it in 30-second increments on high power. Scrape the sides and stir between each increment. When the chocolate is almost melted, add the heavy cream. Return to the microwave on 30-second increments until totally melted and smooth when mixed.  

Pour the ganache all over the cheesecake. If desired, shave some extra chocolate over the top of the cheesecake with a vegetable peeler.

Slice with a hot, clean knife and serve!
Nutrition
Serving Size:

1 slice

Calories:

463

Sugar:

31 g

Sodium:

299 mg

Fat:

34 g

Saturated Fat:

20 g

Unsaturated Fat:

10 g

Trans Fat:

0 g

Carbohydrates:

36 g

Fiber:

1 g

Protein:

6 g

Cholesterol:

115 mg
Keywords: chocolate, cheesecake, dessert