If you need an easy, throw together dinner or starter this juicy lemon chicken on top of grilled flatbread with the most refreshing dill yogurt sauce topped with arugula is just the thing!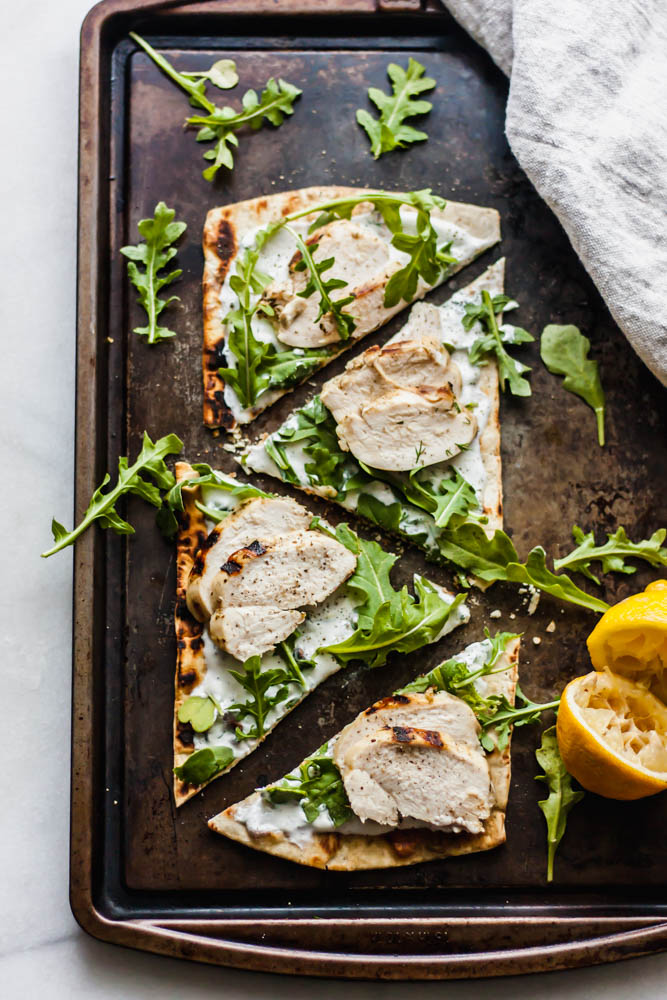 Honestly, I really want to make this for you and invite you over for a dinner party to be my guest. Speaking of being my guest…I know almost every single word to that song so there's that. Fun facts, fun facts.
One of my favorite flavors is a yogurt sauce or a tzatziki. I absolutely love the tangy flavor of yogurt with lemon and dill. I sortakinda jazzed up this dill yogurt sauce with cilantro and honey and it is literally crack. This whole dish is crack, I tell you.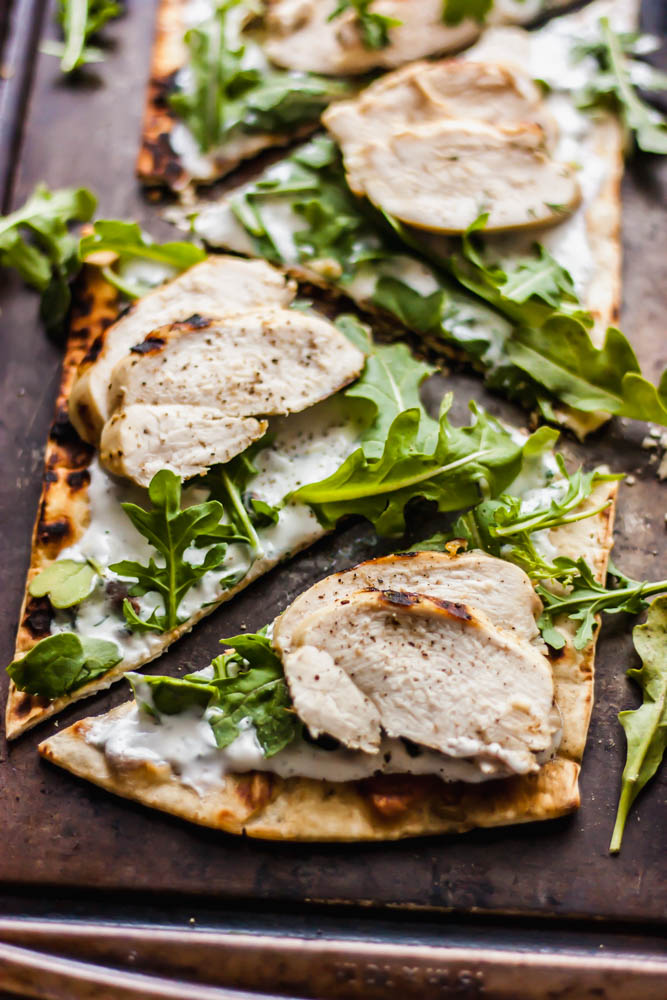 I've been making lemon chicken with yogurt sauce a lot lately, and one day J said, we should make this into a wrap. And then we started busting out the grill and I was like ohmygosh, what if we grilled the bread and then we put all of the things we love on the grilled flatbread and topped with a green thing. UGH.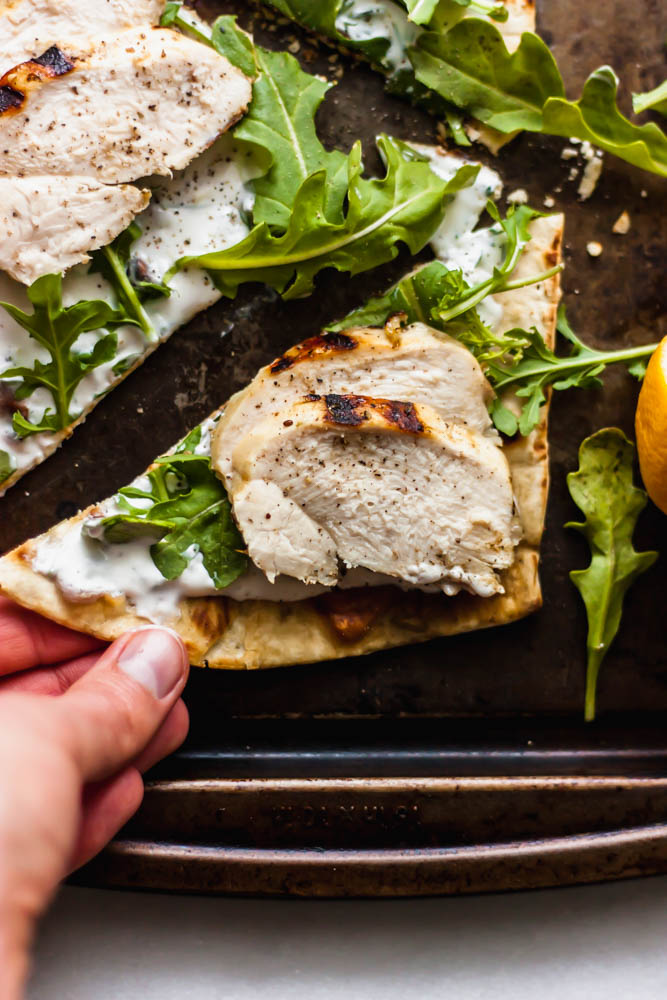 And then I did that thing, and I took these here pictures.  And THEN I proceeded to eat this entire tray before dinner and then I made one again for myself 2 hours later. It's a tough life I live, I'll tell ya.
Anyway, make this for a friend, yourself, whatever. You're gonna plotz.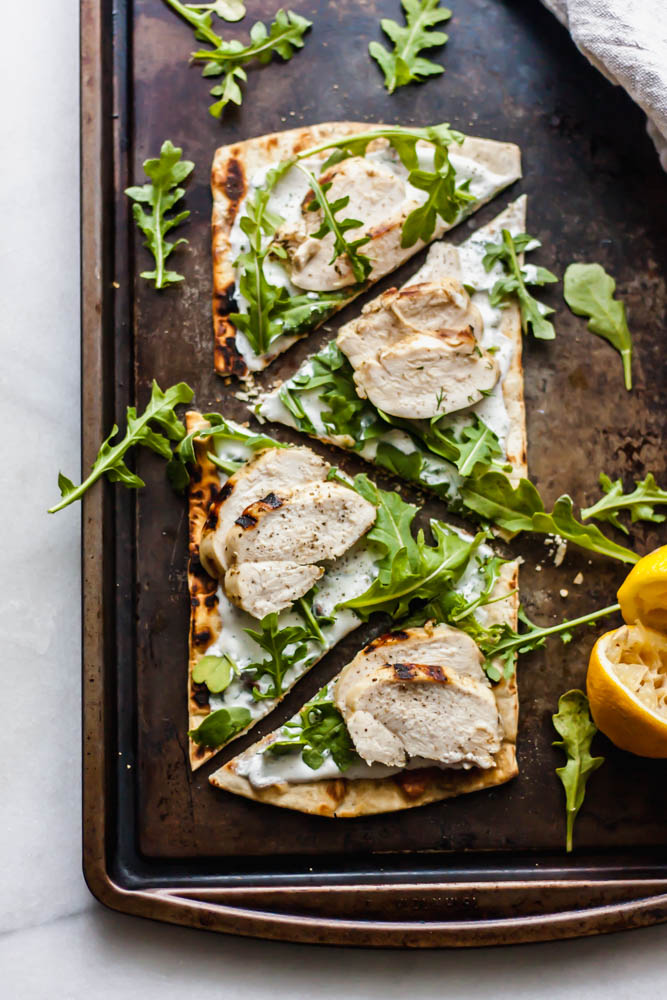 Print
Grilled Lemon Chicken Flatbread with Dill Yogurt Sauce and Arugula
Scale
Ingredients
1

 

lb.

 

boneless, skinless chicken breast

the juice of 3 lemons, divided

1

 

Tbsp.

 

olive oil

3

 minced 

garlic cloves, divided

1

 

tsp.

 

Italian seasoning

1

 

tsp.

 

salt, divided

3/4

 

tsp.

 

pepper, divided

1

 

cup

 

plain Greek yogurt (I have used both full and nonfat. I prefer the full fat but either work.)

1

 

Tbsp.

 

chopped, fresh dill

1

 

Tbsp.

 

chopped, fresh cilantro

1

 

tsp.

 

raw honey

4

flatbreads – I used THIS kind by Flatout (affiliate link)

2

–

3

cups arugula
Instructions
Add the chicken to a plastic bag or bowl.

Juice 2 of the lemons and add the juice to the chicken. Add the olive oil, too.

Mince 2 of the garlic cloves. Add them to the chicken with the Italian seasoning, 3/4 teaspoon of the salt, and 1/4 teaspoon of the pepper.
Let the chicken marinate for 30 minutes. Don't let this marinate too long – the lemon will start to cook the chicken.
I like to pre-bake the chicken and then finish it on the grill. Preheat the oven to 400 degrees. Bake for about 30-35 minutes; just until the meat reaches 165 degrees.
Meanwhile, make the yogurt sauce. C

ombine the yogurt, remaining lemon juice, remaining minced garlic clove, remaining salt, remaining pepper, dill, cilantro, and the honey. Mix together well.

Preheat the grill with a medium flame.
Take your flatbread pieces and lay them on the grill for 1-2 minutes a side, just to lightly char them with grill marks. Remove and set aside.
When the chicken has finished baking, grill it for 2-3 minutes per side to create a char and rest it before slicing into strips or rounds.
When you're ready to assemble, spread the yogurt sauce evenly among the flatbreads.
Layer on the chicken and sprinkle on the arugula evenly between the flatbreads. Cut and serve!
xoxx,
Miss AK
Instagram – https://www.instagram.com/miss.allieskitchen/
Facebook – https://www.facebook.com/missallieskitchen/
Pinterest – https://www.pinterest.com/miss_ak/pins/