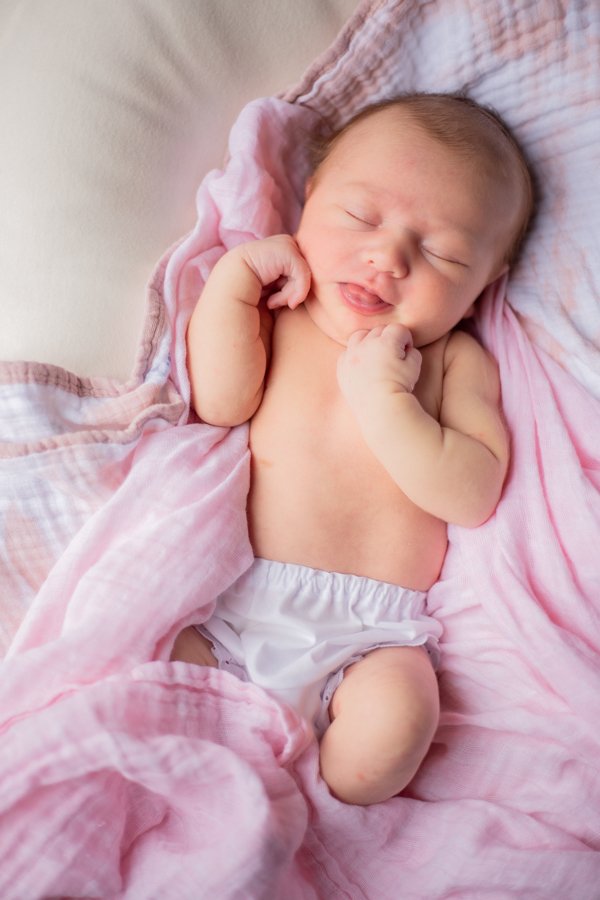 Get the scoop on newborn essentials! Find out what you'll actually use the first month with your new baby!
Shopping for a newborn or building out your registry can be REALLY overwhelming. I actually had a lot of fun researching "gear" for our little girl, Madison, and I'm here now to share what we actually used the first month.
post contains affiliate links. thanks for supporting the growth of Miss Allie's Kitchen!
It can easily feel like you need to have EVERYTHING before baby comes, but that isn't the case. However, there are quite a few great products out there that really make life so much easier.
I'm sharing our favorite gear for baby/quantities of clothing we used as well as resources and courses I found helpful for new parents/postpartum recovery. Oh, and a few things for mom, too!
Feeding
Burp Cloths (we have like 3 packs and basically use them all)
My Breast Friend nursing pillow – actually obsessed. So supportive. I also use it as kind of a boppy now that she's bigger in bed while i get ready in the morning after she eats. I would recommend this over a boppy if you plan to continue breastfeeding for a while.
Bottle brush – we just have one from the drugstore
Sleeping/Diapering
Bassinet sheets – I would order at least 3, I started with 2 and now have 4
Monitor – I like this monitor because it's simple to use and doesn't sync with your phone. Some people love monitors that link to phones, but I didn't want to have to mess that as it can drain your battery and I wanted ease for when we have a babysitter.
Hatch sound machine – holy CRAP I love this thing. We turn the red light on very low and leave it on all night. We can see enough in the dark to do diaper changes for nighttime feedings and we never have to change the light level.
SwaddleMe swaddles (you'll want at least 2)
Muslin blankets – these are swaddles but they're great for warm weather and in the house!
SkipHop Changing "Clutch" – great for on the go! I also keep some first aid supplies in here and you could easily put this in a tote bag and use it as a minimalist diaper bag situation, or just grab it for a walk or quick trip. We also took a trip to the beach and I just used this in a rental home as her changing station.
On the Go
Thule Urban Glide 2 Stroller – great for really active families! This is a true jogging stroller that does well on tough terrain, too. It's light enough for me to use running errands, however, when she gets a bit older, we will probably get something super small and light for true travel and just to store in the car.
Milk snob cover – I also use this as a breastfeeding cover, it's AWESOME
Entertainment
Play mat – the one we have is out of stock!
Bathing + Clothing
4 pairs of newborn PJs – Madison was 7lbs 13oz and fit in newborn clothes for about 3-4 weeks. I only had 3 pairs of PJs but I did laundry like every day, which was kind of a lot. I think 4 would be the perfect number – enough to get you through a few days (2 minimum if they need a change of clothes at night) but not so much that you're breaking the bank with things they grow out of so fast!
Tank undershirts for warm weather babies – I loved putting these under outfits for when I wanted her in something warm-weather appropriate but knew we'd be inside and outside. Adds an extra layer without bulk!
Footed leggings – throw a onesie under them and a bow for a little lady and you've got a great little outfit that's breathable. I got this pack with a few colors which gave us some variety. Best part is no socks to keep track of.
Bows! – these bows actually fit smaller newborn heads
Resources
Taking Cara Babies Newborn Course
For Mom
Underwear – I love these because they're full coverage and comfortable but you don't feel like a total granny! I'm usually a small or medium and I got a medium.
Pink Stork Postpartum Support Pack – the teas are DELISH and I can't tell for sure if the mood support works, however I have felt great
Expecting and Empowered Postpartum Guide – this starts basically immediately after birth and is a super slow gentle start to rebuilding your core and pelvic floor by experts
Let's Be Friends
Sign up to get the latest and be the first to know about recipes.