Takeaways and feedback on the popular resource Thrive Market!
If you have read my personal bio titled The Girl Behind the Apron or the write up about my kitchen and cooking philosophies, Inside My Kitchen, I have touched on the fact that I live in an area where local grocery stores have a limited selection of health foods and products. I have a few health food markets near me which I love to visit on occasion to grab a few treats and support local businesses. I really believe in using simple, and easy to find ingredients, but I do like a quality product. There are some food items where I believe you can splurge a little if you are able.
However, as someone who cooks as frequently as I do on a budget, shopping at boutiquey markets for everyday products simply isn't possible. I really am in quite the pickle!
I'll elaborate further on what I save on and splurge on. I really take my time when purchasing veggies and meats from the store. I don't always buy organic, but I make sure to wash all produce thoroughly and look for items in season. This also helps save money.
I buy all of my milk and yogurt from the grocery, and I buy the most economical brand of organic, free-range eggs. I buy organic, free-range eggs because I eat them so frequently, and I use them raw when making Whole30 compliant mayo.
I'm always really disappointed with the selections and prices of quality grains, flours, broths, protein bars, and certain spices. Hence, I decided to give Thrive Market a try.
A little bit about the company: Thrive Market is basically an online health and wellness store that strives to provide low prices and quality goods. It works like a Costco or Sam's Club where you pay a yearly price for a membership and are then able to purchase, and the items you order are shipped directly to your door (so you save on gas, too!). You can read their bio: here.
Disclaimer: this is not a paid promotion for Thrive Market. I was not contacted by anyone affiliated with the brand. I decided to try the 30-day free membership trial before deciding if I want to purchase a membership for a year. Today, I'm inviting you to experience my first order with me, and I hope you'll look for my 30-day follow-up where I share if I decide to purchase the membership for the year.
Below I'll list the 4 items I was most excited to purchase and why I decided to buy them from Thrive Market.
Coconut Flour
Coconut flour is really popular in gluten-free baking and I like it because it has a really high fiber content and it is lower in carbs. The variation I bought also has 3 grams of protein per serving which is high compared to other gluten free flours like Tapioca. Coconut flour is also less expensive than almond meal or flour. I bought coconut flour off of Thrive Market because I've been having a really hard time tracking it down in my teeny town.
Protein Bars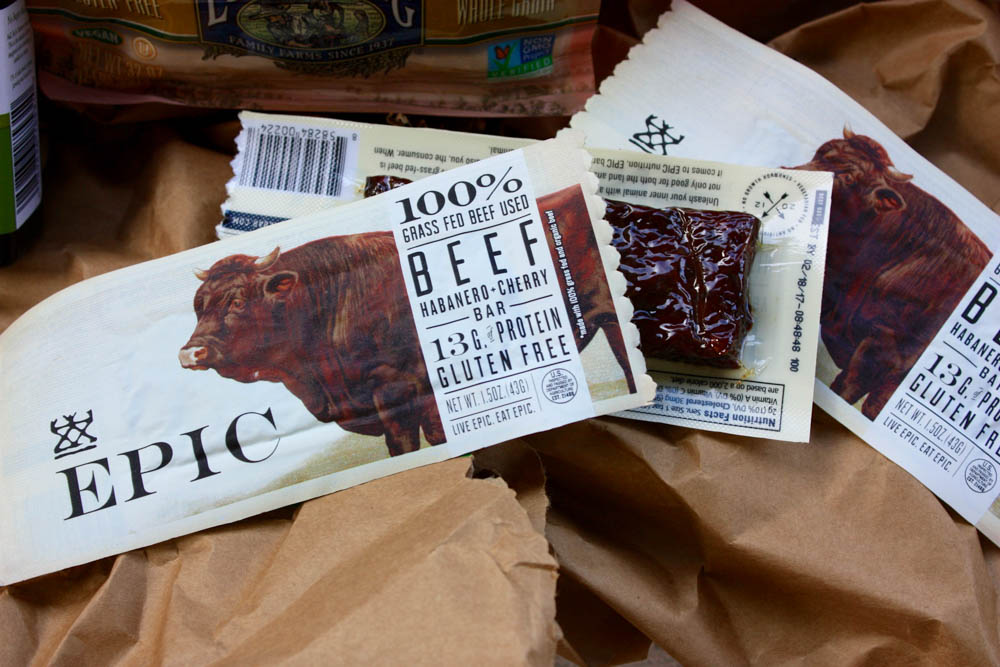 I know a lot of food bloggers and cooks make their own protein bars every week which I think is amazing. To be honest, in between testing blog recipes, prepping lunches & breakfasts for the week and coming home to make dinner almost every night, I just haven't found the time to nail down a perfect recipe. Most store-brand protein bars are loaded with sugars or sugar alcohol, and/or soy protein. We can't process soy protein in the human body correctly. I like to search for a protein bar that is really low in sugar, and uses whey or natural protein. I've been really interested in meat protein bars because they are low in sugar and have tons of protein and natural fat. If I want to grab a piece of fruit with it, I won't be totally overloading myself on sugar.
Every variation I have found of meat protein bars are STUPID expensive. I found this super yummy sounding Haberaro Cherry Beef bar that was 34% less than the retail price and came out to about $2 a bar, which is way less than anything you'll find in the store.  Also, the ingredients were beef, walnuts, dried cherries, the peppers, and a few spices. No additives. No crap.
Bone Broth
I have the HARDEST time finding broth or stock that I like at the grocery. I prefer no salt added varieties because I use pink Himalayan salt, and I like to control the sodium content myself. For some reason, this is almost impossible to find. I've been reading about the health benefits of bone broth, lately. Not only is a good source a protein (which is crazy to me for a broth!!), it also contains collagen which is extremely good for you. It helps with digestion, your immune system, inflammation, and maybe even energy! How crazy! And what do you know, it is nowhere to be found in my grocery store – haha!
I purchased from Thrive Market because I don't have enough meat and bone scraps (or time!) to be making this every week. For a price 22% lower than most retailers, I stocked up (hehe – get it stock lol). I also chose stock because it has a denser texture (more collagen/gelatin because it is made with more bones than meat) and bolder flavor than broth. When making soups I can dilute with water because it is more concentrated to make my buck stretch a little further.
Vanilla Extract
My reasoning is simple here: I really wanted a more pure product to produce better, baked goods. Madagascar vanilla is usually really pricey so I settle for the best grocery store version I can find that is NOT imitation vanilla. Imitation vanilla=alcohols, dye, and fake crap. Don't waste your money. Thrive Market had a great price on Madagascar vanilla.  I also loved that it was organic because it was sourced from a bean.
I realize that this post contains a lot of information and many opinions. If you got this far…thank you for reading and let me know your feedback! I gathered a lot of my information from product descriptions on Thrive Market, personal research, and trial and error. I've been reading up on the benefits of Bone Broth, lately. Danielle Walker, blogger and recipe developer at Against All Grain, has a wealth of knowledge and she's a resource I use frequently for recipes and facts. Check out her post on bone broth: here.
Below is my full order from Thrive Market, my total, and total savings from this shipment. Tune in at the end of the month to see if I decide to continue! Wish me luck!!
Total before 15% New Member Discount: $81.40
Paid Total: $69.19
Total Savings Compared to Other Retailer's Prices: $45.47
Has anyone ever tried Thrive Market? What were your experiences?
xoxx,
Miss AK
Let's Be Friends
Sign up to get the latest and be the first to know about recipes.