This is the perfect peach pie recipe with a rich & buttery crumb topping. Use fresh peaches for best results, but frozen will work, too!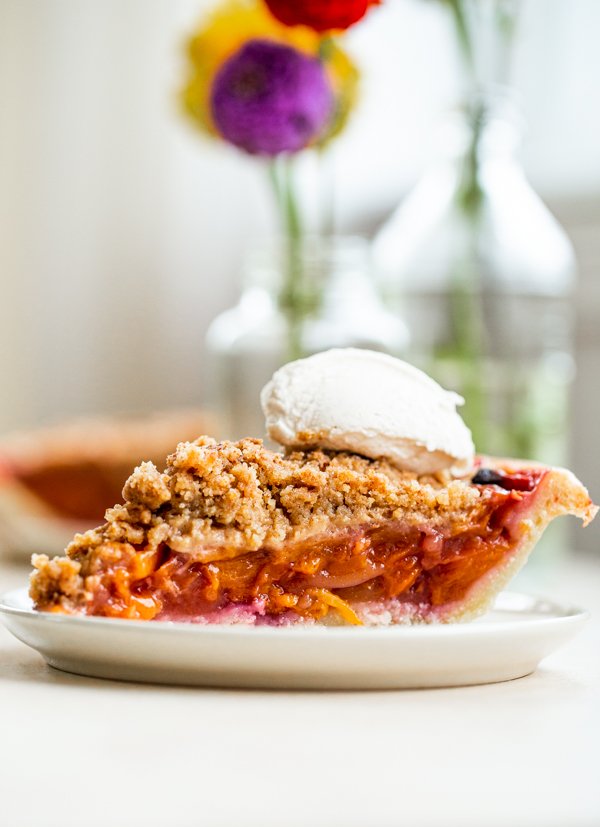 My love affair for baking fruit pies goes back over 15 years. I realize I'm reaching the point in life where maybe this should embarrass me, but it's a number I share with true honor. This peach pie recipe is a culmination of all of my favorite tips and tricks I've learned over the years and it's truly the best way to do peach pie.
There's something about peach pie that just cries out for a crumb topping. A double or lattice crust just doesn't do it for me. I'm actually not a 2 crust girl unless we're talking apple pie but that's a story for another day.
Anyway, making this peach pie couldn't be more simple. All you need is a bunch (about 7-8) juicy, ripe peaches (frozen will also do, see below) some flour, sugar, brown sugar, butter, starch and cinnamon and vanilla if you really want to knock your socks off.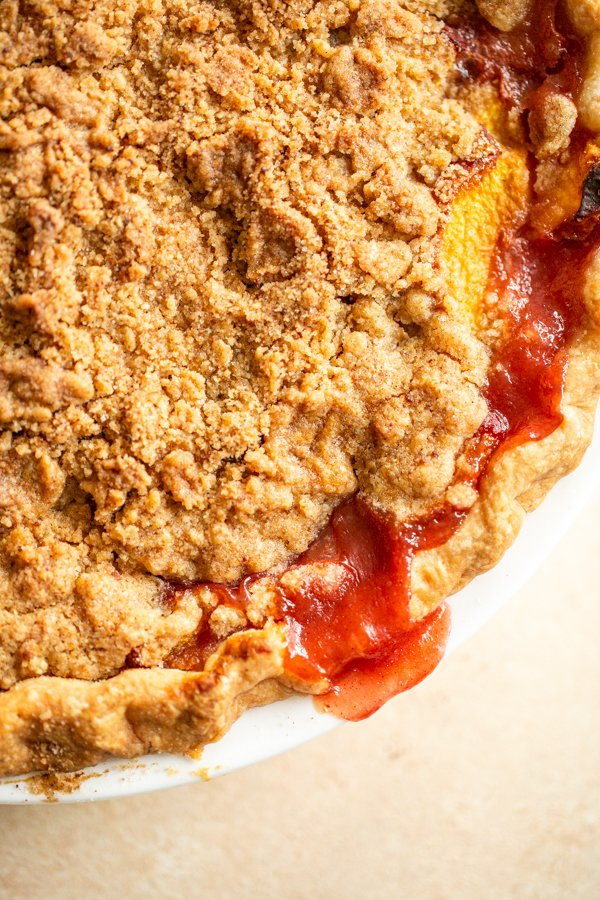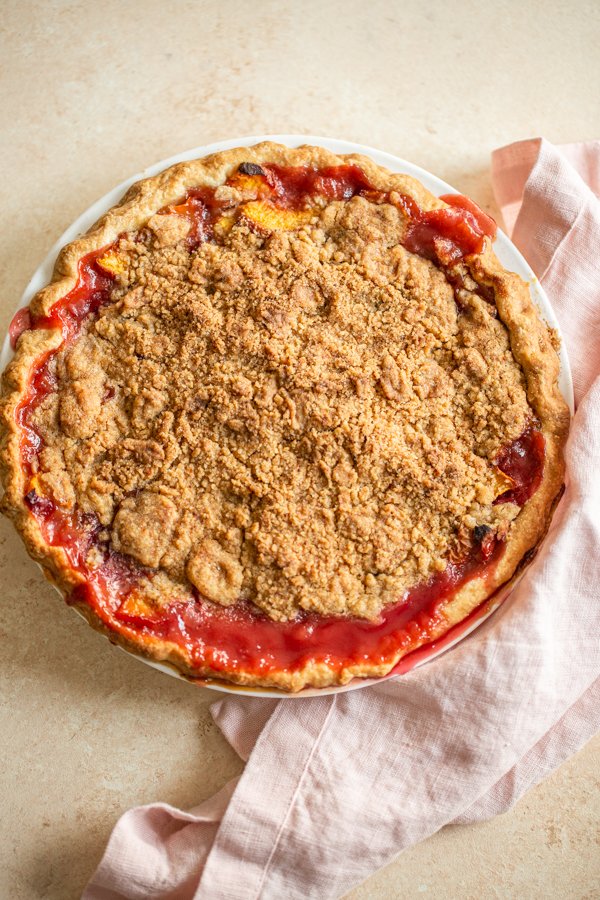 The ultimate peach pie tips
Overload your pie with fruit
You always want a pie that is mounded with fruit. This goes for any fruit pie. It will cook down and if you want a nice, juicy and thick fruit filling, do NOT by shy. Don't trust a fruit pie recipe that calls for 4 cups of fruit. Always 5-6 cups for a standard 9-inch pie plate.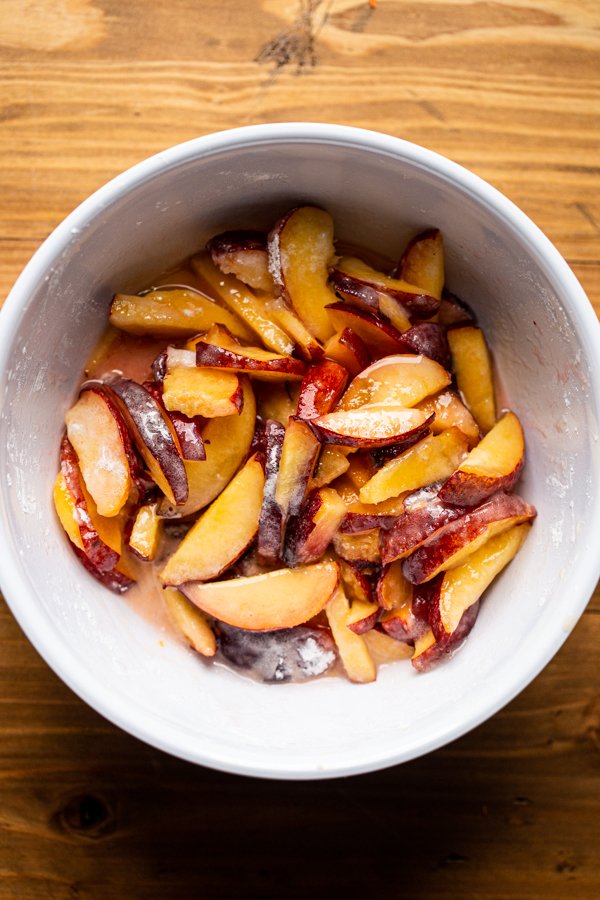 Bake at 2 different temperatures
I like to start my peach pie off at 475F without the crumble on top to really get the pie hot so the filling has a chance to start bubbling and cooking down within a reasonable amount of time. After 25 minutes, I lower the heat to a standard 350F, add the crumble and bake until golden and bubbly.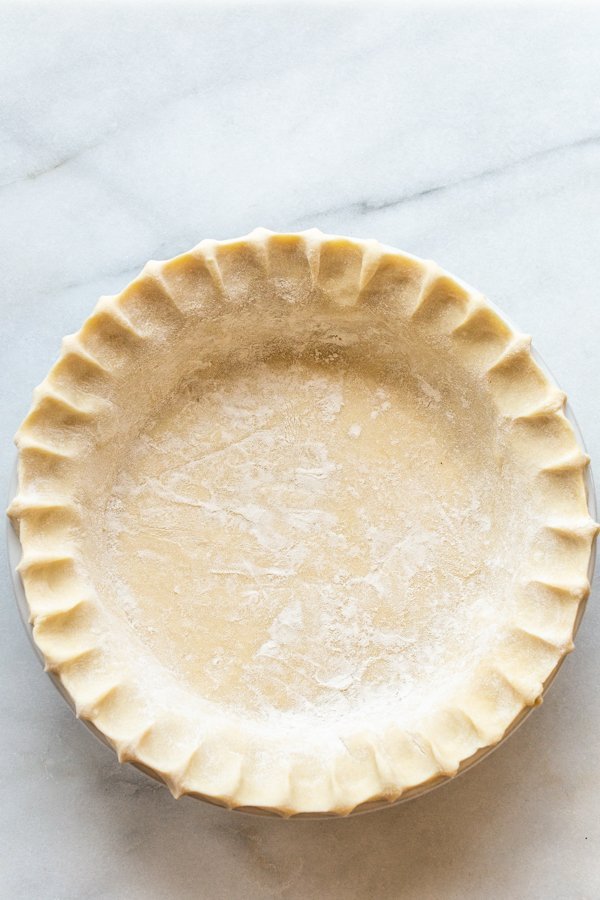 Cinnamon and vanilla
Honestly, can you tell me that peaches aren't better with cinnamon and vanilla? I thought so. Same goes for pie! Don't be shy.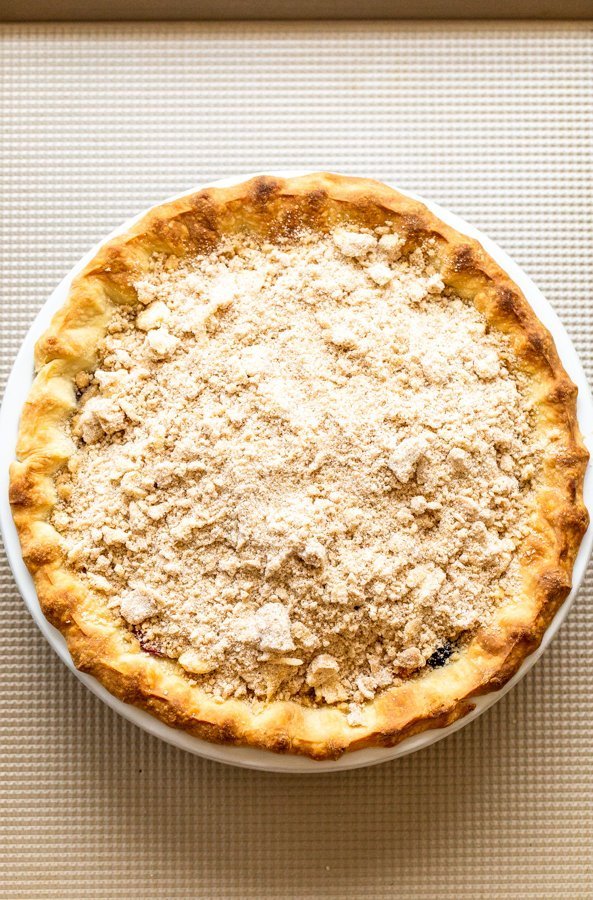 Cool completely
If a fully set up and beautifully sliceable pie is what you're after, make sure your pie comes to room temp before you cut into it. It needs time to cool and the starch will help the filling gel so you get nice, clean slices.
Trust me, these 3 tips will take your peach pie baking to the next level!
What to do if you have frozen peaches
You can certainly use frozen peaches for this recipe. The only adjustment you need to make is to add 1-2 Tbsp. more tapioca or corn starch to the recipe. The frozen peaches will omit more liquid so you need more starch to aid in the gel process.
Got lots of peaches? Give my peach galette a whirl, too!
Print
Peach Crumble Pie
This is the perfect peach pie recipe with a rich & buttery crumb topping. Use fresh peaches for best results, but frozen will work, too!
Author:
Prep Time:

20 minutes

Cook Time:

65 minutes

Total Time:

1 hour 25 minutes

Yield:

8-12 slices

Category:

Dessert

Method:

Baking

Cuisine:

American
Ingredients
For the crust (this makes 2 crusts. We'll only use one for this recipe but I suggest following the recipe to have two so you can freeze one for later):
1 and 1/2 cups of all-purpose flour, plus more for dusting

1/2 cup of cold, unsalted butter*

2 Tbsp. sugar

1/4 tsp. salt

4-6 Tbsp. ice-cold water
For the filling:
5-6 cups sliced peaches (about 6 large peaches)

about 1/2 cup granulated sugar*

juice of one lemon

3 Tbsp. tapioca starch (could sub arrowroot powder or cornstarch)

1/2 tsp. vanilla extract 

1/4 tsp. cinnamon (optional)
For the crumble
1 cup all-purpose flour

1/3 cup granulated sugar

1/4 cup brown sugar or coconut sugar

1 tsp. cinnamon

1/2 cup butter (8 Tbsp.)
Instructions
Place the butter in the freezer 15-30 mins before making the crust. Then, get out a glass or bowl and fill with ice water while you get out the remaining ingredients for your crust to make sure the water is nice and cold.

If you're using a food processor, add the dry ingredients to the food processor and pulse to combine. If you're using a fork or pastry cutter or fork, add the dry ingredients to a large bowl and whisk together.

Cube the cold butter and add it to the dry mixture. Incorporate the butter with a food processor, pastry cutter, or fork until pea-sized crumbs form. If you're using a food processor, just pulse a few times. 

Add the water, 1 tbsp at a time, until dough pulls together.

Next, turn the dough out and shape it into a disc. Wrap tightly in plastic wrap. Refrigerate for 20 mins (but up to 2 days) before rolling out.

When you're ready to roll the dough out, let the dough come to room temperature for a few minutes on the counter and roll it out. For a 9-inch pie plate or tart pan, you'll need a circle that's about 12-14 inches in diameter.

Preheat the oven to 425 degrees F.

Lay crust into pie plate. Refrigerate again for about 15-20 minutes before adding the filling.

Wash and dry your peaches. Slice the peaches.

Add the sliced peaches to a bowl and add the sugar, lemon juice, and tapioca starch. Mix together gently to combine. Set aside.

When the dough has chilled again, pour in the peach pie filling.

Place the pie plate in the oven (without the crumble topping) and bake for 25 minutes before turning the oven down to 350 degrees F.

While the pie bakes for the first 25 minutes, mix together the crumble ingredients with your hands or a pastry cutter until a nice crumble forms. 

Remove the pie from the oven after you've set the heat to 350F and sprinkle on the crumble. Bake for an additional 40-45 minutes or until the crumble is golden brown and the filling is bubbling.

Cool on a wire rack almost completely before serving so the filling can set up.

Serve with fresh whipped cream, vanilla ice cream, or both
Notes
The amount of sugar you need depends on how sweet your peaches are. If your peaches are crazy ripe and sweet, use less. If they're still a little tart, add more in increments of a Tablespoon and taste.
Keywords: pie, peach pie, crumble