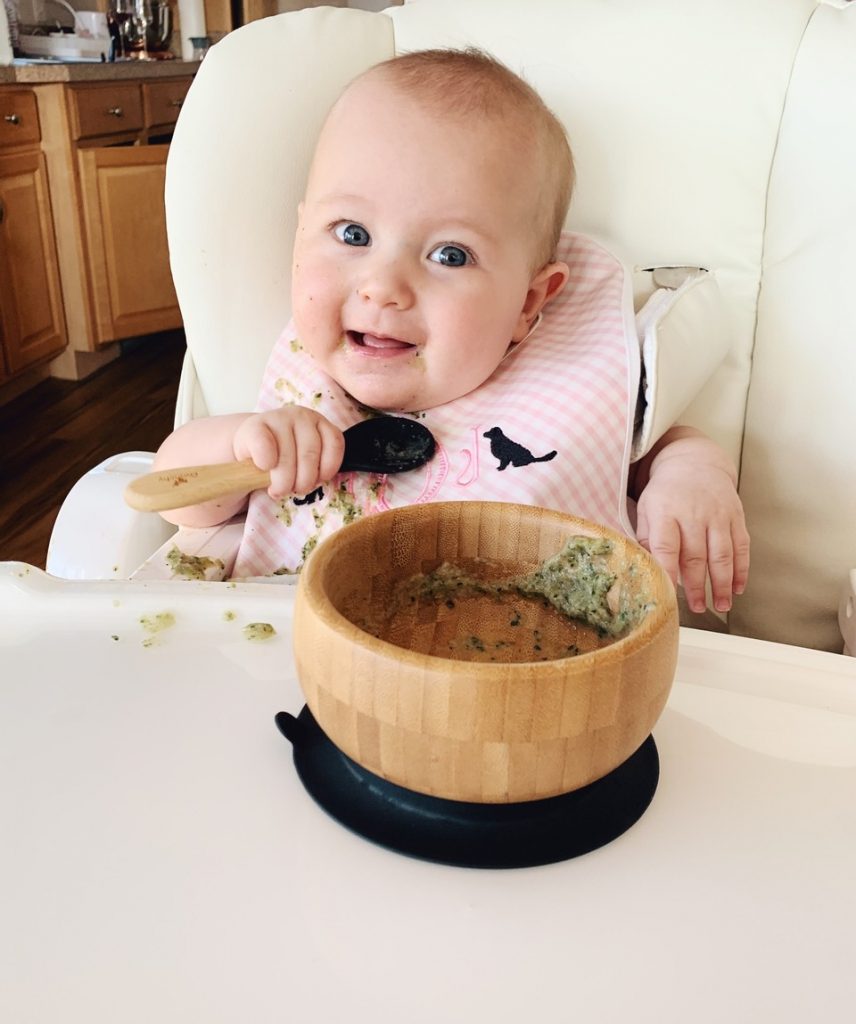 Sharing our experience with baby led feeding a year into feeding our little lady! It can be a daunting experience and I'm excited to talk about how we've approached introducing solid foods.
Baby led weaning. Baby led feeding. If you're on social media…you've probably heard of it. There's a lot of information out there, that's for sure. If you're anything like me, you might be feeling a mix of emotions. From nervousness, confusion, intimidation to excitement and awe. It's a really interesting journey!
First, if you've been wondering, there is a bit of a difference between the two terms. Baby led weaning is based on the concept that children can be eating whole, "real" food (in safe, specific preparations once a kiddo can sit totally unassisted) and it totally skips the puree and cereal stage (except for maybe foods like yogurt, hummus, etc). Baby Led feeding is a modified version that may introduce some purees and even cereal in small doses along with typical "real" foods that are prepared in safe, specific shapes and sizes. A modified baby led weaning, if you will.
I was REALLY excited to start feeding our daughter Madison solid foods. However, when it came time for her 4-month checkup, I started feeling really nervous. I didn't know where to begin, I knew our pediatrician would recommend starting her on cereal and honestly, I had JUST gotten used her nursing schedule. Now we were adding more dishes and cleanup to the mix?
So, let me start by giving you a recap of how we started things and how they're going now:
How It Started
I knew I wanted to try baby led weaning. As a very young child, I was an incredibly adventurous eater. I hated kids' menus and loved the experience of restaurant dining. But, when I started looking into baby led weaning I was really intimidated by the all-or-nothing approach, judgemental parents and overwhelming amount of info around food preparation. It honestly reminded me of when I did a Whole30 years ago (which, I ended up really liking)…but it felt like a new society I was entering. People had a lot of STRONG opinions and advice they were throwing around.
I tend to be more of a free-spirited, type b personality so I wasn't so sure. I also do love our pediatrician and as much as cereals/purees are maybe lacking in some nutrition and don't promote self-feeding and exploration…doctors do know what they're talking about in some regards. They kind of have had a liiiittttle bit of education.
I had a long discussion with our pediatrician and ultimately, we decided to go with a baby led feeding approach. We started Madison on some pureed and mashed foods (and yes *gasp* some cereal mixed with purees and breastmilk here and there) around 5.5 months and as soon as she started sitting up, we introduced real solids into her diet purely for exploration and learning.
Honestly, in the beginning, not much food was even eaten, which is TOTALLY normal and okay. I don't think Madi started really ingesting food until 7+ months, and she has phases with selectivity. Around 9-10 months I noticed a greater caloric intake (around when she started crawling). However, she was still nursing between 4-5 times a day so a lot of her nutritional intake was still milk. And, as always, all kids are different.
I will say, she has always shown an interest in her food. Whether it be to eat it, play with it…OR feed it to the dog, haha. As soon as she starts throwing things or acting disinterested, we remove her tray without much emotion and move onto the next portion of the day.
How It's Going
6 months into baby led feeding and I can tell you without a shadow of a doubt that I'm so glad we choose this approach. It feels just right for our family. I love sitting down to a meal with Madison, sharing fun times at the table and just watching her love and explore foods is just a JOY. She has her likes and dislikes and it has just been such a gift. We've had great experiences dining out at restaurants (more below) and I love having the confidence that this approach has given me.
Now, Madi is eating 3 square meals a day and 2 snacks at a year old. I will give additional resources on meal ideas at a later date, but below I'll link some of our favorite blog recipes.
If you're toying around with a baby led weaning or feeding approach I would encourage you to give it a try within your comfortability zone.
What to do if you're afraid
I get it. It's scary. A lot of people really freak out when they watch me feed Madi. Nobody wants a choking baby. Here are a few thoughts:
There isn't much evidence that supports that children who do baby led weaning/feeding (safely and appropriately – do not like…give your kid whole grapes) choke more frequently than children who don't
Arm yourself with knowledge. I took a CPR and choking course when we started and practiced on stuffed animals. The more you know, the more you can confidently navigate.
There's also a difference between choking and gagging. Gagging, especially in the beginning is normal with both pureed textures and solid foods. If your child is making a lot of noise, they are not choking. Do NOT insert your hands in their mouth, teach them fun ways to spit food out they can't chew and work things forward. Madi actually hasn't done much of it and I remain super calm if it happens. She literally just gags something forward and spits it out. Don't be afraid to take control if another adult in the room isn't calm. Your child will likely be able to figure things out if they sense calm leadership.
Most importantly, do what you feel comfortable with. If you're freaking out…your kid is going to freak out. As I explained, I am more laid back. I realize in this situation, this is an advantage. I didn't have a lot of nervousness around feeding once I took that CPR/choking course. I would recommend starting with foods that make you feel comfortable (maybe like avocado, soft pasta, flakey fish like salmon) and going from there.
Again, if you are straight-up terrified by this concept, this might not be for you and that's okay!!! Seriously. It's going to be ok. I'm still here cheering you on!
It just seems like a lot of work…
Le sigh. It is. The dishes are daunting, the preparation is sometimes exhausting…BUT seriously. The rewards have been monumental for us. Pros outweigh cons.
I feed a lot of leftovers and we repeat or rotate similar meals a lot. She also normally does eat what we eat. So, if I'm cooking something I haven't fed her before, I look up the ingredients on Solid Starts and deconstruct her serving.
Low mess/low prep foods I keep on hand:
chickpeas (my personal secret weapon)
mini mozzarella cheese balls (I tear them before serving)
blueberries
eggs (I like to add spinach or greens)
banana
Serenity Kids or apple sauce pouches for on the go or when I am crazy tired
hummus + toast
peanut butter + toast (obviously if you don't have a peanut allergy and go light on the pb)
any kind of toast
cucumbers
pre-made and frozen waffles, pancakes or muffins (Simple Mills anything is my fave)
How we've approached others feeding our daughter
Another question I've gotten is how I handle other people or sitters feeding Madi. I should start by saying that we're very new to the world of sitters and besides my mom, we haven't had a variety of help.
Rule #1 for me is going with a sitter who is CPR certified. I did this when I was about 13 before I started babysitting, I find it isn't hard to find teens/young adults who are.
Rule #2 is making it very clear that they should have foods that are either on a certain list (you can type something out, whatever) or pre-make any snacks or meals until you and they get comfortable. It's your kid! It's OK to be specific.
I pre-made Madi's food for about a month or so for my mom until she got into the flow of how to serve things. She still isn't super comfortable with as much as we are, so I make sure to have options that can be cut into very small bite sizes for her to give to Madi. If I'm not in the room, she's the one who needs to be comfortable. I was also OK with her serving purees when Madi was very young until she was comfortable. It's one meal, it's not the end of the world in my eyes. Safe/confident is best!
Restaurant Tips & Tricks
We've had great success eating out with Madi. I usually bring a small table snack (puffs, blueberries, chickpeas, cucumber spears – something low mess) and books for her while she waits. She does sit on our laps until her food comes, but while her meal is being eaten she does sit in a high chair if it's available and we expect her to. If she's not having that, the fun of being out to eat is ended and we go (only happened twice but it happens!). I love that she's been exposed to so many foods because there is ALWAYS something she can have.
I usually choose to feed her off my fork to keep mess down but I know some prefer to let them self feed. Up to you! I'm sure there are a lot of resources, just honestly sharing what I do. When feeding her from my fork, it's pretty easy to tell when she isn't interested in something and we honor that choice she makes.
I usually order her:
I order a salad with a variety of foods she can have on it and we split
we split a fish or chicken entree – or really any large entree that can be cut into pieces
we split a chicken salad or veggie + hummus sandwich (beware of nuts or halved grapes)
in a pinch – fries or sweet potato fries (not often but we have on vacation when there was a wait, lol)
I find that most places are so kind. There have been so many times servers have brought us rolls, fries, fruit, veggies before the food was ready to help her wait.
Favorite recipes + foods
Venison Meatballs (make them into logs instead of balls)
Venison Tacos (greek yogurt helps the meat stick together)
Mango Chicken Curry (cut up)
Venison Veggie Soup (pureed or deconstructed)
Stuffed Peppers (cut up)
Pan-Roasted Chicken Thighs (shredded chicken)
Venison Stew (pureed or deconstructed)
Resources/Gear
Solid Starts First Foods Database