Shepherd's Pie Soup is all of the ingredients for your favorite Shepherd's Pie in a cozy bowl of soup. It's packed with potatoes, veggies, & meat.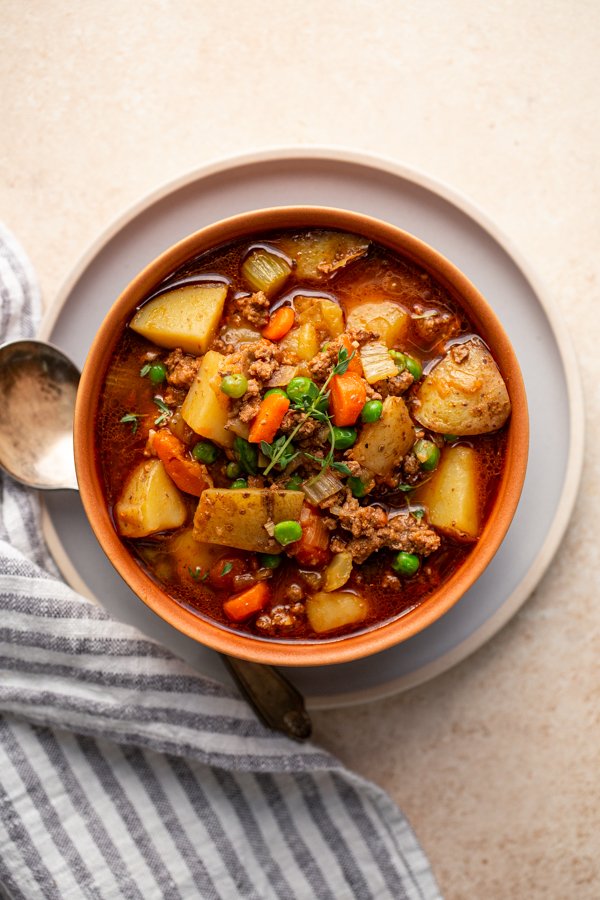 This Shepherd's Pie Soup post is sponsored by Stahlbush Island Farms. As always, all opinions remain my own and I am proud to partner with brands I love. Thanks for supporting the growth of MAK.
I think gathering around the table is important during the week. Sometimes it feels like we're all rushing from work, to the gym, activities, meetings, practice – whatever. It's important for us to find time to slow down, talk and appreciate a quiet meal at home.
Something that helps is eating at the dinner table at least 3 nights a week. You might read this and be like…"don't you eat at the table for every meal?". The answer, unfortunately, is not always.
I feel like every so often we get stuck in a rut of eating at the counter bar or the couch. Things get busy, and sitting down to the table feels like a chore. But, every time we do, we're both surprised by how easy conversation flows without distraction. It's good for the soul…and so is this Shepherd's Pie soup!
My husband loves Shepherd's pie. And I'm sure he wishes I would make it more often than I already do. To save time, I did develop this Instant Pot version, but there's something about whipping potatoes that keeps it out of the easy dinner category for me. That's where Shepherd's Pie Soup comes in!
This is one of those meals that feels like a weeknight cheater. I make it, ladle it up, my hubby is crazy excited, and I feel like I'm serving something I slaved over…but I really didn't. I make it even EASIER on myself by cutting down on veggie chopping time by using the Classic Mixed Vegetables (peas, carrots & corn!) Mix by Stahlbush Island Farms.
I love using pre-chopped veggies in dishes. As a new mom, I'm all about the shortcuts when it comes to getting quality veggies fast. All I do prepare the soup, and then about 5 minutes before serving, I add in the Classic Vegetable Mix by Stahlbush Island Farms.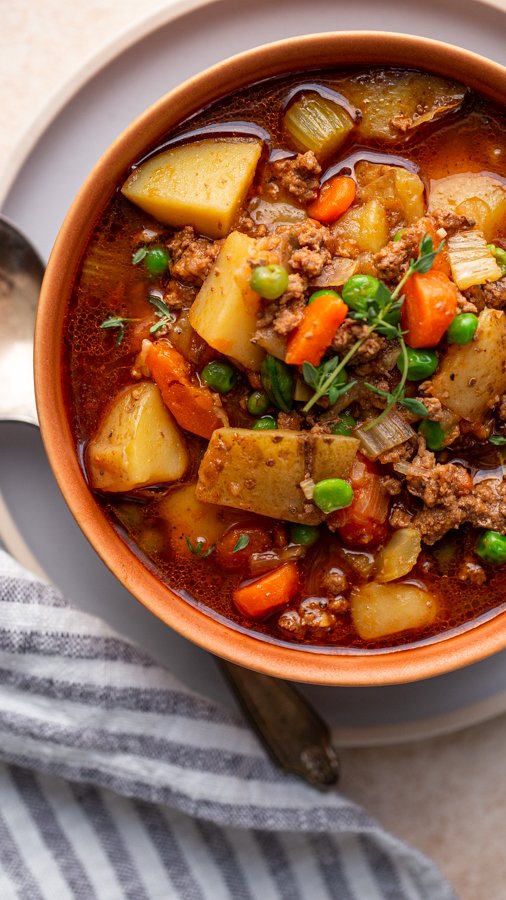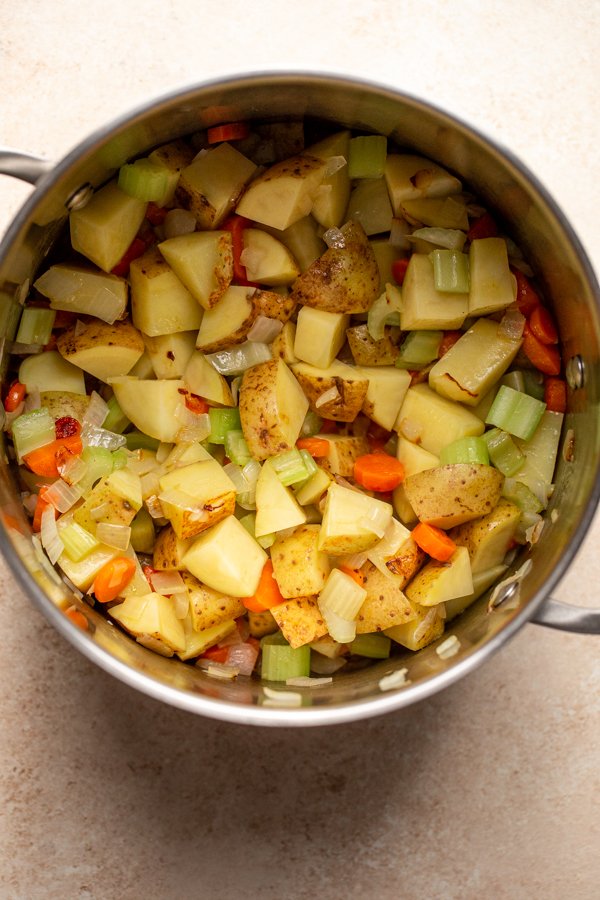 Shepherd's Pie Soup is everything you love about Shepherd's Pie…in a soup form!
Instead of making a meaty filling and covering everything with whipped potatoes, we'll add the following ingredients to a rich broth flavored with a little bit of dark beer:
Diced potatoes
Diced onion
Diced celery
Ground meat – either venison or beef will work (so will lamb but I haven't tried it)
Garlic
Peas, Carrots & Corn – I get this blend from Stahlbush Island Farms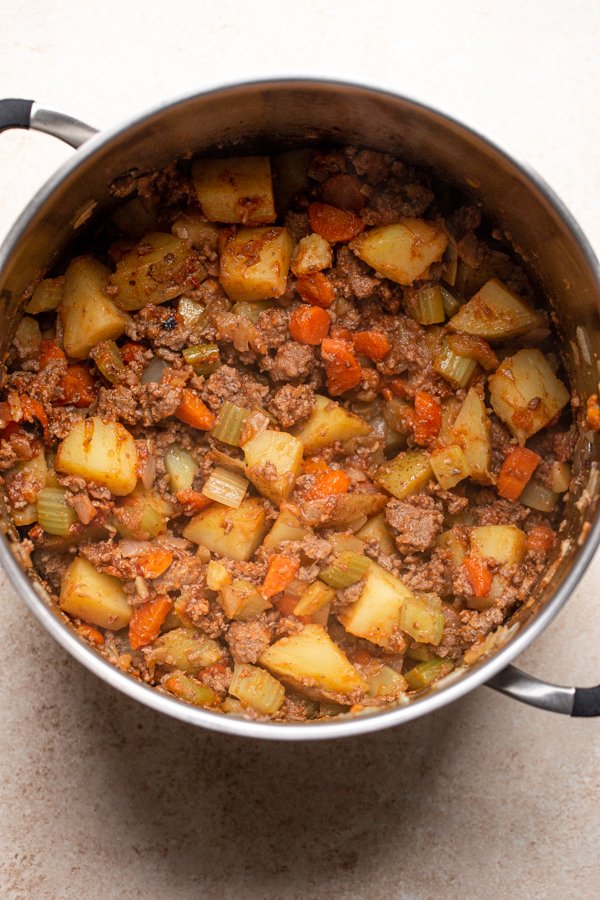 So really, it's just the star ingredients of Shepherd's pie, coming together to make something much less labor intesnsive.
Is it hard to make?
If you can boil a pot of water and chop some vegetables, you can make this soup! All you have to do is saute everything together, add the liquid, and let it simmer away on the stove.
One tip – don't add the frozen veggies until you're just about ready to serve. This helps them stay nice and fresh…no one likes mushy, soggy peas.
Other than that, this soup is just about as foolproof as it gets!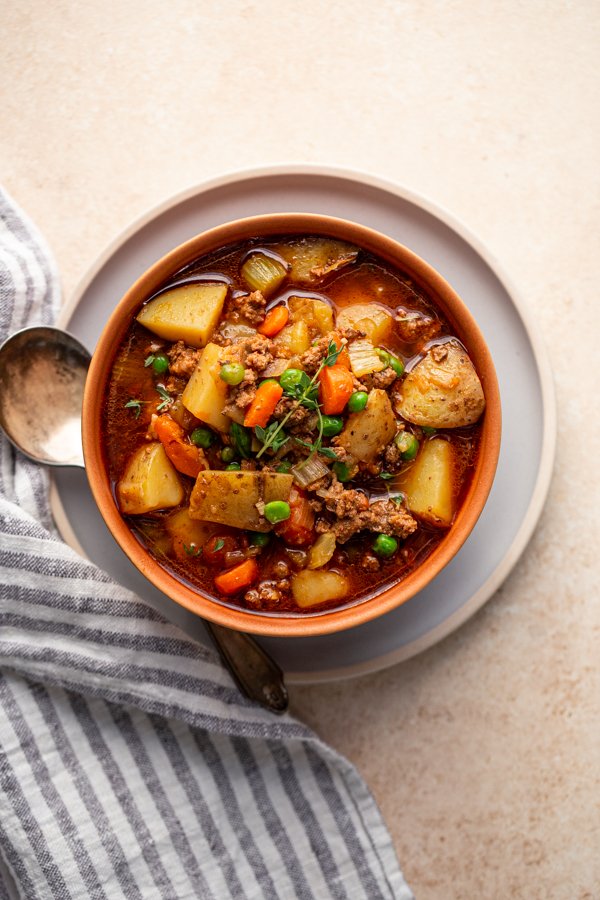 If you're a huge Shepherd's Pie Fan, don't forget to check out my Instant Pot Version, AND my Whole30 Venison Shepherd's Pie with hunks of tender venison.
This post was originally published in March 2020 and updated in December 2020.
Print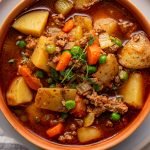 Shepherd's Pie Soup
Shepherd's Pie Soup is all of the ingredients for your favorite Shepherd's Pie in a cozy bowl of soup. It's packed with potatoes, veggies, & meat.
Scale
Ingredients
1 Tbsp

. olive oil

1

onion, diced

1 cup

diced celery 
about

4 cups

(or

3

medium potatoes) diced potatoes 

1

lb. ground beef or venison*

3

garlic cloves, minced 

2 Tbsp

. tomato paste

1/2 cup

dark beer (like a porter, stout, preferable Guinesses) 
* 1 Tbsp. apple cider vinegar (only use if using venison)

4 cups

unalted beef stock (or broth)
about

10

dashes Worchestershire 

1 tsp

. salt

1/2 tsp

. pepper

1/4 tsp

. ground, dried sage

1

(10 oz.) package Classic Mixed Vegetables (frozen peas, carrots & corn)
Instructions
Heat the olive oil in a large stock pot over medium heat. When hot, add the onion, celery, and potatoes and saute for about 5-7 minutes. 
Then, add the ground meat and allow it to brown, about 8 minutes. Then, add the garlic and tomato paste and saute for 2 additional minutes to allow the flavors to release. 
Then, add the beer and apple cider vinegar, if using. Allow these to cook down for about 3 minutes, and then add the beef stock, Worchestershire, salt, pepper, and sage. 
Bring everything to a boil, then turn the heat down to low. Let the soup simmer, partially covered for about 30 minutes, but up to a few hours. You want to potatoes to be soft. 
When you're ready to serve, stir in the frozen veggies, remove from the heat, and ladle it up. 
Notes
If you're using venison, also add 1 tablespoon of apple cider viengar when you add the beer. 
If you don't want to use beer, sub for more beef stock