Making smoked venison shanks is actually very easy to do if you have a bit of time. It gives a rich, smokey depth of flavor that can't be beat. You just need your smoker and a few ingredients for braising liquid. I have a Traeger Grill but any style smoker where you can hold both 225F and 325F for a few hours steadily will work great. If you love this recipe, you'll also want to grab a copy of my cookbook, Venison Every Day.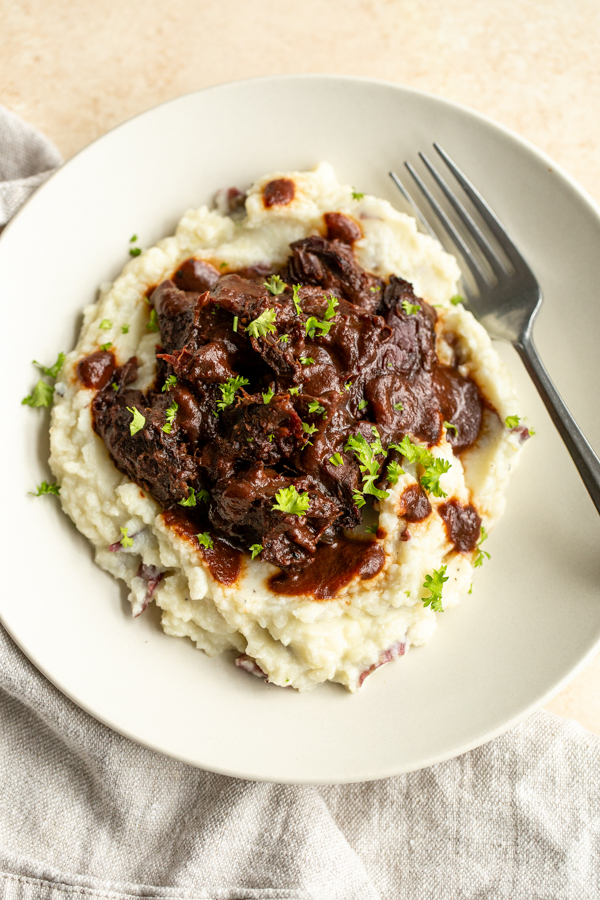 NOTE: You do need a smoker for this recipe. If you don't have one, check out my Braised Venison Shanks recipe & tutorial! You can make that one in the oven.
Love recipe videos? Check out how to make this step by step on my YouTube.
How to cook venison shanks with a wood pellet smoker
Can you smoke venison shanks? Yes, absolutely! Here are the steps I followed for perfect smoked venison shanks:
Salt shanks liberally and smoke them dry directly in your smoker for about an hour.
Make a braising liquid with stock, wine, garlic, herbs, lemon and seasoning.
Add the shanks and the braising liquid to a dish or pan on the smoker. Cover it and let them cook until tender.
This process usually takes about 4-5 hours depending on the animal. It's ready when it falls apart tender.
Serve with the remaining braising liquid! It's best over potatoes or polenta.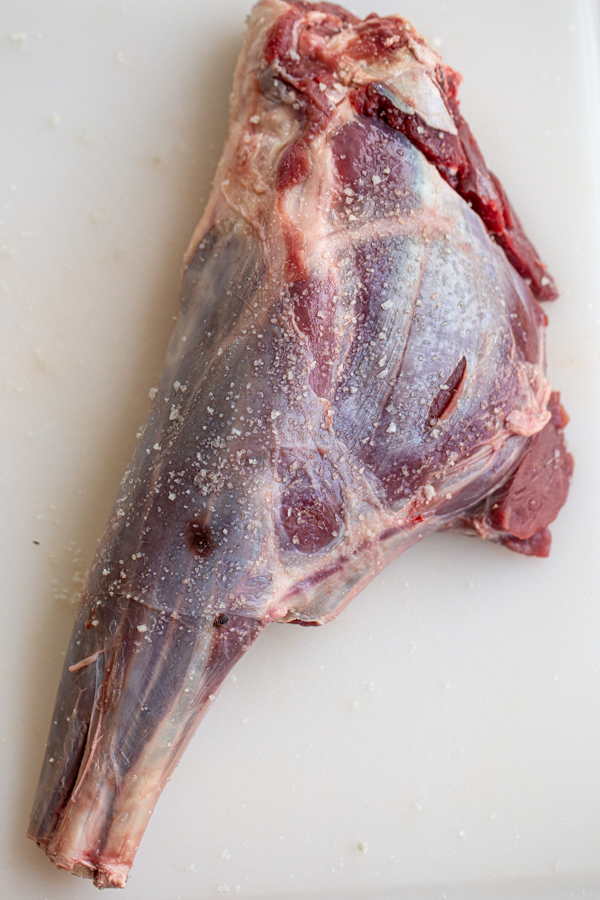 What kind of wood/pellets do you use with venison?
I love hickory, and I also have good results with cherry and pecan. You really can't go wrong with those. I have a Traeger Grill and their Big Game Blend (hickory, oak, rosemary) and Signature Blend (mainly maple and cherry) are also very nice!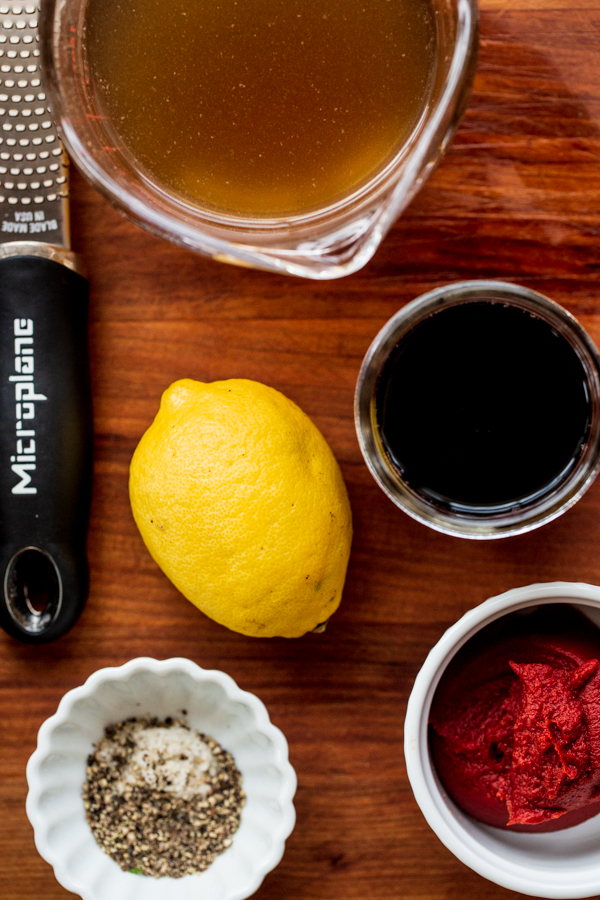 Braising is cooking something low and slow in liquid.
To braise a shank, I add the meat to the braising liquid (I like stock and wine), add some aromatics (garlic, lemon zest, thyme), acid (this helps break down tissue) and seasoning.
Everything is covered with a lid or foil and it goes into the smoker (or oven), and cooks low and slow. From time to time, I like to baste the meat with the liquid to make sure each inch is covered.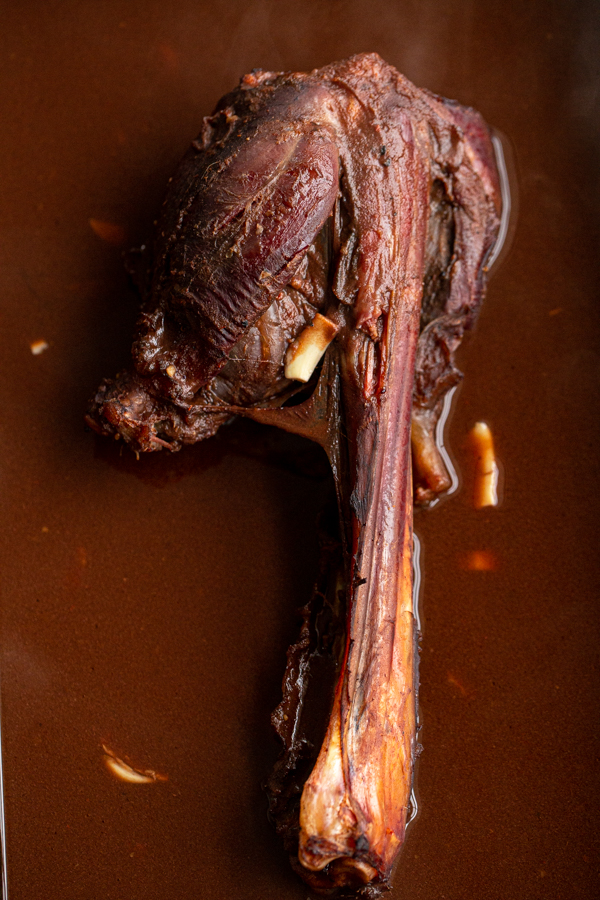 How long should venison be smoked?
This really depends on the size of your animal and the amount of connective tissue present in the leg. Braising low and slow melts the connective tissue and that's what makes this so tender and rich. Just like people, every deer is a bit different in it's genetic makeup. So plan to smoke this a total of 5-6 hours. You want to keep cooking it until it's ready. See below.
What do I do if my shank meat is still tough when I take it out of the smoker?
Chances are, you just need more cooking time. Place your meat back in, covered, for 15-30 minute increments until it is tender and pulling away from the bone.
Every animal is different, and I do find that this varies, so just keep braising and be patient!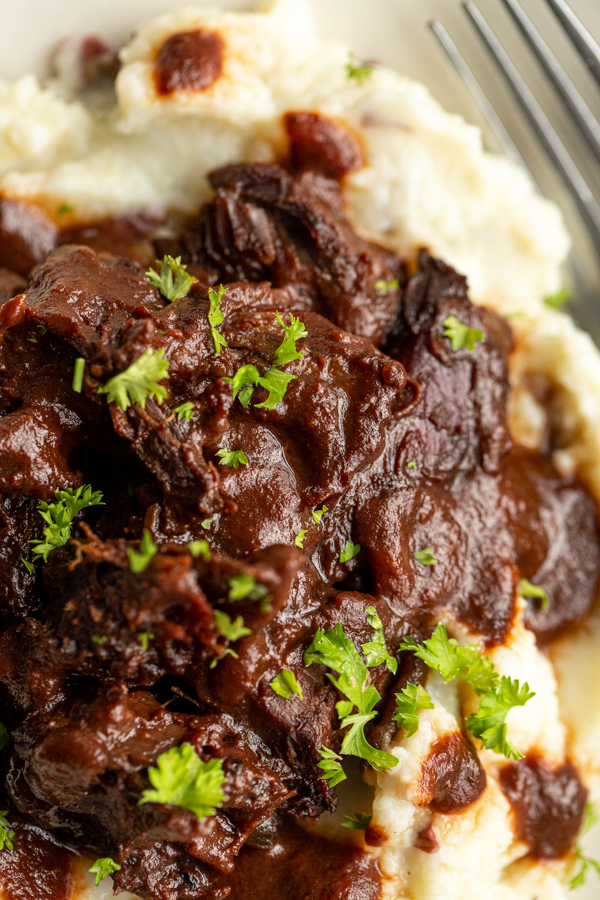 Other recipes you'll love:
Print
Smoked Venison Shanks (+ video tutorial)
Smoking venison shanks prior to braising them gives a rich, smokey depth of flavor that can't be beat. Learn how to do it step by step.
Author:
Prep Time:

5 minutes

Cook Time:

5 hours

Total Time:

5 hours 5 minutes

Yield:

4

–

6

servings

1

x
Category:

Dinner

Method:

Smoker

Cuisine:

American
Scale
Ingredients
1

–

3

venison shanks (depending on the size of your animal)

1

and 1/2 tsp. salt, divided (or enough salt to liberally coat your shanks)

3

–

4

cups beef or venison stock

1 cup

red wine

3 Tbsp

. balsamic vinegar

3 Tbsp

. tomato paste

4

garlic cloves, minced  

1 tsp

. pepper

1 tsp

. lemon zest
Instructions
About 30 minutes prior to cooking, take the shanks out of the fridge and let them come closer to room temp. 
Preheat the smoker to 225F. I use a pellet grill but any smoker that is able to hold consistent temperatures for periods of time is fine. 
Sprinkle the shanks with the salt covering them liberally on all sides. 
When the smoker is preheated, place the shanks directly on the smoker grates and smoke for 1 hour. This is just to flavor the meat so you don't need to worry about the meat getting tender during this process. In fact, the shanks will look like they've formed a bit of a skin when you pull them after the hour is up, this is a part of the process.
While the shanks smoke directly, make the braising liquid. Mix together the stock, wine, balsamic vinegar, tomato paste, garlic cloves, pepper, lemon zest, and remaining 1/2 teaspoon of salt. Whisk this together well and pour into the bottom of a casserole dish large enough to hold all of the shanks. Foil pans are perfectly fine for this. Remember, this will be on your smoker so maybe don't use your favorite white dish. 
Bring the braising liquid in the dish/pan to your smoker and place the dish/pan right onto the smoker. Add the shanks to the dish/pan with the braising liquid. The liquid should cover the shanks about halfway. Cover the baking dish/pan with foil or a lid.
Raise the smoker temperature to 325F. This is important. 
Allow the shanks to braise, basting the meat with the liquid about every hour, for 4-5+ hours (depends on the size of the animal and the amount of connective tissue present), or until it is falling off the bone. If you're testing it and it's just not falling apart, keep cooking it. You can drop the temp down to 300F if you feel it's getting dry. But you must trust me and just keep cooking until it's tender. 
Serve with the braising liquid!
Notes
If your braising liquid start to reduce too much, just add some water to the pan! This is no big deal. 
Keywords: deer, venison, smoker, shank