Make this smoked venison brisket with spicy coffee rub on your smoker or wood pellet grill for a flavorful, tender piece of lean meat. The rub is so easy to mix together.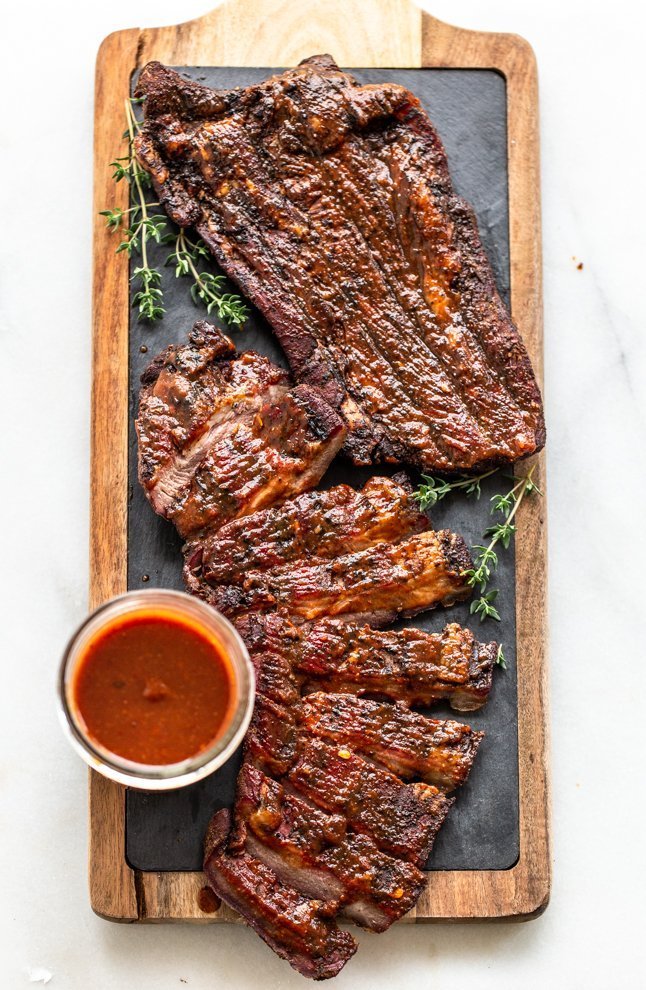 This post was sponsored by The Honest Bison. As always, all opinions remain my own and I am proud to partner with brands that I trust. Thanks for supporting me!
HELLO, gorgeous. AMIRITE? I mean you guys, come on. I'm so excited about this venison brisket!
I only started smoking meat on my Traeger Grill this fall, and it's safe to say that I'm addicted. I knew it would be the perfect way to prepare this cut of meat and I whipped up this crazy flavorful coffee rub it go with it.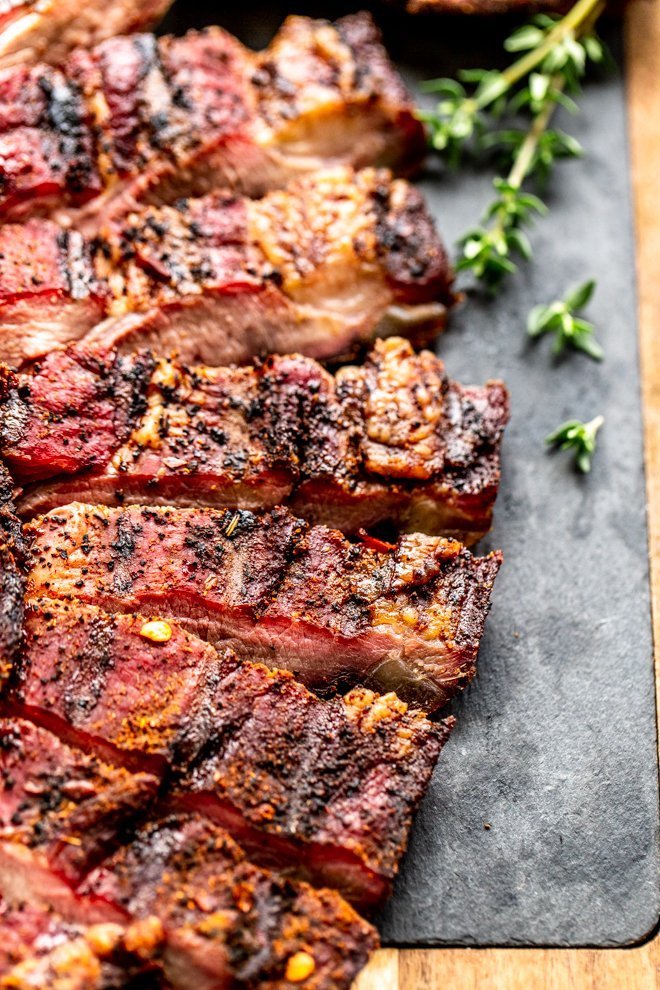 This brisket is actually not from my husband Jared's harvest, it is from The Honest Bison. The Honest Bison ethically source bison, elk and venison. Since they holistically raise the animals with their ranch partners they're able to sell the meat all over the USA.
SO MANY of you have been coming to me asking me where you can buy venison. You can't just pop into Whole Foods and order up a tenderloin, so The Honest Bison is your solution. And let me tell you, the meat is incredible. Be on the lookout for more recipes featuring their prodcuts on Miss AK!
So, without further do…let's smoke some meat.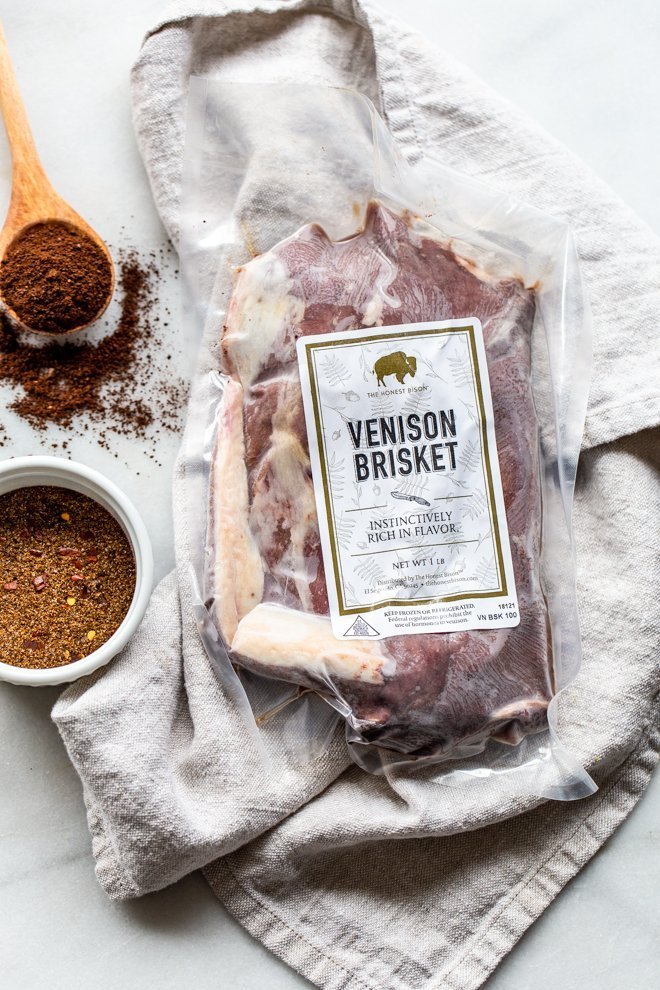 What part of the animal does brisket come from?
Brisket generally comes from the lower chest or the bottom of the shoulder of an animal. It's typically pretty lean meat, with a cap of fat on top if you're working with a fattier meat like beef, but with venison, it's very lean and it's an awesome source of protein.
The rub I used here really helps break down some of the tissue. By letting it sit overnight or for 24 hours with the rub on, the salt and seasonings work their magic and add flavor.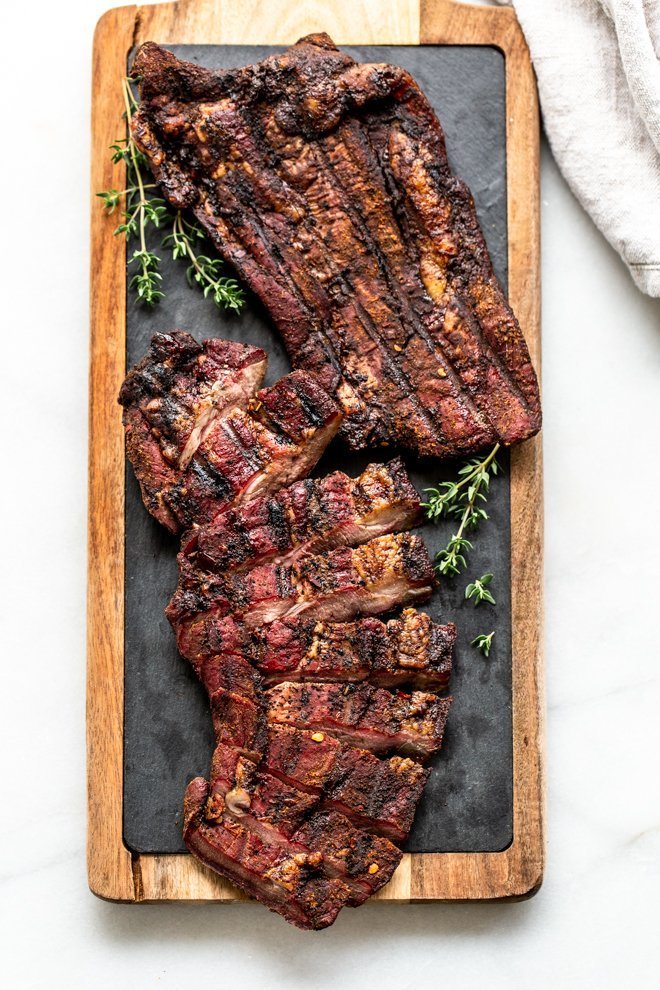 How do you smoke venison brisket?
While smoking can sometimes seem intimidating, it's really easy to smoke brisket, especially venison. The cut of meat I worked with was only 1 lb. which made things easier and qicker.
All I had to do was remove the brisket, with the rub on it, from the fridge. Then, I placed it on my Traeger Grill which was heated to 225F and let it go for about 2 hours, until it reached 150F. A lot of beef recipes want you to get the meat to 190F, but I found that for venison, cooking a bit less was best because it doesn't have as much fat.
Love smoked meat? Be sure to check out my Smoked Venison Tenderloin and whip up a batch of my Paleo BBQ Sauce to slather this in! AND, don't forget to snag a copy of my venison cookbook – Field to Table.
Print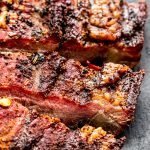 Smoked Venison Brisket with Spicy Coffee Rub
Make this smoked venison brisket with spicy coffee rub on your smoker or wood pellet grill for a flavorful, tender piece of lean meat. The rub is so easy to mix together.
Author:
Prep Time:

12+ hours

Cook Time:

2 hours

Total Time:

about 14-26 hours

Yield:

4

1

x
Category:

Meat/Venison

Method:

Smoker

Cuisine:

American
Scale
Ingredients
1

lb. Honest Bison Venison Brisket*

2 Tbsp

. coarsely ground coffee

2 Tbsp

. chili powder

2 Tbsp

. coconut sugar

1 tsp

. salt

1 tsp

. cumin

1 tsp

. garlic powder

1/2

–

1

tsp. cayenne pepper

1/2

–

1

tsp. red pepper flakes
Instructions
Defrost your venison brisket fully and remove it from its packaging. Pat dry. 
Whisk together all of the remaining ingredients in a small bowl. 
Using about half of the rub (about 3 Tbsp.)* work the mixture into the venison so that the meat is entirely covered by the rub on both sides. If you're using an Honest Bison Brisket, you will have 2 pieces of brisket per package so make sure each is liberally rubbed.
Wrap the brisket tightly in plastic wrap and let it sit in the fridge for 12-24 hours, the longer the better. 
When you're ready to smoke the meat, remove the brisket from the fridge while you preheat your smoker or wood pellet grill so it can come to room temperature. 
Preheat your smoker or wood pellet grill ( I use a Traeger Grill) to 225F. 
Once preheated, place the brisket directly in the smoker/grill and smoke for about 2 hours, or until the meat reaches about 150F.* 
Let this rest for 20 minutes before slicing and serving (PLEASE DO THIS). Best served with my Paleo BBQ Sauce. 
Notes
This rub would work wonderfully on any type of meat, especially beef, elk, bison or lamb. 
You'll wind up with enough rub for 2 batches of this recipe. Store extra in an airtight container and use it on anything from potatoes, meat, eggs – whatever! It's so good. 
If your brisket is larger than 1 lb., add about 30 minutes of cooking time per pound of meat. 
Nutrition
Serving Size:

4 oz.

Calories:

384

Sugar:

8 g

Sodium:

891 mg

Fat:

26 g

Saturated Fat:

5 g

Unsaturated Fat:

0 g

Trans Fat:

0 g

Carbohydrates:

13 g

Fiber:

2 g

Protein:

25 g

Cholesterol:

93 mg
Keywords: venison, smoker, meat