This beautiful heirloom tomato galette has all of the best parts of tomato pie in a savory, flakey pie crust. The best part is how easy it is to make.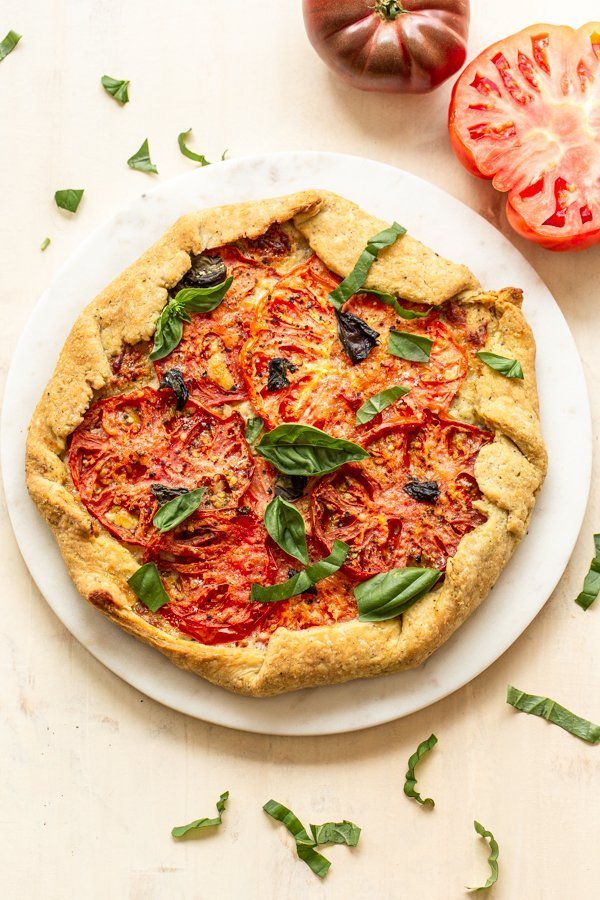 I have had multiple multiple requests for a savory pie for the pie of the month. So FINALLY – this heirloom tomato galette is yours for the taking.
Here's a video so you can see how I make it:
Honestly, top 10 favorite things on the blog, hands down. It's basically like inside out pizza…in a crazy flaky and seasoned pie crust. You simply must try it.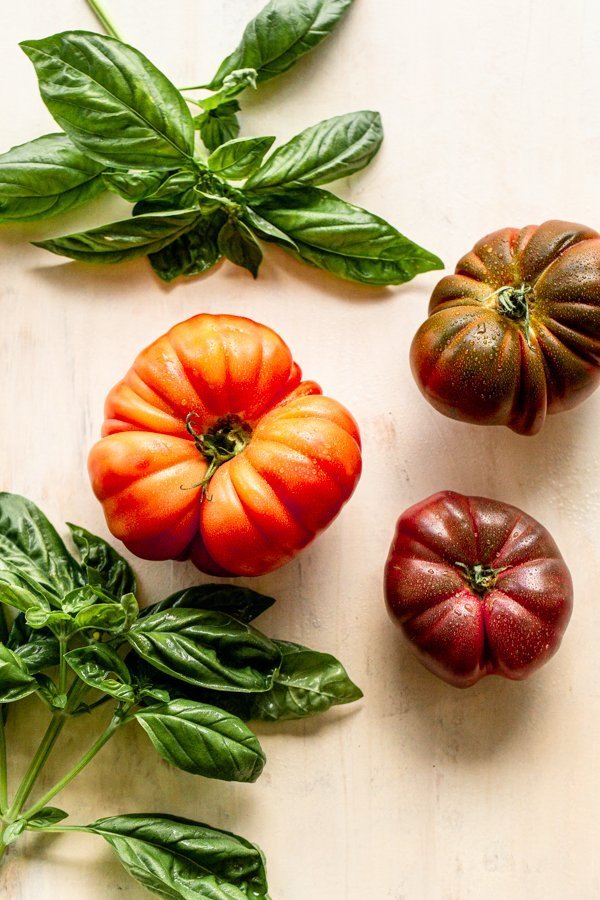 Why are heirloom tomatoes the best?
Of course, for this tart, you can use any sort of tomato. I have both heirloom and cherry in my garden, and I would definitely combine the two to use both. I just think – why NOT use gorgeous heirloom tomatoes because they're only around for such a short time each year!
What kind of filling do you use for tomato galette?
The filling here is super simple to make. It's just mayo, some mozzarella, parmesan cheese, Italian seasoning, and black pepper. That greats spread all over the pastry and then the tomatoes top it. It creates an inside out pizza-like experience…in a super flakey pie crust.
How do you fold a galette crust?
The one thing I always tell people to keep in mind with galettes is that rustic is best. Don't worry if you have a crack here and there and if the crust isn't perfectly even. Oh and if you've never made pie dough before, here's a video tutorial. This recipe uses the same curst, except we're not using the sugar and we're adding Italian seasoning.
To fold it in, push up on a small piece of pastry dough, and then fold another piece over it, kind of diagonally. Repeat until all of the crust is folded in around the tomatoes.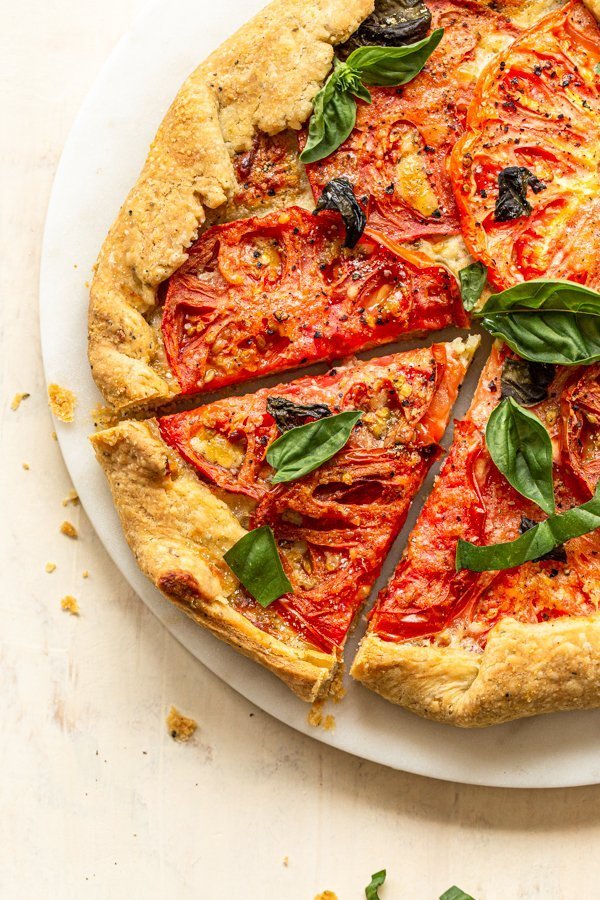 I just know you're going to love this one! Make sure to check out my late summer salad with corn, tomatoes, and peaches if you have all of the summer things on hand still!
Print
Heirloom Tomato Galette
This beautiful heirloom tomato galette has all of the best parts of tomato pie in a savory, flakey pie crust. The best part is how easy it is to make.
Scale
Ingredients
For the crust:
1

and 1/2 cups flour

1 tsp

. Italian seasoning

1/2 tsp

. salt

8 Tbsp

. freezing cold butter

4

–

5

Tbsp. ice water
For the filling: 
1 cup

grated mozzarella cheese

2 Tbsp

. mayo

1 Tbsp

. grated parmesan cheese

1/2 tsp

Italian seasoning
a few pinches of fresh cracked pepper
For the galette: 
2

heirloom tomatoes 
about

5

basil leaves, divided 

2 tsp

. parmesean cheese

1

pinch salt

1

pinch pepper

2 tsp

. olive oil
Instructions
Place the butter in the freezer 5 mins before using.
Fill a glass or bowl with ice water. Let chill.
Measure out dry ingredients. Mix.
Cube butter. Add it to dry mixture.
Incorporate with a food processor, pastry cutter or fork until pea-sized crumbs form.
Add water 1 tbsp at a time until dough pulls together.
Wrap the dough in plastic warp and refrigerate 20 minutes while you get the filling ready.
Slice the tomatoes into 1/4 inch thick slices. Set aside.
To make the filling, mix together the mozzarella cheese, mayo, parmesan, Italian seasoning, and pepper.  
Preheat the oven to 400F.
Remove the dough from the fridge. Roll it out on a large piece of parchment paper until you have a circle that's 10-12 inches in diameter.
Slide the crust, while still on the parchment, onto a baking sheet.
Spread the filling all over the dough, leaving about a 1 inch crust free of filling.
Lay the tomato slices on top of the filling. Fold the crust up around the tomatoes creating the galette.
Wisk together the egg and water. Brush on the egg mixture all over the crust to make an egg wash. Sprinkle on the parmesean and fresh cracked pepper all over the galette and the crust.
Slide the baking sheet into the oven and bake for 30-40 minutes, or until the tomatoes are cooked and the crust is golden brown.
Cool until warm before slicing and serving.