Make this quick & healthy venison stir fry when you're running short on time and you want something packed with lean protein and veggies.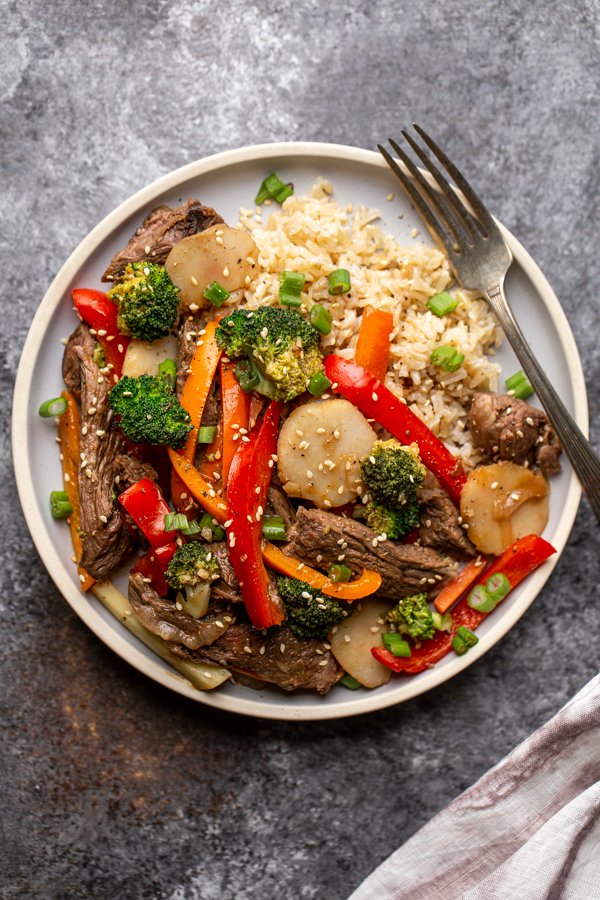 I know a lot of people assume that because I'm a food blogger, that I must make fancy meals every night at home. Most nights, that couldn't be further from the truth. That's where meals like this venison stir fry come in handy. Or this egg roll in a bowl recipe.
The most dangerous thing I can do at the end of a long day is sit on the couch. As soon as I curl up in my favorite blanket with our dog, Sadie, about every ounce of motivation I have leaves my body.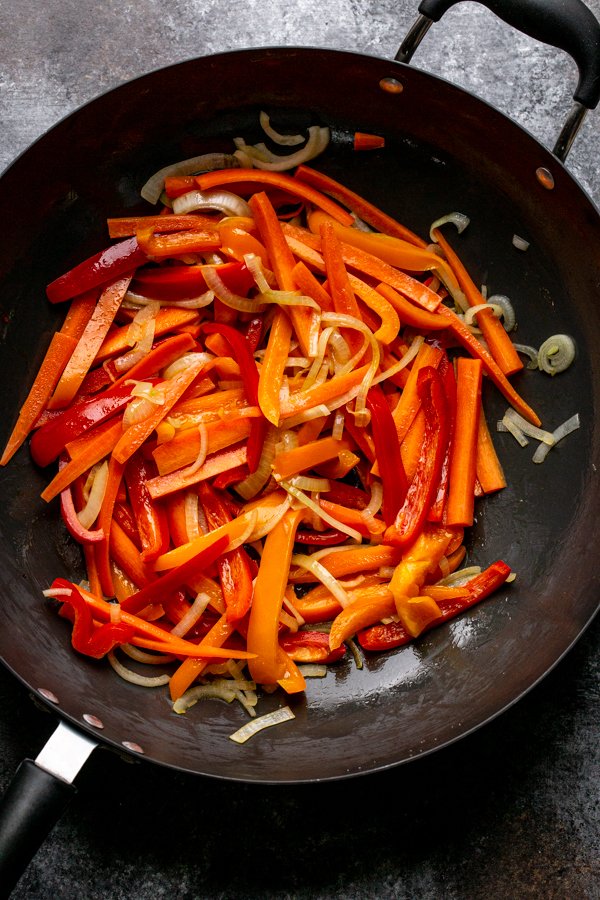 My husband, Jared, works very long hours and often doesn't get home from work and the gym until 7:30-8 pm. We like to eat together, so that usually means, I need to get up off the couch to make something for us to dine on.
A few nights ago, when he finally walked in, I was really feeling that lack of motivation & J had a bit of work he still needed to do before dinner. I hate ordering pizza when we have perfectly good food at home, so I made a deal with myself. After I made a 15-minute meal, I could call it a day. I can do ANYTHING for 15 minutes, even cooking when I don't feel like it.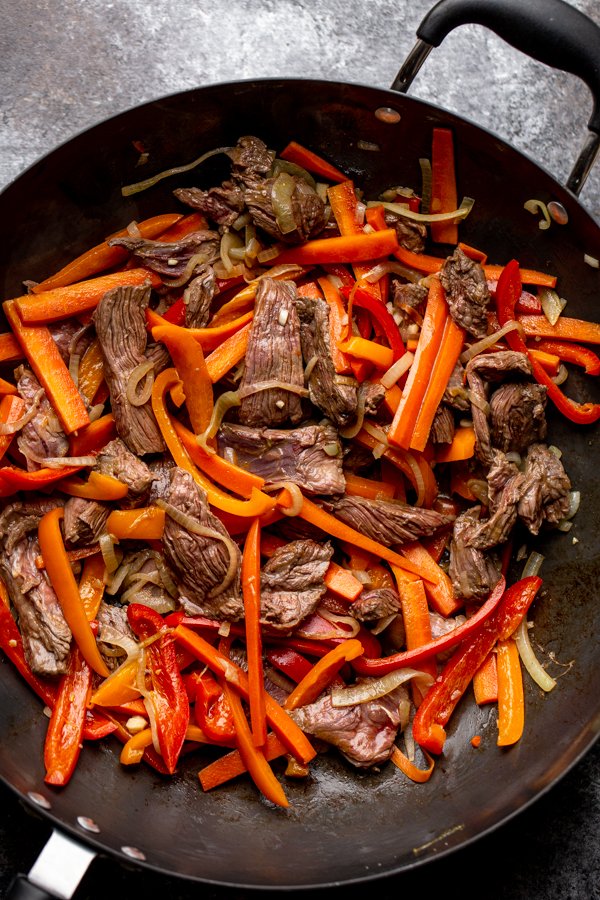 Miracle of miracles, I had this venison steak marinating in the fridge, so all I had to do was quickly chop up a few veggies and put some rice on to cook. In a big pot, all of the venison stir fry ingredients came together, and I looked at the clock. It had barely even been 10 minutes since I started cooking and the stir fry was almost done. All I needed to do was let the rice finish, fluff it, and serve. PHEW!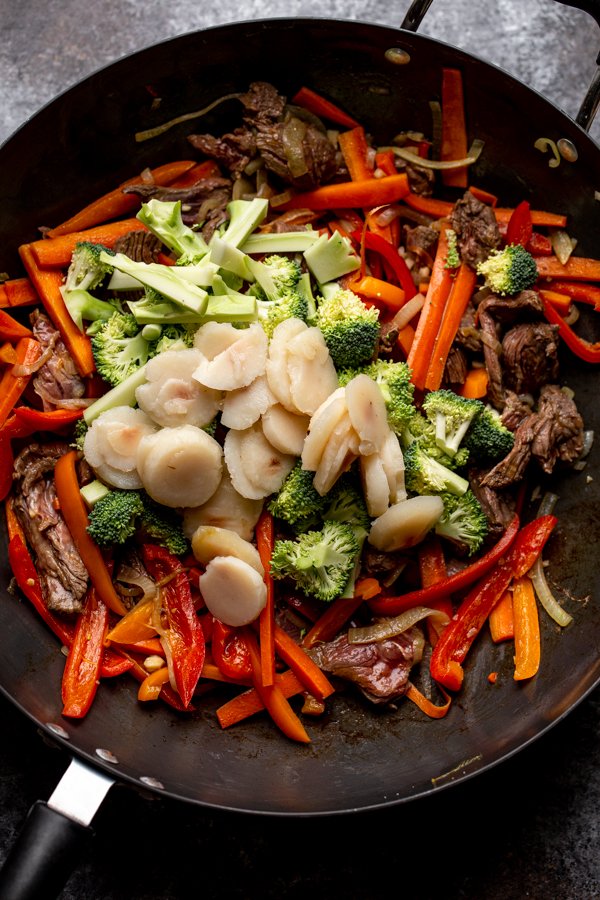 The key to tender venison for stir fry is a quick marinade
The key to making this venison stir fry taste delicious with so little effort is a simple marinade. When you're cooking small pieces of venison, especially if they come from a tougher part of the animal like the leg, it helps if a marianade has added some flavor and helped to break down some of the tissue.
For this recipe, I just use a combo of soy sauce (or coconut aminos), lime juice and olive oil for at least 4 hours or overnight. This takes me all of about 1 minute to throw together the night before, in the morning, or at lunch time.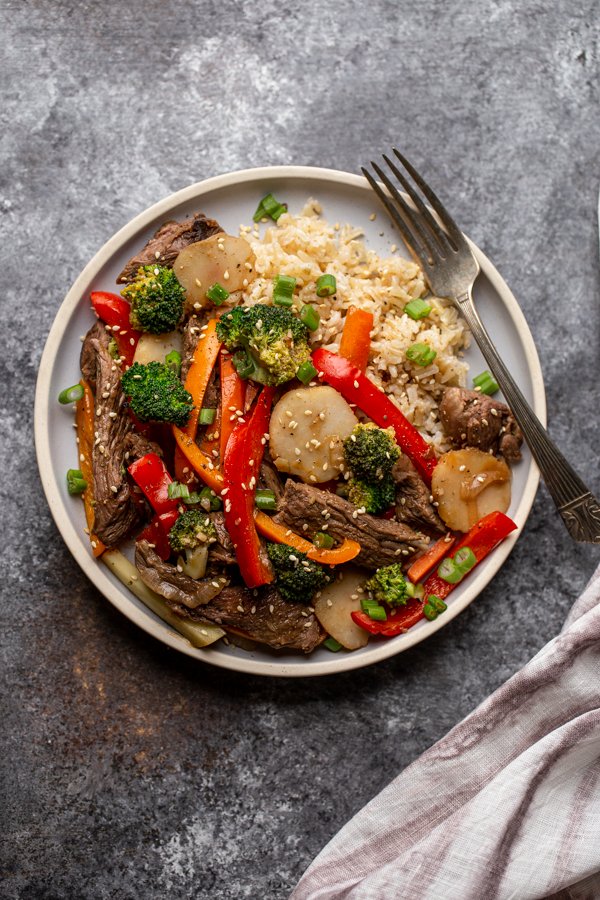 And then, when I'm ready to cook, all of the work is practically done for me and all I have to do is throw everything together in one pan! Voila!
Print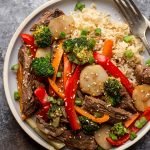 Quick Venison Stir Fry
Make this quick & healthy venison stir fry when you're running short on time and you want something packed with lean protein and veggies.
Scale
Ingredients
4 Tbsp

. avocado or olive oil, divided

1/4 cup

+ 3 Tbsp. soy sauce (or coconut aminos for soy free), divided

1

lime, juiced

1

lb. thinly sliced venison steak (I used leg meat)

2

bell peppers, julienned (I used a red and orange)

3

carrots, peeled, halved and julienned

1

yellow onion, sliced

3

garlic cloves, minced

1/2

head broccoli, chopped
optional – 8 oz. water chestnuts, drained

2 Tbsp

. rice or white wine vinegar

1 Tbsp

. honey
Rice, green onion, sesame seeds and extra lime wedges for serving
Instructions
Before cooking, marinate your meat for at least 4 hours or up to overnight. To marinate, in a bowl with a lid or zip top bag, combine 3 tablespoons of the oil, 1/4 cup of the soy sauce/coconut aminos, the lime juice and the venison. Make sure all of the meat is coated and set it in the fridge until you're ready to cook. 
When you're ready to cook, heat the remaining oil in a large saucepan or wok over medium high heat. When the pan is hot, add the bell peppers, carrots and onion and saute for about 5 minutes, or until they start to soften. 
Then, add the marinated venison, garlic, broccoli, water chestnuts if using, remaining soy sauce, vinegar, and honey. Saute for about 5-8 minutes, until the venison is browned on the outside and the broccoli is softened a bit. Don't overcook it, you want the venison tender. Remove from the heat when done. 
When you're ready to serve, spoon the mixture over rice and top with sesame seeds, lime and green onion. Enjoy!