Wedding Recap Part 2 – Focusing on why it's OK to laugh at the altar and to let the little things go on your big day.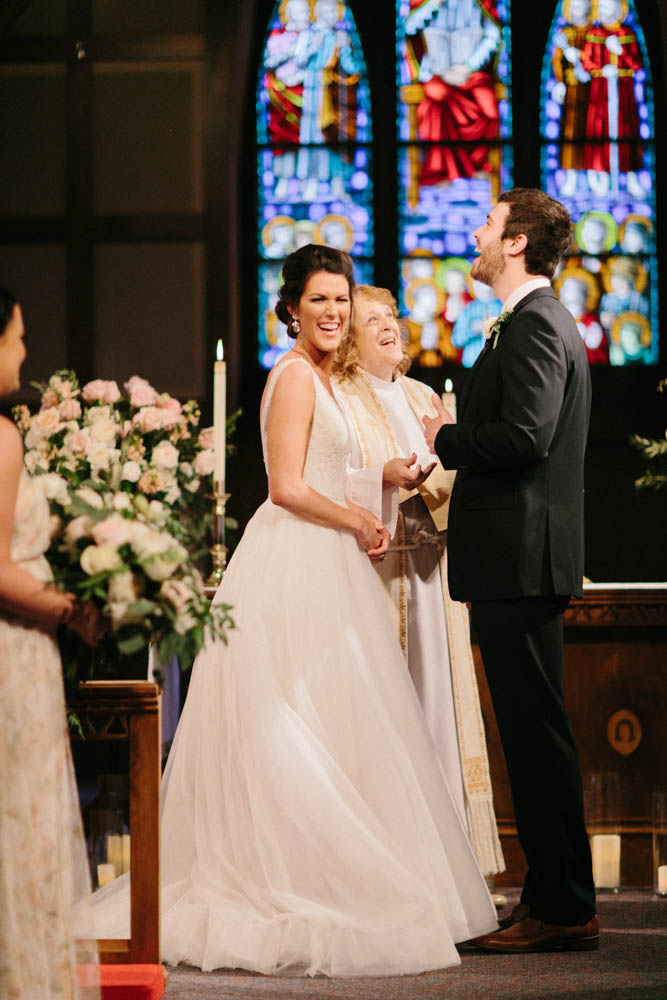 I feel like weddings have this big pile of expectations that we should know attached to them. Like wait…why am I not allowed to print on an invitation envelope? Why are there weird names for bustles on dresses? You mean I actually have to "brush up on" my wedding lingo (yes, a book actually told me that lol)?
If you're new here, my hubby J and I tied the knot in April this year and it was magical. If you're curious, you can read more about our engagement and part 1 of the wedding recap. I thought it would be fun to talk about a few things, in hindsight, that are TOTALLY OK to do when you're planning or at your own wedding. I'm no authority in the wedding space, but maybe, it needs to be said.
It's OK to Laugh at the Altar – J and I wanted a church wedding. I feel like church weddings get a reputation for being hot, stuffy and stiff. We DEFINITELY didn't want it to be that way. Instead, we worked with a pastor in a church that was rather lighthearted and accepting. The ceremony started out in giggles when the pastor told our guests that we had forgotten the rings, and the reason we were running behind was not because someone had cold feet. We tweaked some traditional vows, made them our own with putting in a clause about always dancing together in the kitchen, and talked about having 12 babies (kidding. maybe). We belly laughed, giggled, and it was all really OK.
It's OK to Not Invite Everyone You Know – ahh the guest list. everyone's favorite thing. When I tell people we had 200 people at our wedding they look at me like I have 6 heads when I tell them it was a very intimate gathering. And then I tell them my mom is 1 of 6 and my dad is 1 of 12 and we had like over 90 family members on JUST my side only including first cousins, aunts, uncles and my grandfather and his wife. And you know what, especially on my dad's side, we're a really tight-knit bunch, so there wasn't any obligatory asking of cousins I've never met. I would say that 90% of the people there have had a conversation with both Jared and I. Everyone knew someone at their table, and I think it cultivated a really relaxed and jovial vibe. Do I still feel a little funny because I wasn't able to invite everyone I know on the planet? Yes, I'm a people pleaser. But I'm glad we didn't. So, if you're having second thoughts about inviting your second cousin's ex-wife who you went to camp with and talked to 7 years ago…it's OK to keep the group close.
It's OK to Want a Big, Traditional Wedding – I felt a little funny at first admitting I wanted a big white dress, with an overflowing bouquet of flowers and I wanted to marry my best friend in a church and eat a big, sit down dinner with all of my friends and family. It's been done before, and trendy, small gatherings are all the rage. I CERTAINLY can see why. But that wasn't Jared and I. If there's anything these two extroverts love, it's a good party. So, we did it. We did the beautiful invitations, and the layer cake, and I had myself one big, fluffy white dress. And it was awesome because it was us. And I guess I'm working up the courage to say that I guess it was OK that I wanted that (and maybe it's OK that I'm that basic).
It's OK to NOT want a Big, Traditional Wedding – on the other hand, it is absolutely OK to not want a gigantic affair. I don't know a lot of people who genuinely WANT 90 family members at their wedding. How cool would an intentional ceremony feel in a quiet corner in your favorite city or forest? My mom is much more introverted, and had just lost her mom the year before her wedding, and as much as she loves my dad, she would have rathered a small, cocktail and dessert reception after a quiet ceremony. And that, my friends, is A-OKAY.
It's OK to Not Diet – I could write about this for years. YEARS I tell you. There's a lot of pressure to look perfect on your wedding day. Wedding dress sizes – holy cow. I mean, really, what is that? Are they created for ants? (what is this a center for ants??? – name that movie) And white, it's my favorite color to wear but it isn't black if you know what I mean. But you know what it's OK TO NOT DIET. I guarantee your guy who got down on one knee would rather see you eat a big ole slice of pizza and a glass of wine than watch you cry over the scale. So I'm going to say this to you right now – you are a stunning and marvelous creature, and you will look absolutely radiant on your wedding day exactly as you are. If you want to read more – read my post about not fitting into my wedding dress. 
It's OK to Not Feel Like a Blushing Bride the Morning of Your Wedding Day – this is kind of a tough one to write but it's important. I have watched brides on their wedding day wake up, shrieking with excitement. That's amazing. I wish I could have been that bride who had this crazy grin on her face all day long but I was really out of it. I was surrounded by the most incredible women in the world, but my mom and I have always been really close with my dad and my brother and we both relax more around the two of them. I'm used to a male presence in times of stress and nervous excitement, and I wasn't allowed to see my three favorite guys, my dad, my brother and my husband, all morning. All I kept thinking about was getting down the aisle to hug Jared. I just wanted to hold his hand. I kept telling myself, "it's OK you'll be with him soon". And I felt beyond guilty. I wanted to be in the moment,  I wanted to be my usual buoyant self. But I wasn't able to that morning, and that's OK. I think. I'm still processing, but if you're feeling out of sorts, kind of like a deer in the headlights, about something around your wedding and you feel like you're the only girl who has been kind of…off – you're not alone. And you'll feel like a bride. I promise. 
It's OK to go to Pre-Marital Counseling – I think this one is my favorite! Marriage counseling, much like any form of therapy, gets a bad wrap. Our counseling was primarily self-lead, and it was kind of a pain sometimes, but it was the one thing we really got to do for just us. And some of it was really fun. Some of it was ugly and dug around the past, but it was mostly really fun, and I'm grateful for it. I don't think it changed our relationship a lot, but pieces stuck with me and I hope they continue to. Don't be ashamed. It doesn't mean you're broken or in trouble. It means you're trying to grow and save a beautiful thing.
It's OK to Eat Your Whole Dinner – alright, maybe this is my favorite point. I mean, it involves food, haha. Planning our wedding I had at least 10 people tell me to not worry about the food because I wouldn't eat anything anyway. I PROVED THEM WRONG. I was a part of the clean plate club at our wedding and I'm proud of it. We did a receiving line during cocktail hour so we said hello to everyone and enjoyed our meal together. And it was glorious, I did not feel rude (which is a big deal for me – people pleaser over here) and it was OK!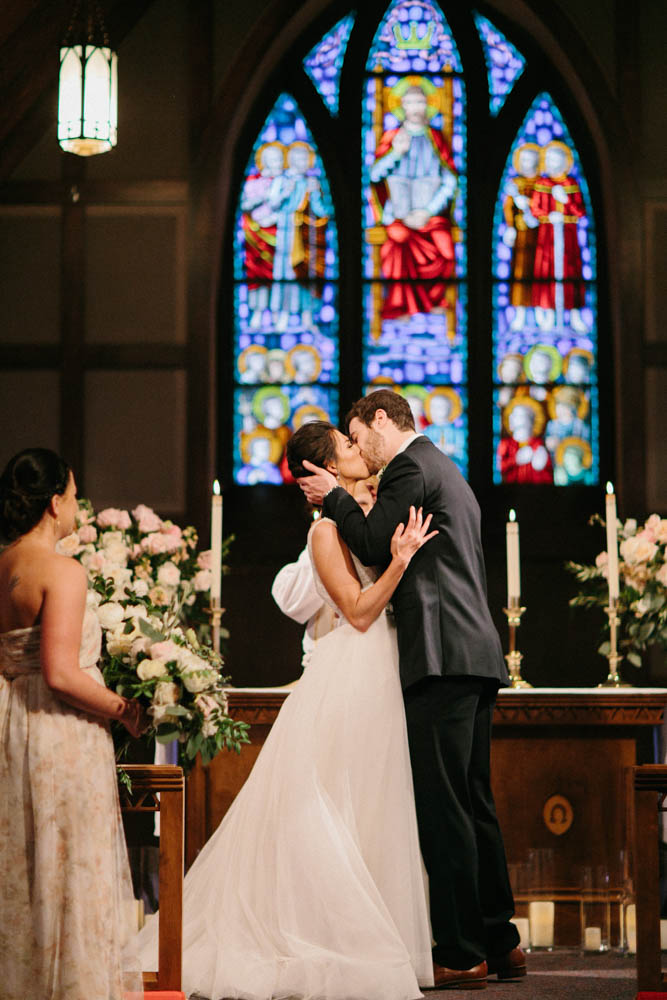 I hope this is helpful to you wherever you are in the wedding planning or reflecting stages. I'd love to hear from you. What do you think is OK to do at your own wedding?