Hearty and Healthy Whole 30 Mexican Stuffed Peppers with Spicy Chili Mayo that's flavorful and creamy.
Whole 30 Mexican Stuffed Peppers with Spicy Chili Mayo
I'm writing this post to you at 10 pm, the night before this recipe goes live. Truth be told, I like to have my recipes written out at least a week in advance. But alas, here I am. Sleepily writing this to you and loving every minute of it.
I used to be a bit of a procrastinator, and besides parties, there wasn't much I was interested in planning. I believe in work, hard work, positivity, God's grace, education and all that jazz, and for most of my life, this skated me right through every obstacle. Like when I graduated college, I just kind of fell into my first real job. I didn't stress, I didn't send out 10,000 resumes, and when I left there, I just kind of let life float by through my career choices.
Sometimes I have no idea who this person is inside me who has airport logistics planned for a trip I'm taking in 4 months, endless binders, and I have every second of my life planned tomorrow in a timeline. I wake up daily and keep a running to-do list that gets re-written each day so I won't forget one single thing. WHEW.
Somewhere along the lines, I started feeling guilty for being type B. So I threw myself into an extreme type A personality. I genuinely think a balance of the two is important. I don't think my old self could run this business, to be honest. But as I write this delicious recipe for you, I'm grateful for the last-minute, haphazard, heart-felt way of completing a project.
Oh yeah and about the food. It's SODARNGOODYOUGOTTAMAKEIT. And then go bathe in the mayo. TTFN.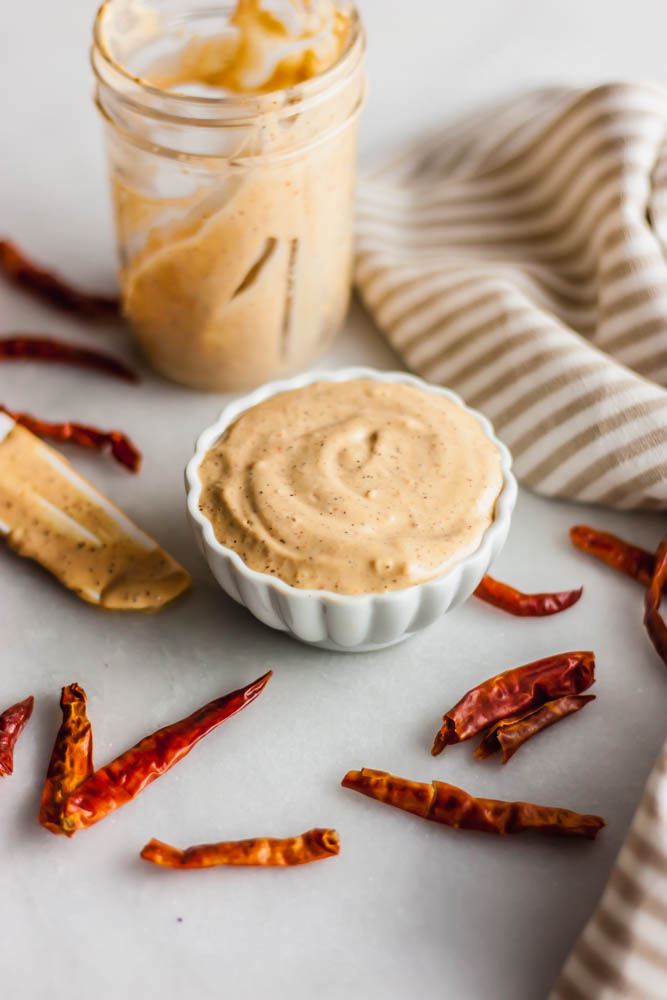 LET'S GET TO IT!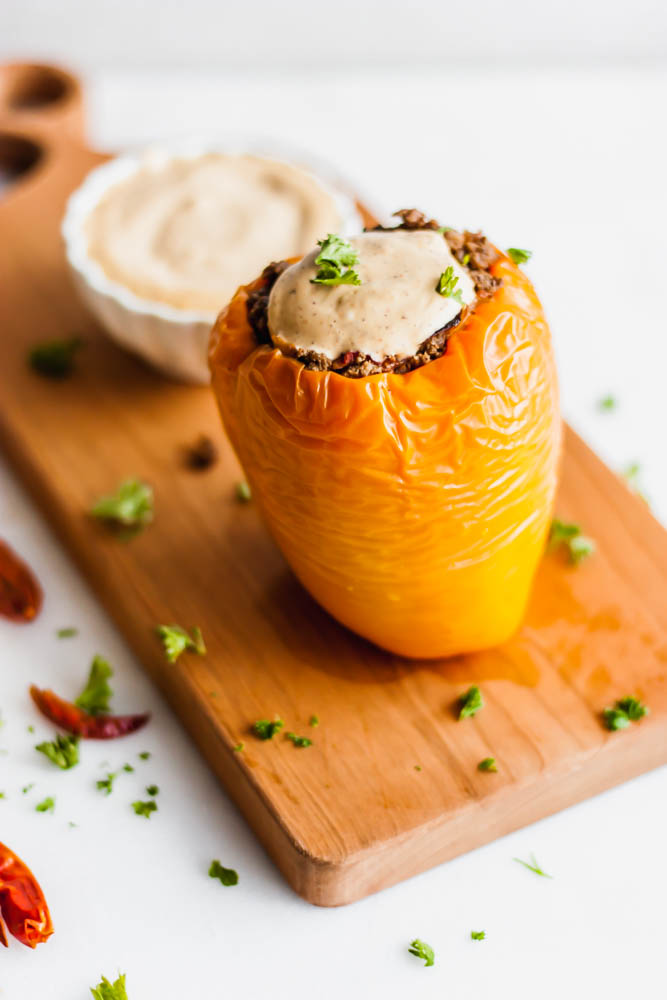 WHAT YOU'LL NEED (increments & directions below in the printout – tip get everything out before starting!):
Eggs
Lime juice
Salt
Pepper
Dried chili peppers
Light olive oil
Lean ground beef ( or turkey or venison)
Onion
Bell peppers
Chili powder
Garlic powder
Diced tomatoes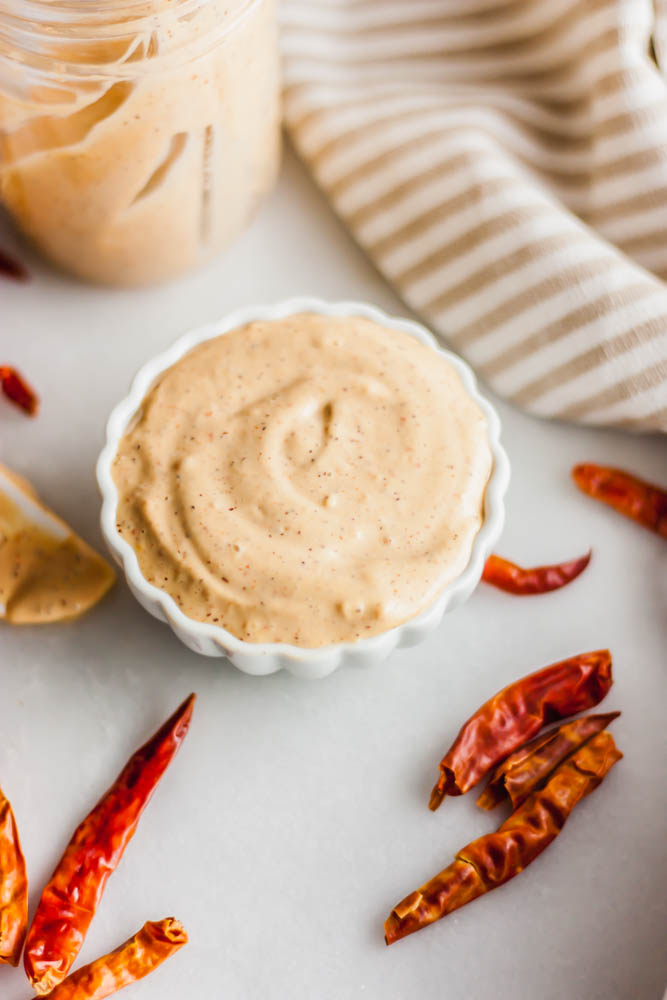 Whole 30 Mexican Stuffed Peppers with Spicy Chili Mayo
Ingredients
For the mayo:
1 egg
1 egg yolk
1 lime, juiced
1/2 teaspoon salt
1 pinch pepper
about 4-5 dried chili peppers, toasted if desired (this brings out more heat)
1/2 cup light olive oil
For the peppers:
1 Tablespoon olive oil
1 lb. lean ground beef ( or turkey or venison)
1 onion, diced
5 bell peppers, 1 diced and 4 for stuffing
1 Tablespoon chili powder
1 teaspoon garlic powder
1 teaspoon salt
1/2 teaspoon pepper
1 16oz. can diced tomatoes, drained
Instructions
To make the mayo: Add the eggs, lime juice, salt, pepper and chili peppers into a blender. Pulse.
Turn the blender to liquify, and gently stream in the olive oil until the mixture emulsifies and thickens.
This should keep for 1-2 weeks depending on the age of your eggs.
To make the stuffed peppers: Preheat the oven to 400 degrees.
Add the olive oil to a skillet over medium heat. Add the ground meat, diced onion, and the one diced pepper.
Let the meat brown for about 8-10 minutes.
Cut the tops off of the remaining peppers and scoop out the seeds. Place them in a baking dish upright.
When the meat has browned, add the chili powder, garlic powder, salt, pepper, and diced tomatoes. Mix and remove from the heat.
Stuff the meat mixture evenly into the peppers and cover the dish with foil. Bake for 15 minutes covered and for about 5-10 uncovered.
Serve topped with mayo and enjoy!
xoxx,
Miss AK
Instagram – https://www.instagram.com/miss.allieskitchen/
Facebook – https://www.facebook.com/missallieskitchen/
Pinterest – https://www.pinterest.com/miss_ak/pins/