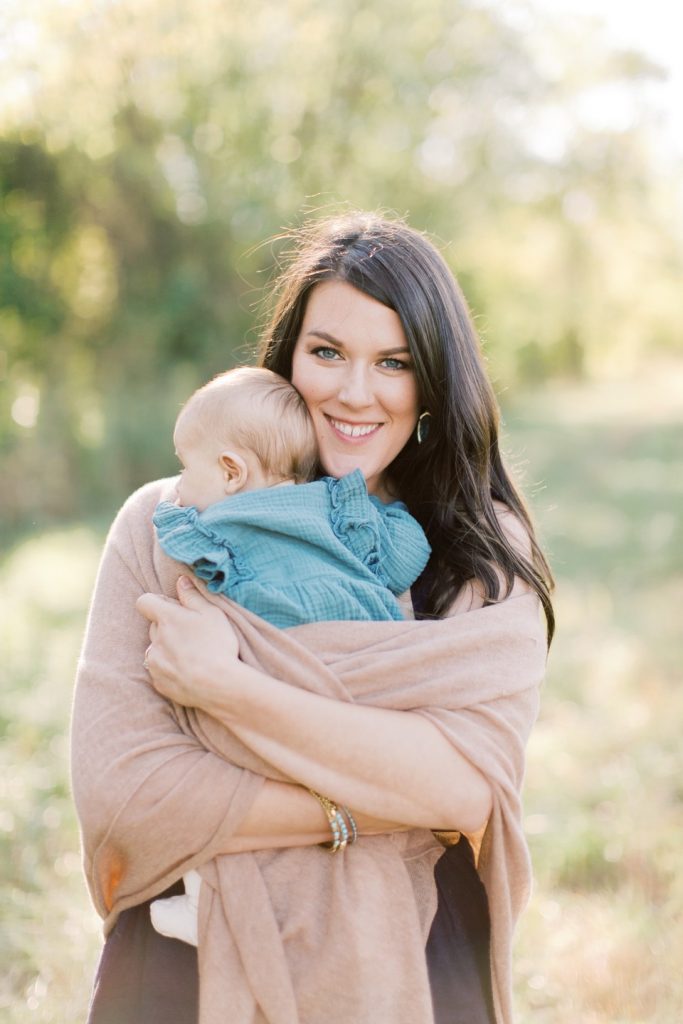 Having a new baby at home looks different for everyone. Each person experiences pregnancy differently, birth differently, and postpartum differently. But, across the board, new parents deal with SO many decisions and uncharted territory each and every day.
Are you breastfeeding? Bottle feeding? Addressing a lip tie? Using alcohol or not on the umbilical cord? Do you have enough onesies? Too many? What pediatrician do you use?! Wait…if you can't lift anything how do you get the car seat into the pediatrician's office?! DID SHE JUST SPIT UP BLOOD???!!!!!
Seriously…the list of things to think about and decide on are endless. If you're expecting, thinking about it or are in the process of trying or adopting (love to ALL of you!!) I am seriously not trying to overwhelm you. You certainly get enough "oh just waits" and unhelpful comments. You'll deal. But I ain't gonna sugar coat it. There's a large mental load to carry when you're a brand new parent. However, there are a few things that helped me that I think could be largely helpful for many growing families like us!
The following tips are a few things we/I implemented and I think they made major impacts on functionality, recovery, general well-being, and my mental state. I tried to go really micro and detailed because I'm sure you're also sick of "make sure you have enough help" "sleep when the baby sleeps" and "communicate communicate communicate". Sure, those things are largely important, but sometimes I like something more tangible. However, if you are struggling or even worry about struggling, please know that these tips will not replace professional help and I encourage you to do so!
OK, here we go:
Bath and/or shower EVERY DAY
My aunt was a nurse on a maternity floor for years and this was her one piece of advice to me. She kindly checked in a few days after Madi made her appearance and said to me "I know it's hard but at least find time some time to shower every day. A bath, too if you can.". I know this can sound a little daunting when you have 5,000 things to do but making time to feel clean postpartum was so crucial.
You start to feel really gross with all of the night sweating, spit-up, diaper changing – you get the point. It helped me to shower quickly once Madi went down for her first nap of the day and then bathe in the afternoon or evening before bed. It refreshed me in the morning and the bath really helped to soothe me, relax muscles and I used sitz salts to help speed up recovery time.
Jared was only able to take a total of 4 days off for "paternity leave" (lol) so I understand it's hard to do it when you're solo! If you have a monitor, turn it up really loud while they're sleeping or see if someone can come over for just 20 minutes, an hour, ANYTHING if that makes you uncomfortable!
Keeping warm & cozy during immediate recovery
The first few weeks, even though you are sort of sweaty due to hormones, I found it really helpful to keep myself very warm. I'm talking cozy, clean sweats and fuzzy socks in July (inside, of course). I heard this tip when I listened to the audiobook version of The Fourth Trimester by Kimberly Ann Johnson (please please get this book and read or listen) a few weeks prior to delivery. I found it interesting that my body did crave warmth.
I would bring my fresh clothes and a homemade padsicle into the bathroom before my shower or bath and close the bathroom door. Immediately after I would towel off, rub myself all over with jojoba oil + a few drops of lavender essential oil, dress fully, and THEN exit the bathroom.
Self tanning drops & eyebrow tint kit
I'm someone who enjoys wearing light makeup daily and I like to feel put together. There were days where I felt that I had the time to do my hair and makeup, and others I barely snuck in that morning shower. I like using self-tanning drops (these are pregnancy and breastfeeding safe) to give my skin some color. I also like to dye my eyebrows using an eyebrow or facial hair tint kit (this is the one I have) to fill in my brows.
This gives you a natural look that lasts for 4-6 days. You can add some mascara, blush, lip – whatever you want if you're feeling like it (or just wake up and roll), but it totally makes me feel a little more glammed up which helps boost my mood. As always, check with your doctor if you'd like about any products you're using!
Non-maternity clothes
I lost/am losing my pregnancy weight a bit more slowly than I expected. Which is TOTALLY okay (it's also normal and potentially scary or frustrating if you start losing weight rapidly, too. It's all okay!). Anyway, I remember thinking I could get into some of my old jeans at about 2-3 months postpartum and that didn't happen for like…6+ more months.
I'm the type to buy less clothing and get what I REALLY want, but by like 1 month pp, I just wanted something on my body that wasn't elastic. Maternity clothes didn't look right at all either. I found some really cute jeans and a few new regular tops that made me feel really great and I'm so glad I did. I know it can feel hard to spend on yourself after having a baby but feeling like I had properly fitting, updated clothing really helped put a pep in my step. A pair of jeans and like 3 new tops went a LONG way for me.
Cleaning kits in each bathroom
When you're juggling a lot of balls as a new parent, you have to learn to drop 1-2 to make sure you don't actually go insane. Sometimes, for me, that's an immaculate home. If you can afford it, cleaning help is well worth the investment, but you totally have to do a LOT of cleaning between visits. I can deal with a certain level of mess, but I also have my limits to where it starts to impact my mental state.
Before Madi, I had all of my cleaning products stored in one location. I would pull out what I needed and clean as I went. It has been SO helpful to have cleaning kits in all of my bathrooms (and other heavily trafficked areas, if possible) to cut down on time. I just pull out my little caddy and wipe down much more frequently to keep deep cleans at bay until I have more time or help.
Robot vacuum
I know this is another investment that's hard to justify when you have a bunch of baby things and bills to account for, but if you feel comfortable it would be a great addition to your registry (or for me, a birthday gift). We do have a dog and even beyond that, it's AMAZING how much dust and dirt accumulate in just a few days.
We run our roomba about every other day and only vacuum maybe every 2 weeks -1 month. Now that Madi is crawling/toddling, I really prefer to have very clean floors and I can't imagine having to vacuum this much every day when a lot of my nights are spent working or working out after she's in bed and the kitchen is finally picked up.
Dog walking service
Our dog Sadie is our other child. She is 100% 1/3 of my whole world (the other two-thirds being Jared + Madi). I was so worried about her adjusting to life with a newborn. She's accustomed to having a daily walk and I wasn't sure how long it would be before I was up for actual walks.
I booked bi-weekly walks with a really great dog walking service so she had some 1:1 time with someone fun and new (she LOVES meeting new people, typical lab). This would also be a good thing to ask a neighborhood kid to help with!
Dinner at the table with my husband/connection time
I tend to be a night owl and my husband is a morning person. This has actually served us really well with newborn/puppy – I usually do most of the work from sleep to 2am, but waking up before 6am is usually not my jam. Therefore, when I like to chat would be around bedtime and he would prefer an early morning coffee chat. So…neither of those ever happen, lol.
We like to try to sit down to dinner together at least a few nights a week with no distractions. When Madi was really little, she just laid in the baby lounger or bouncer while we ate. It felt SO good to have 1:1 time together to actually talk about life.
Products I used:
Liquid IV – literally lifesaving for the insane thirst
Pink Stork Tea – I got the Postpartum Recovery Bundle and LOVED it and I liked the Postpartum Uplift so much I ordered it again.
I hope this post is helpful to you wherever you are in your journey!
xox – Allie