Don't throw away your radish greens! You can use the tops to make a delicious pesto to put over pasta, veggies or on sandwiches.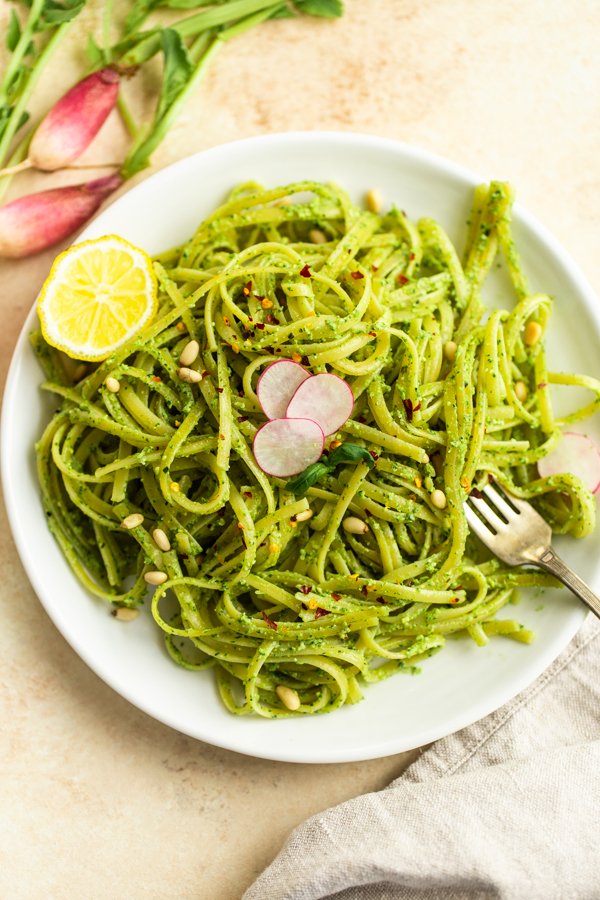 I have to admit, when it comes to a sauce for pasta, I'm more of a tomato-based girl. However, I've been making this radish greens pesto this year with the bounty of radishes we get from our local CSA share and I'm newly pesto OBSESSED.
This recipe is a great way to use up the leafy tops of your radish harvest or the radish greens. I've seen similar things done with carrot tops or greens, too. If you're anything like us, you may be trying to reduce your food waste and this is a fantastic way to do so!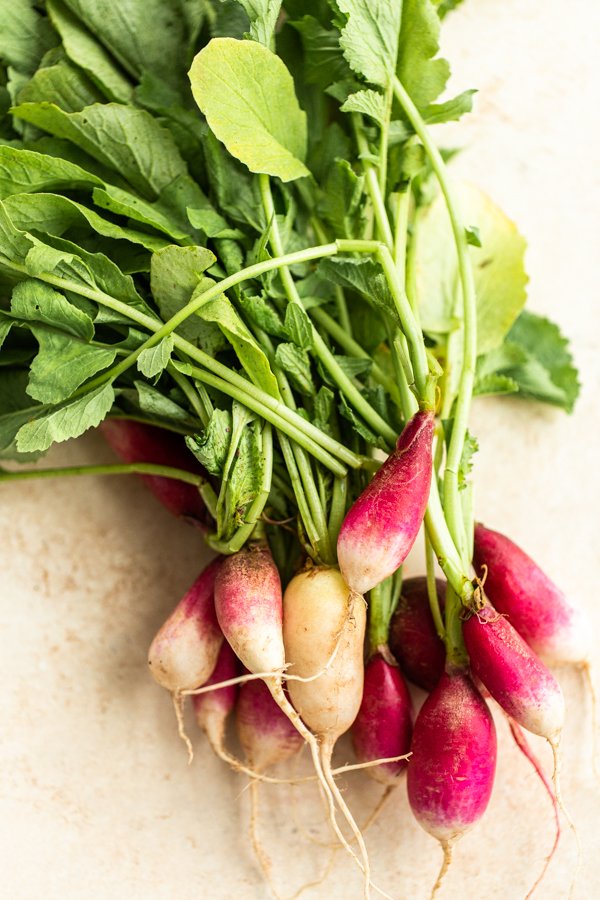 But, you might be wondering…
What is pesto made of?
Pesto is a sauce traditionally made by grinding together basil, pine nuts, parmesan cheese, and olive oil. Traditional flavorings also include garlic and lemon juice.
Why is radish green pesto the BEST?!
Pesto is a really flexible sauce. If you don't like or can't have pine nuts, you can use cashews or walnuts. And, instead of basil, or along with basil you can use other greens like kale or radish greens.
Radish green pesto is absolutely my favorite variety because it's a little bit zippy & zesty. Radishes have a bit of a bite to them when you eat them raw, and that subtle flavor transitions to their greens which makes such a wonderful addition to pesto.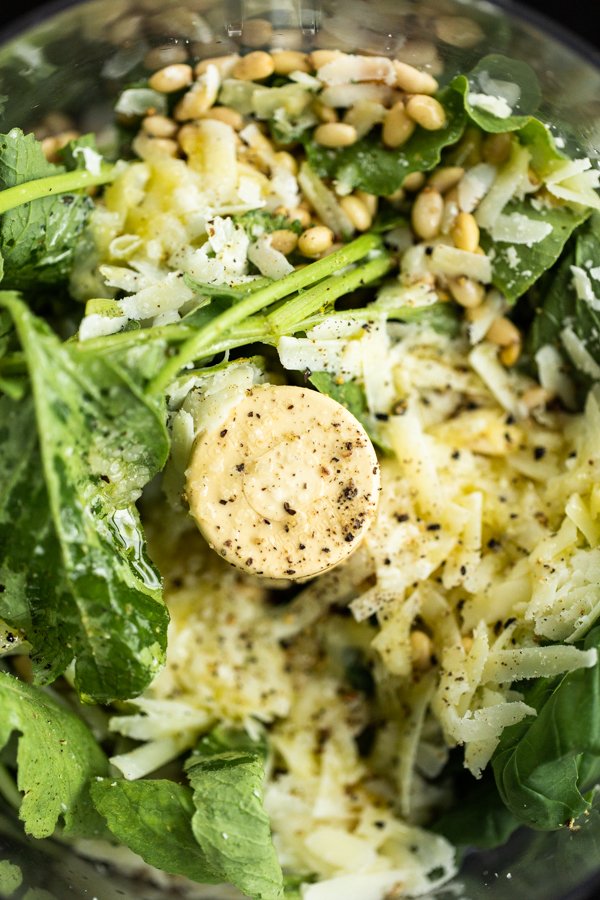 What's in this non-basil pesto?
Making pesto couldn't be easier if you have a food processor or even higher quality blender. All you need to do is add all of the ingredients into your food processor or blender and swirl away. You can add a bit of water if you like a thinner pesto and grind to your liking.
My one recommendation is to make sure you're washing the radish greens very well if they're fresh from the garden, tho. They can be a bit dirty!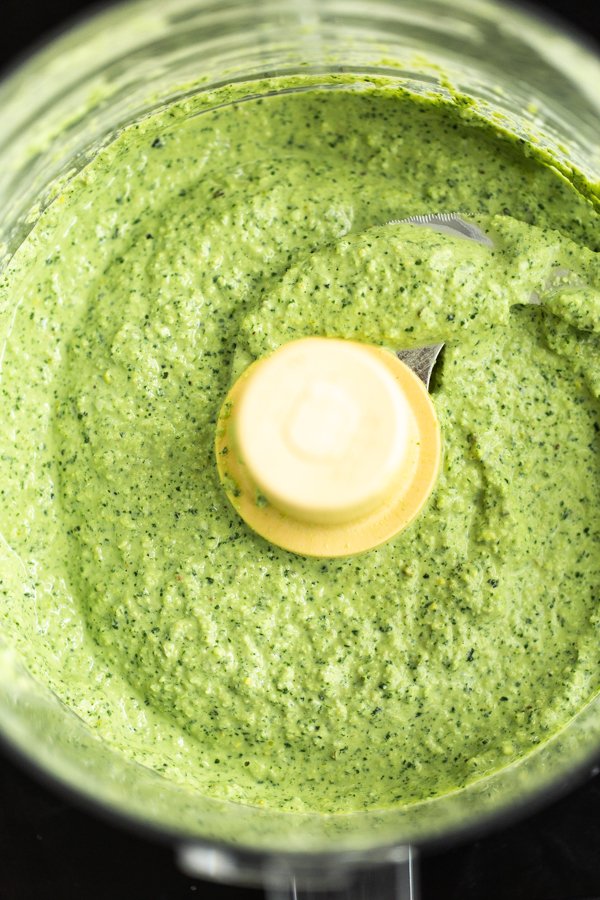 How do you serve pesto?
I like to serve pesto over pasta or in sandwiches as a spread. You can also serve it as a dip, and it's lovely over roasted veggies to provide some interest, too!
To store it, it can be in a sealed container in the fridge for about a week or so. Alternatively, if you have a lot on your hands, it's really good to freeze it in ice cube molds and then store the frozen cubes in a zip-top bag. The frozen cubes will keep for about 6 months.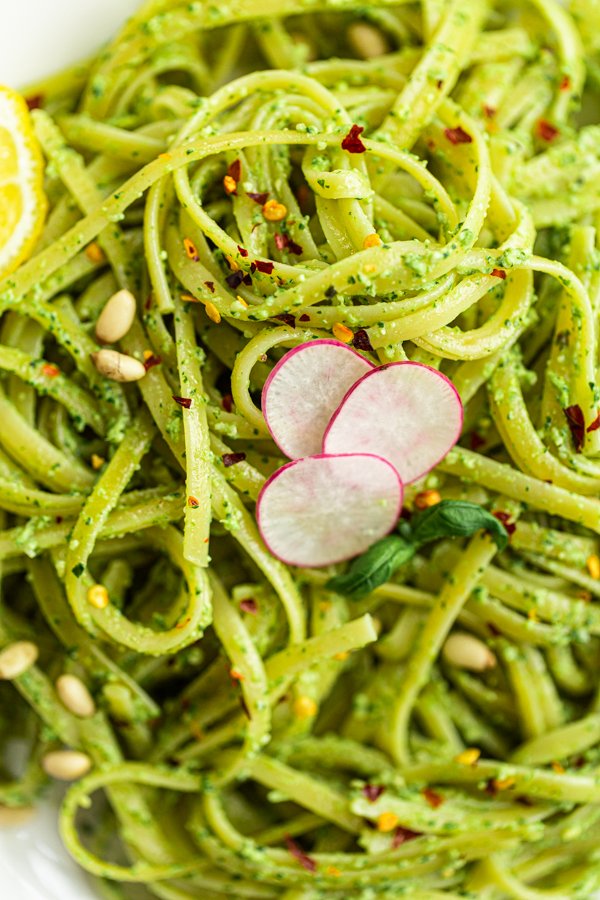 Follow along on Instagram for more farm fresh recipes!
Print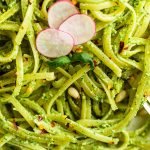 Radish Greens Pesto | How to Use Radish Tops
Don't throw away your radish greens! You can use the tops to make a delicious pesto to put over pasta, veggies or on sandwiches
Scale
Ingredients
radish greens from 1 bunch of radishes (about 3-4 cups)
optional – 1/2 cup basil leaves

1/3 cup

toasted pine nuts*

3

–

4

garlic cloves

1/2 cup

grated parmesan cheese

1

lemon, juiced

1/4 cup

olive oil

1/2 tsp

. fresh, black pepper

1/4 tsp

. salt, or to taste

1

–

2

Tbsp. water – or to preference
Instructions
After you remove the radishes from the greens be sure to wash them WELL in very cold water. Then, gently blot dry with a towel and lay them to dry while you build the pesto. 
Add the greens, basil (if using), pine nuts, garlic, parmesan, lemon juice, olive oil, salt, and pepper into a food processor or high-powered blender. 
Blend, scraping down the sides often. Add water to get to your desired consistency and taste to check the seasoning levels. 
Use the pesto over pasta, vegetables, as a dip, over salad greens or as a spread! Enjoy!
Notes
Walnuts and cashews are also great in pesto!