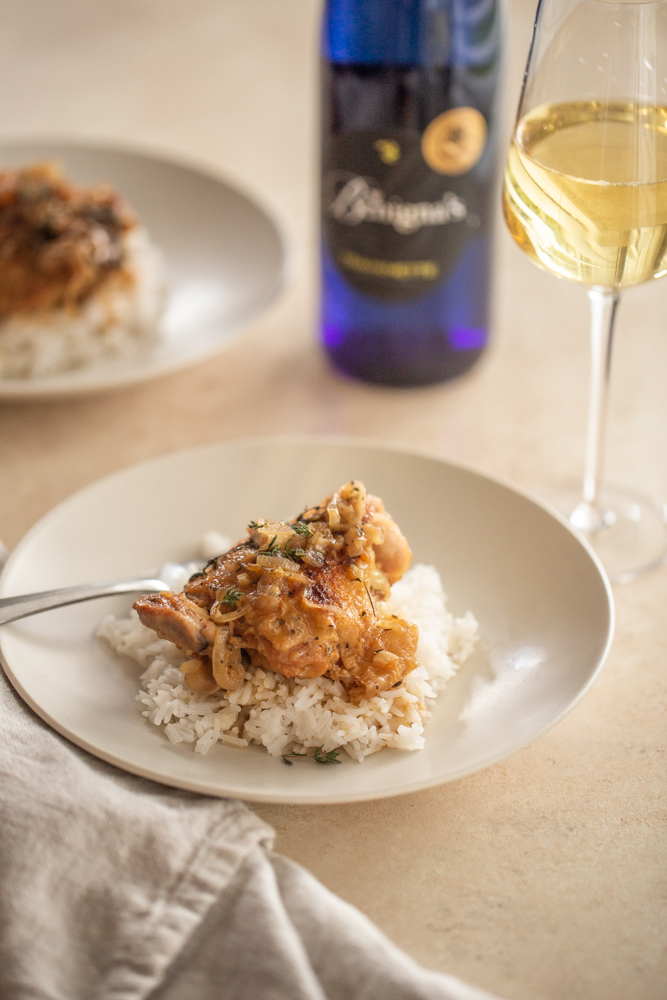 This recipe is proudly sponsored by Benigna's Creek Winery. As always, I am proud to partner with brands I love and trust. Thank you for supporting the growth of Miss Allie's Kitchen.
Are you looking for something new to try in the kitchen this week? Have you ever made a luxurious dinner out of chicken thighs and Traminette wine (dry, white wine)? If not, then let me introduce you to one of our newest family favorite recipes: Apricot Braised Chicken Thighs with Traminette wine & thyme!
With its deeply flavorful sauce packed with seasonal ingredients and simple preparation, this is an ideal meal for the busy cook who wants to treat their family (or themselves!) to something special. It's easy enough that you can make it without getting overwhelmed and seasoned cooks will enjoyed experimenting with different flavor combinations. Plus, since most of the ingredients are pantry items already found in many home kitchens, I know your wallet won't hate you either! Let's get started on your next delicious meal -Apricot Braised Chicken Thighs with Traminette Wine, & Thyme!
You know I love sharing a lot of real food recipes that are elevated yet easy-to-make, look no further than this Apricot Braised Chicken Thighs with Traminette Wine & Thyme. This dish boasts delicious flavors and textures, with crispy chicken thighs cooked to perfection and a creamy sauce made with Traminette wine adding depth to every bite. The apricot lends a touch of sweetness while the thyme brings a savory, earthy note to the dish. It's a complete meal that is sure to impress any dinner guests, yet simple enough to make on a weeknight for a cozy night in. So why not give this recipe a try and savor the flavors of this delicious dish?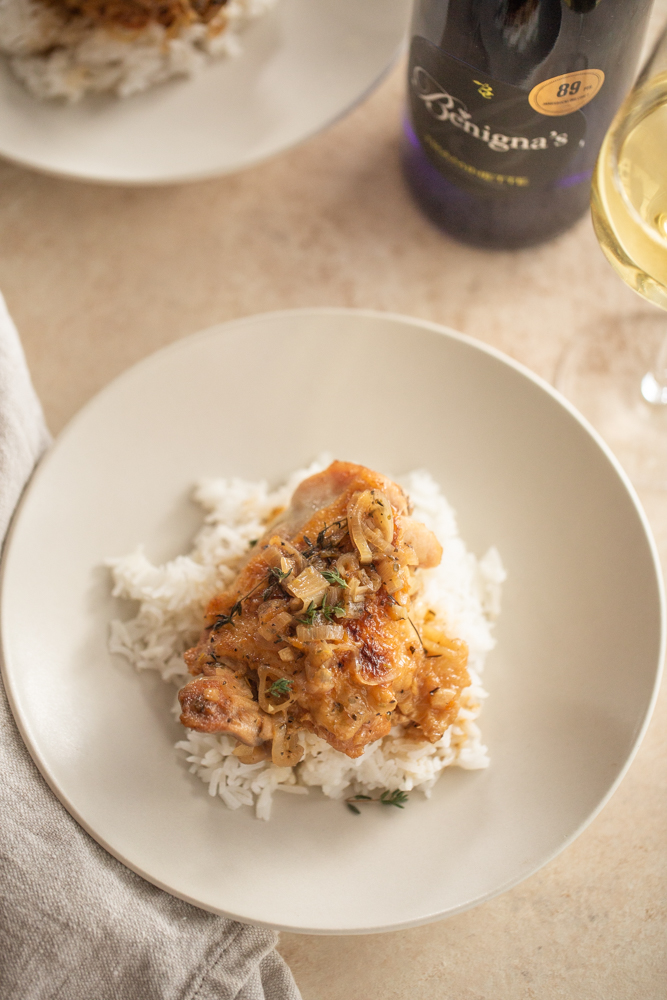 What is Traminette wine?
Before we go any further, you might be wondering…"what is Traminette wine and where do I find it?".
Traminette is a dry white wine that is a Gewürztraminer hybrid. I find good Traminette (and the bottle by Benigna's Creek Winery is the best I've had) to be incredible drinkable. I find it pairs best with poultry and spicy foods.
This variety does have notes of honey and apricot and it has actually the first Pennsylvania Traminette to win international accolades from James Suckling (89 points) and Decanter. You can grab it at the winery or at your local Fine Wine and Good Spirits if you're in PA.
If you can't find this exact bottle and you're not in PA, look for a dry white wine that isn't sweet but that does have notes of honey, apricot, and/or melon.
Ingredients List & Kitchen Tools
When it's time to whip up a delicious meal in the kitchen, having a solid list of ingredients and the right tools is essential. For a main course that will wow your taste buds, try preparing chicken thighs in Benigna's Traminette Wine. This sweet and citrusy wine adds the perfect touch to the chicken, infusing each bite with a burst of flavor. Season the chicken with your favorite seasonings, like garlic, herbs de provence, black pepper, salt and cinnamon, to add depth to the dish. For the perfect sauce, you'll want to add tomato paste, dijon mustard, apricots, my favorite Benigna's Creek Traminette wine and chicken broth for the liquid component of this recipe. With these simple ingredients and kitchen tools, you'll be able to create a meal that's both impressive and delicious.
Step by Step Instructions for Preparing the Meal
Imagine the aroma of perfectly cooked chicken in a sweet and savory wine sauce, packed with flavor and easy to make, PLUS it's made in just one-pan! With your dutch oven, you can make a scrumptious dinner that will impress your family or guests. You'll want to start by searing chicken until golden brown & crispy. Then sauté your shallots in butter, add the tomato paste and seasonings, and then deglaze the pan with Benigna's Creek Traminette wine and apricot jam. Pop into the oven to braise your chicken, you'll want to bake for about an hour. With this recipe, you'll have a delicious dinner on the table in no time!
Tips for Making the Perfect Dish
Creating the perfect dish can seem daunting, but it doesn't have to be. First and foremost, invest in a good oven safe pot or dutch oven. These are kitchen staples are a must-have in any home kitchen. Additionally, follow the instructions carefully. Recipes are created with specific steps for a reason, so take the time to read and understand each one.
Finally, don't rush the process. Cooking should be a labor of love, and taking your time allows for the flavors to develop fully. I love putting on my favorite jazz playlist and just letting the time pass by. By following these tips, you'll be well on your way to making a delicious meal that will impress even the most discerning palates.
Serving Suggestions & Accompanying
While this savory chicken dish is sure to impress even the most discerning palates on its own. We love this over rice with a side of vegetables, but pasta, creamy polenta or these crispy potatoes would be lovely.
Recipes Similar Recipes
If you're not sure what to make, but you have chicken thighs you need to use up and are looking to make something quick and easy. Instead of resorting to the same old recipes, why not try something new? When it comes to chicken thighs, the possibilities are endless! You can't go wrong with my Traeger Grilled Chicken Thighs, these Braised Apple Cider Chicken Thighs, and my Italian Baked Chicken Thighs with Garlic and Lemon.
Commonly Asked Questions
What type of chicken thighs should you be using? And should you go bone-in or boneless? I highly recommend bone in chicken thighs. It will keep the chicken moist. But boneless chicken thighs will work as well.
What type of pan would you recommend using for this dish? I recommend using a Dutch Oven, but any oven safe pan will work.
If I can't find Benigna's Creek Traminette wine, can I still make this recipe? Absolutely! You can just use a dry white wine of choice.
Storing & Reheating
Properly storing and reheating leftovers not only prolongs their shelf life but also ensures that they remain fresh and safe to eat. To keep your food from spoiling, place it in an airtight container and store it in the refrigerator within 2 hours of cooking.
Leftovers can last between 3-5 days in the fridge, so make sure to consume them before they go bad. When it's time to reheat your food, the microwave, oven and airfryer are all great options. Each method has its own advantages, depending on what you're reheating and how you want it to taste. By following these simple steps, you can make sure that your leftovers are as delicious and healthy as the day they were cooked.
You now know everything there is to know about Braised Chicken Thighs with Traminette Wine, Thyme & Apricot. From grainy details like what ingredients and tools you need in the kitchen to a step-by-step guide on preparing delightful variations on this dish – you found it here. And of course, I've added some tips to assure your meal comes out just perfect. Don't forget the exciting serving suggestions and accompanying recipes to compliment your meal. If your taste buds are still feeling adventurous, you can take a look at similar recipes which fuse together unique flavor profiles. And if you're ever stuck with any questions related to this recipe or experience any issues with storage and reheating – simply check out the FAQ section for help that is always available. Last but not least – don't forget to share your creations on social media! It would be great to hear from all of you if you give this recipe an attempt. So go ahead – get cooking and have fun! If you give this recipe a try, let me know in the comments below – I'd love to see how it turns out for everyone!
Print
Apricot Braised Chicken Thighs with Traminette Wine & Thyme
Author:
Prep Time:

20 minutes

Cook Time:

1 hour

Total Time:

1 hour 20 minutes

Yield:

4

–

6

servings

1

x
Category:

Dinner

Method:

Stovetop

Cuisine:

French-American
Scale
Ingredients
1 Tbsp

. avocado (or high heat tolerant) oil

2

lbs (about

8

) chicken thighs

1 Tbsp

. butter

6

–

7

small-medium shallots

5

–

6

garlic cloves

2

–

3

tsp. herbs de provence

1

–

2

tsp. salt

1/2 tsp

. pepper

1

dash cinnamon

1 tsp

. tomato paste

1 tsp

. Dijon mustard

1 cup

apricot preserves

3/4 cup

Benigna's Creek Traminette wine (or dry white wine of choice)

1

and 1/2 cups chicken stock
Instructions
Preheat the oven to 350F. 

Begin by searing the chicken thighs in the oil skin side down over medium high heat until golden brown and crispy in an oven safe pot or dutch oven. Remove the chicken thighs  from the pan and place them aside on a plate. 

Discard the oil but do not wash the pan. Place your pot or dutch oven back over medium heat and add the butter. 

Add your shallots into the butter and saute for 2-4 minutes, until they just start to brown. Add the garlic and cook for 1 minute before adding the herbs de provence, salt, pepper and tomato paste. Allow those ingredients to saute for 1 minute to build flavor. 

Deglaze the pan with the wine and then add the apricot preserves. 

Add the chicken stock, stir and add the chicken back to the pan.

Cover your pot or dutch oven with a lid and place in the oven for 1 hour. 

Cook until the chicken is falling apart tender. We love this over rice, but pasta, polenta or potatoes would be lovely.
Keywords: chicken, apricot, wine, traminette